Support for Cardinal Pell Following Old Allegations
Catholic Communications, Sydney Archdiocese,
1 Jun 2015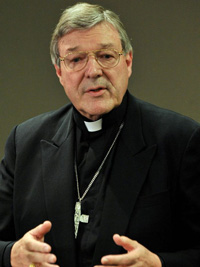 In the flurry of media coverage surrounding Cardinal Pell and claims on a national television program, the Archbishop of Melbourne and President of the Australian Catholic Bishops Conference, Archbishop Denis Hart has said he believes the Cardinal to be a good and honest man.
A long-time friend Archbishop Hart said Cardinal Pell showed strong leadership when Archbishop of Melbourne and he was always determined to address the evil of clergy sexual abuse in the Church, to deal with the perpetrators and to provide healing for victims/survivors.
During the program Peter Saunders, a member of the Pontifical Commission for the Protection of Minors, commented on evidence given to the Ballarat hearings of the Royal Commission and launched a scathing and personal attack on Cardinal Pell.
A spokesperson for Cardinal George Pell in Rome said following the broadcast that while the claims were not new they are false, misleading and outrageous.
Mr Saunders has not met or spoken with Cardinal Pell although it is clear he has formed strong opinions of the Cardinal.
Mr Saunders is a victim of child abuse himself and has established a victims survivor group in the United Kingdom.
Archbishop Hart said some of the criticisms made on the program date back to 2002 and at that time Cardinal Pell made a sworn statement refuting the claims and stating his position.
He said these claims were raised again in 2013 at the Victorian Parliamentary Inquiry at which Cardinal Pell appeared and answered questions in public for almost four hours.
"He has since twice appeared at the Royal Commission and last week made it clear his willingness to return to Australia and appear again to answer questions about his time as a priest in the Diocese of Ballarat."
Cardinal Pell's statement said; "In light of all the available material, including evidenced from the Cardinal under oath, there is no excuse for broadcasting incorrect and prejudicial material."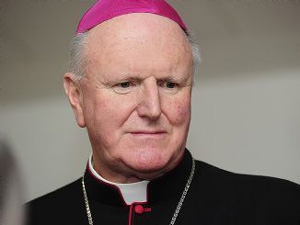 "It seems Mr Saunders is not well informed about the claims made against Cardinal Pell in the Ballarat hearings of the Royal Commission and the fact that no new material emerged during recent hearings," the statement said.
"Many of the issues were addressed in the final report of the 20134 Victorian Parliamentary Inquiry where there are no adverse findings against Cardinal Pell. These old and repeated allegations have been addressed many times by the Cardinal since 2002."
Mr Saunders, who said in an interview late last year that "he had been a thorn in the side of the Catholic church for some years", told the program her had visited Australia and spoken to victims of sexual abuse and support groups.
Many people have suggested Mr Saunder's personal and vitriolic attack on Cardinal Pell, someone he has never met, was nothing less than an attempt at "character assassination".
Mr Saunders also said Cardinal Pell should return to Australia and appear before the Royal Commission.
Cardinal Pell has already appeared twice before the Commission and last week in a letter sent directly to the Commission Chair, Justice Peter McClellan, offered his continued support and said he would once again give evidence if required.
Last night Cardinal Pell issued two statements - one before the program went to air and one after. Both can be seen here
Statement from Spokesperson for Cardinal George Pell 31 May 2015 8.10pm
Statement from Spokesperson for Cardinal George Pell 31 May 2015 10.40pm
Archbishop Denis Hart's statement can be seen here