Pope Francis Encyclical a Prophetic Cry to Care for Our Common Home
Catholic Communications, Sydney Archdiocese,
18 Jun 2015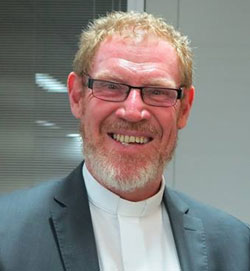 Fr Peter Smith, Justice and Peace Promoter, Archdiocese of Sydney
Pope Francis has released his long awaited encyclical Laudato Si' (Paised Be: on the care of our common home). With this document the Holy Father has responded to the cry of the planet to be healed of its pain and degradation; but not just "our Sister Mother Earth", but humanity itself in all its giftedness and struggles. In Exodus (Ch. 3) God heard the cry of the people and sent Moses to free them from their captivity in Egypt. Today God has heard the cry of our modern world and its people and sent the prophet, Pope Francis, to free the modern world, and he has responded by lighting his own burning bush which will, in a very accessible way, warm the hearts of those desirous of change and burn those who would destroy God's work.
On reading this encyclical one finds that there is something for everyone. It contains a scientific exploration of what is happening to our common home. It offers the wisdom of our Scriptural tradition enlightened by the church's tradition and especially of our modern popes. (In my own parochial way I am pleased he has quoted Bishop's conferences from all over the planet but especially from Australia and its 2002 statement A new Earth - The Environmental Challenge). It speaks to an integrated and holistic approach to our world as God's creation. It addresses the human needs of the poor, the indigenous and the most disadvantaged nations on the planet. It offers practical solutions accessible to the primary school child or the CEO of the largest multinational and the leaders of Government. This is a challenge which "now, faced as we are with global environmental deterioration, (is an) address (to) every person living on this planet" (no.3).
In the tradition of the Church the Holy Father highlights the need for us to take seriously the principles of Catholic Social Teaching. And so in promoting the common good, it calls us to respect the dignity of every human person and act with subsidiarity through the most basic human unit, the family, to bring about social peace, distributive justice and solidarity with all, in line with our preferential option for the poor (cf.no.157ff). The document recognises that the poor are the ones most effected by environmental degradation whilst being those who have least contributed to it (no.198). The amelioration of all that weakens and harms our world can only be achieved through effective dialogue and open healthy debate at all levels of society. We must be prepared to engage in a radical "ecological conversion" (no.220) which entails gratitude for God's gift, self-sacrifice and good works, a recognition that we are all connected and responsible in varying capacities. This requires an enormous shift in what Pope Francis calls The Globalization of the Technocratic Paradigm (no.106) which tends to subdue all creation, including the human person, to objects in the means of production and of profit. Protagoras thought that man is the measure of all things and it is such thinking that continues to lead us to an anthropocentric view of creation where all that is, is at the service of men and women.
What I like about this encyclical is its accessibility and how readable it is. I like that it has such a far reach, I like that it is a challenge, I like that it is courageous and takes a stand, I like that it is scientific, pastoral, spiritual and indeed, human. I like that it puts Catholicism on the world stage at a time and indeed place, where such issues are of prime importance. Finally; I like the prayers concluding the Encyclical for our earth and a Christian prayer for all creation which remind me ultimately that it is God's work with which we cooperate.
Praised Be the Lord for blessing our world with this gift.
Read Laudato Si', Pope Francis' second encyclical at www.vatican.va or download here.