Rain & Cold Forecast for Sydney's 10th CEO Sleepout
Catholic Communications, Sydney Archdiocese,
17 Jun 2015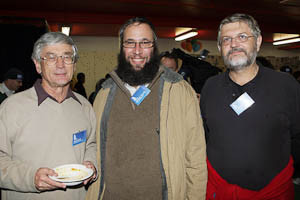 Sydney's movers and shakers are set for a wet and cold night when they bed down in the open tomorrow night for St Vincent de Paul Society's 10th annual CEO Sleepout for the homeless.
Unlike the past three years when the Sydney CEO Sleepout was held undercover at the historic Carriageworks in Redfern, this year's event will return to Luna Park where it was held in 2010 and 2011.
With temperatures set to be a chilly 10 degrees and a 90% rain forecast for Thursday, 19 June, the 300 Sydney CEOs including Sleepout regulars, Malcolm Turnbull Federal Minister for Communications, Holly Kramer of Best & Less and Martine Jager of RAMS, will have little to protect themselves from Sydney's mid winter weather other than a sleeping bag and a piece of cardboard, and the clothes they are wearing.
In an unusual twist, Melbourne CEOs can expect an easier time when they join more than 1271 CEOs across Australia sleeping rough to help raise awareness as well as funds for the homeless. Not only are temperatures in Melbourne not expected to fall below a mild 13 degrees but no rain is expected either.
Among the CEOs participating in Melbourne this year is first timer Gretel Packer. The normally-Sydney-based Gretel, sister of James and daughter of the late Kerry Packer and his wife Roz, is Chair of Crown Resorts Advisory Foundation Board and Crown Resorts Foundation. She is also the top fundraiser so far having already raised $199,000.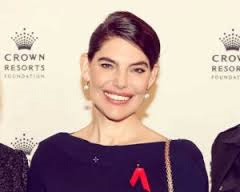 With the CEO Sleepout in its 10th year, Vinnies hopes to set a national record and raise $10 million for those experiencing homelessness and needing a hand up.
With 24 hours still to go this year's CEO Sleepout is already breaking records. The total raised so far stands at just under $5 million, and is expected to reach last year's record amount of $5.6 million later tonight, with the target figure of $10 million reached once all the pledges and donations come in.
On any given night of the year more than 105,000 Australian men, women and children have no permanent place to sleep. Some bed down in refuge centres, others in temporary overcrowded rooms they share with other desperate families. Some sleep in boarding houses while others are forced to spend the night in cars, with some having no choice but to sleep rough in local parks and anywhere they can find away from traffic on the street.
Since the 2006 census there has been an 8 percent rise in the number of Australians experiencing homelessness with this number expected to rise as Australia's economy stalls and more people are made redundant or find themselves under-employed and unable to get the number of shifts they need to keep a roof over their heads.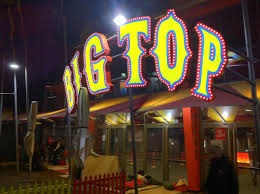 Contrary to popular belief, the majority of those experiencing homelessness are young people aged between 19 and 34 with women escaping from domestic violence now making up the fastest growing demographic among the homeless.
At least 44 percent of Australia's homeless are now women many of whom fled situations of family violence with their children, but without money or family living close, find themselves with nowhere to go.
Children under the age of 12 now make up 17% of Australia's 105,000 homeless, with many of these youngsters believed to be the children of mothers who have fled with them in a bid to escape violence from their partner.
Vinnies operates a range of support services for the homeless. In Sydney the Matthew Talbot hostel is well known and has long cared for men who are homeless giving them a chance to get back on their feet. The Woolloomooloo-based hostel also provides more than 600 nutritious breakfasts, lunches, suppers, morning and afternoon teas to homeless men and women each day.
Vinnies NSW also operates Vincentia House in Surry Hills which provides accommodation for family groups of for example, a mother and a teenage son, or a father with daughters. Refuges and supported accommodation for the homeless are usually restricted by gender, offering accommodation only to women and girls or only to men and boys.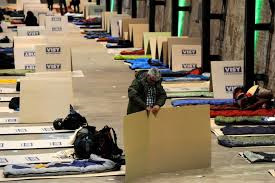 Vincentia House not only provides a place to stay, but offers counselling, financial advice, budgeting help and job skills training enabling individuals and families a chance to climb out of poverty. Vinnies also operates the night patrol van distributing hot soup and food to the homeless and runs the Ozanam Learning Centre offers counselling, educational training as well as training in the creative arts. This includes painting, crafts and music.
The Centre is also a chance for those on the margins to make new friends and be part of a warm and understanding community.
Tomorrow night's CEO Sleepout will be held across the country in Sydney, Melbourne, Wollongong, Newcastle, Launceston, Townsville, Alice Springs, Perth and Darwin.
Due to conflicting dates, the CEO Sleepout for Adelaide's high fliers will be held a week later on 25 June.
To donate or to register as a CEO or for a CEO see www.ceosleepout.org.au