Refugee Week Celebrates Courage and Resilience
Catholic Communications, Sydney Archdiocese,
16 Jun 2015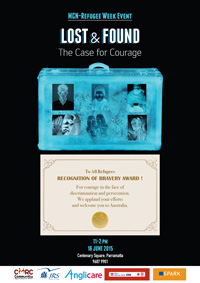 In recognition of the courage, resilience and determination of refugees forced to flee their homeland due to war, persecution, dispossession or discrimination, former refugees now living in Sydney will receive Bravery Awards today on behalf of all refugees.
Part of Refugee Week which began on 15 June and runs until 20 June, the Bravery Awards Ceremony is a joint initiative of the Migrant Multicultural Network of Parramatta in partnership with Jesuit Refugee Services, Anglicare, New Horizons and the St Vincent de Paul Society of NSW.
In addition to the Awards Ceremony, today's event which is being held at Centenary Square, Parramatta, there will be an interactive simulation of an emergency evacuation that millions of refugees worldwide face when they are forcibly displaced from their homelands.
Members of the NSW Fire & Rescue will be involved in the simulation, giving an authentic feel to what the plight of refugees from their forced eviction from their homes to the short time given to gather their most precious possessions before tracking their long and often unsafe journey to a neighbouring or host country.
This will be followed by a debrief so Sydneysiders can gain an insight into the hardship, terror and courage of refugees and the rich contribution they make in their host countries when those lucky enough, are finally accepted for resettlement and the promise of a safe future.
Included in the event, which is entitled "Lost and Found: The Case for Courage" is a powerful photographic exhibition by the Australian-born acclaimed photographer, Lisa Hogben whose work has made the covers of Time Magazine and other major international publications. The exhibition which will be on display at the Parramatta Town Hall, will be open throughout the day with another Sydney venue planned for the exhibition next week so as many people as possible can view Lisa Hogben's remarkable and moving photographs.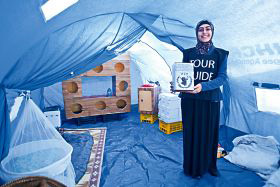 Refugee Week also marks the launch of the Catholic Alliance for People Seeking Asylum (CAPSA). A project partnership between Jesuit Social Services and Cabrini Health, the project is supported by an advisory group of national Catholic agencies which include Caritas Australia, the Australian Catholic Migrant and Refugee Office, the Australian Catholic Social Justice Council, the Australian Catholic University, Catholic Health Australia and Catholic Mission.
"Anything each of us does, by collecting food to share with asylum seekers, offering friendship and comfort, helping with housing or joining others in speaking up for them, will help make for a more caring society," says Johanna Burns from Jesuit Social Services, adding that as awareness of CAPSA increases, more and more people will come together to support asylum seekers.
CEO of Catholic Social Services Australia, Marcelle Mogg gives her full support and encouragement to CAPSA.
"So many Australians feel powerless in their capacity to influence change in the stance of both major political parties. CAPSA will provide an opportunity to build a collective voice for change," she says.
The House of Welcome, a project of St Francis Social Services which is part-funded by the Archdiocese of Sydney is also involved in events for Refugee Week. The only agency in Sydney to provide accommodation for refugee and asylum seekers for 8 to 12 months or as long as needed, the House of Welcome offers support and shelter to new arrivals.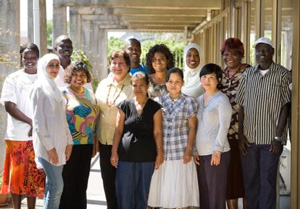 Founded in 2001, the House of Welcome is well known across the city for its "Welcome Feast Cooking Classes." Held on a regular basis, asylum seekers and refugees from the House of Welcome join with the Auburn Small Community Organisation Network to demonstrate how to cook dishes from their homelands. Hugely popular, the classes offer a chance to learn how to cook Bengali national dishes, the food of Sudan, Iraq, Syria, Afghanistan and a host of foods from other countries. They also offer a unique opportunity to share the food by sitting down for a meal with the asylum seekers and refugees at the end of each class.
Throughout Refugee Week, volunteer chefs from the House of Welcome will provide lunch for volunteers and staff organising and running Auburn Community Centre's "Refugee Camp in My Neighbourhood" event. Set up in the grounds of the Centre, a simulated Refugee Camp enables schools, student groups, families and people of all ages to engage with former refugees or asylum seekers. Acting as tour guides, the former refugees guide hundreds of people each day through an interactive exhibition as well as hear stories of the experiences of local Auburn residents.
The simulated camp also gives participants the opportunity to experience what it is like to flee your country in a desperate bid to find safety for yourself and your family.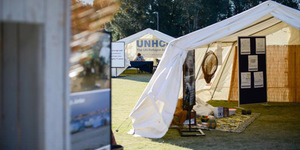 To allow as many people as possible to take part in the "Refugee Camp in My Neighbourhood" Dooleys Catholic Club at Lidcombe has partnered with Auburn Council and is providing a free shuttle bus from outside of Dooleys, Lidcombe to Auburn. For details of how to book and departure times for the shuttle bus and the two hour tours of "Walking in their Footsteps: Refugee Camp in My Neighbourhood" see
http://www.eventbrite.com.au/e/walking-in-their-footsteps-refugee-camp-in-my-neighbourhood-free-event-tour-no-3-tickets-17064100183
For information about CAPSA and how to become involved see http://capsa.org.au/
For events throughout Refugee Week see http://www.refugeeweek.org.au/