Good Samaritan Student Determined to Make a Difference
Catholic Communications, Sydney Archdiocese,
15 Jun 2015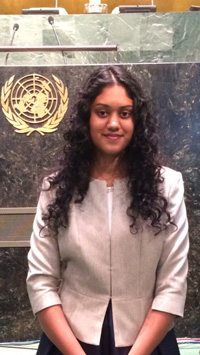 Year 12 student at Hinchinbrook's Good Samaritan College, Sheneli Meneripityage Dona joined delegates from 54 countries late last month for the United Nations Special General Assembly on Youth. Not only was the 17-year-old inspired by the address given by UN Secretary General, Ban Ki- Moon but she won the support and encouragement of two of the UN's outstanding leaders for youth and women's affairs.
Professor Joy Ogwu, who has twice been elected President of the Security Council and is Nigeria's permanent Ambassador to the UN, and Vivian Onano, youth activist and member of the UN's Women and Civil Advisory Group met with Sheneli and offered their encouragement and support to Sheneli's plan to establish her own international human rights organisation.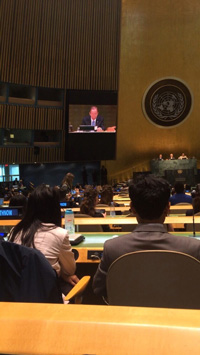 "They are both amazing women, and when I told them about my plans for an international organisation to help influence government bodies to implement policies and strategies to protect human rights, particularly of women and children, they offered advice and counsel and even said they would travel to Australia for the launch later this year," Sheneli says.
While she admits starting The Faith Foundation, as it will be known, will not be easy, she remains undaunted. Her brother-in-law, a business development manager, is taking care of the legal aspects of setting up a charitable foundation and liaising with corporations in a bid to raise the capital needed for the start up.
She also has plans for fundraisers, conferences and campaigns on social media to raise awareness about the Foundation together with its focus on human rights and the rights of the child.
Now with the support of two international leaders at the UN, the teenager is well on her way to achieving her dream.
Despite sitting the all-important Higher School Certificate in October and November this year, Sheneli, who is a straight A student, is organising her time so that she can continue to help with setting up The Faith Foundation and to continue her role as a Youth Ambassador for the Global Volunteer Network.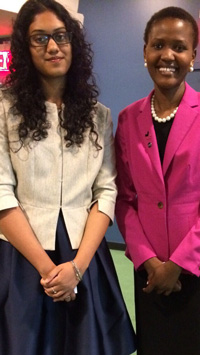 "The importance of social justice was instilled in me by my parents as well as from Catholic teachings. But it wasn't until after a family visit to Sri Lanka in 2012 where I saw horrific poverty and heard shocking stories about the physical and sexual abuse of women, that I knew I had to find a way to stand up for them, and others around the world who have no voice," she says.
A short time later, Sheneli discovered the Volunteer Global Network (VGN). Founded in 2000, with more than 97 current projects in over 20 countries in the Americas, Oceania, Asia and Africa, VGN is endorsed by the UN and philanthropists such as Bill Gates.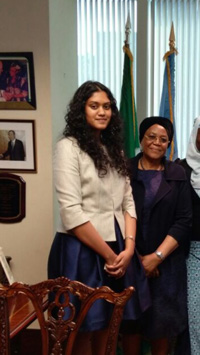 In the past 14 years, 19,880 volunteers spent time working on VGN projects which range from teaching English to caring for orphaned children, helping with HIV/AIDS education and eradication, conservation, healthcare, construction, student nursing, wildlife and community development.
Volunteers for VGN projects must be 18 or older. But those underaged can undergo the training and become Youth Ambassadors, and it was in this capacity that Sheneli was invited to attend the United Nations Special General Assembly.
The only Australian among youth delegates who represented 54 different nations at the UN's Special General Assembly to mark the 20th anniversary of the UN's 1995 World Program of Action for Youth, Sheneli was also the youngest.
But what she lacked in years, she more than made up for with her maturity and grasp of key issues, as the UN's Special General Assembly analysed the implementation of the World Program of Action for Youth over the past 20 years and identified the gaps and challenges that lie ahead.
Now back in Australia, Sheneli has spoken to her Year 12 classmates about her experience as a youth delegate to the United Nations, as well as her meetings with the other young delegates from across the world and the friendships and partnerships she forged with UN leaders and advocates for women and youth, Professor Ogwu and Vivian Onano.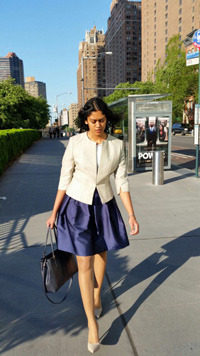 "I want to inspire them just as I was inspired by those I met and spoke with," she says.
After taking HSC in economics, legal studies and business, advanced English and history and studies of religion, Sheneli intends to attend the Australian Catholic University where she will study for a double degree in law and commerce and specialise in International Human Rights Law.
With her determination, dedication and commitment to helping the world's poor and oppressed there is no doubt this young woman will achieve her goals and become a leader in protecting the human rights of women, children and the vulnerable.
To find out more about GVN see http://www.globalvolunteernetwork.org/