Pope 's Encyclical on Environment Will be a Game-Changer
Catholic Communications, Sydney Archdiocese,
12 Jun 2015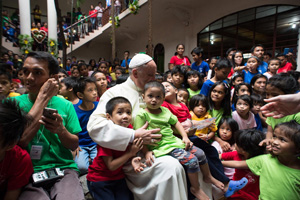 "Laudato Si," Pope Francis' much-anticipated encyclical on the environment will be a game-changer, says Yeb Sano, internationally respected environmentalist and former Climate Change Commissioner to the Philippines.
"The Holy Father has shown himself to be a dynamic leader and an inspiration, and he will change the way people look at the world in a profound way. When he weighs in on climate, his teachings will have a tremendous impact and will reach out in a powerful way to people of faith across the world so we can build the kind of voice needed so that governments and leaders pay attention to what is happening ," Yeb told Catholic Communications this morning.
In Australia to raise awareness about the environment and climate change in his new role as a Spiritual Ambassador to OurVoices, a faith-based international climate activist group, Yeb is also leading a series of "People's Pilgrimages" to help raise awareness about climate risk, climate impact, climate resistance.
Yesterday he was in the Blue Mountains with a group of "climate pilgrims" where the group visited still scarred and blackened areas razed by 2013's devastating bushfires.
This morning he led a group of pilgrims across Sydney Harbour Bridge before gathering outside St Mary's Cathedral to give thanks and to pray.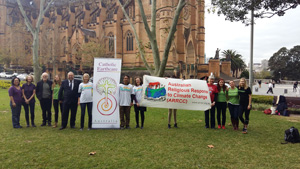 Later today, Yeb whose visit to Australia is supported by Catholic Earthcare Australia in partnership with Greenpeace and ARRCC (Australian Religious Response to Climate Change) will lead a prayer vigil in the Royal Botanic Gardens.
"Climate change is above all a moral issue," he insists. "Religion helps bring this dimension to the biggest problem that faces our human family, and something that has been missing from all the talk and debate far too long."
Yeb gained overnight fame worldwide in November 2013 when he gave an emotional address to the United Nations Climate Change talks in Warsaw less than a week after Cyclone Haiyan cut a swathe of destruction through the Philippines. The strongest Cyclone to ever make landfall on record, Cyclone Haiyan smashed Yeb's hometown of Tacloban, killed more than 10,000, destroyed entire villages and left millions of people homeless.
Yeb who was the Philippines' Climate Change Commissioner at the time, fasted throughout the week of the talks in solidarity with those who had lost their lives.
But it was his speech at the UN Climate Talks that grabbed people by the heart, moved both by his passion and his tears.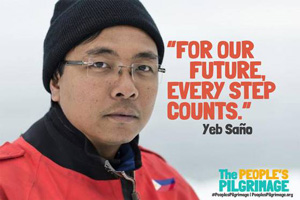 "Typhoons such as Haiyan and its impacts representing a sobering reminder to the international community that we cannot afford to delay climate action," the young lawyer turned diplomat said, urged all those there to take urgent action. He pointed to the lack of action since the conference in Doha the previous year. "In Doha we asked 'if not us, then who? If not now, when? If not here, then where?' But here in Warsaw, we may very well ask these same questions. What my country is going through as a result of this extreme climate event is madness. The climate crisis is madness, Mr President. But we can stop this madness right here in Warsaw."
In January this year, Yeb met with Pope Francis when the Holy Father visited the Philippines, and accompanied the Pontiff on his visit to Tacloban which is slowly rebuilding in the wake of Cyclone Haiyan's overwhelming devastation which left almost no buildings standing in the city of more than 2 million.
"Pope Francis brought the people of the Philippines and in particular, the people of Tacloban, a strong message of compassion and love. I am also sure that it was his experience in the Philippines that helped in his decision to speak out on the issue of the environment and to address this issue in his second encyclical, Laudato Sii," he says.
However although many media in the secular world are expected to cherrypick the Pope's teachings in his upcoming Encyclical and take a political approach using headlines declaring "Francis backs limits on greenhouse gas" or "Pope calls for halt to coal mining," Laudato Sii will not be a poltical document. Or a scientific one.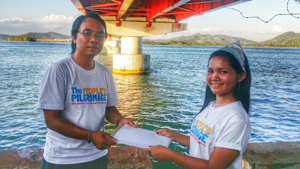 Instead, as famous Vatican journalist and commentator John Allen says, it will almost certainly be a work of moral theology.
Yeb agrees, and predicts the Pope's Encyclical which will be made public next Thursday, 18 June will put a strong emphasis on the common good, stewardship and caring for the environment as well as economic justice and "the moral responsibility for all of us to be part of caring for creation."
Pope Francis is not the first pontiff to speak out about the environment. During the Papacy of his predecessor, Pope Benedict XVI was dubbed "the green Pope" after installing solar panels on the roof of the Vatican and acknowledging the importance of respecting natural balances, cycles and rhythms and caring for God's great gift to us of our planet.
Tomorrow Yeb Sano will head for Airlie Beach in Queensland where he will lead a People's Pilgrimage along the shores to raise awareness about the decline of the Great Barrier Reef resulting in wide spread coral bleaching and the loss of species.
He began the People's Pilgrimage in Vanuatu which was devastated by the worst cyclone to make landfall in the Pacific, which devastated the island earlier this year. He then flew to Australia and then will head for South East Asia and will continue leading pilgrimages to raise awareness about the impact of climate change, particularly on third world countries and impoverished nations.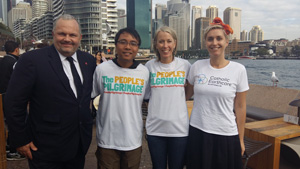 The People's Pilgrimage will culminate at the end of the year when he and a group of climate pilgrims will make a 1500 kilometre journey on foot from Rome to Paris and the United Nations Climate Change Conference which begins on 30 November.
"When I left Tacloban to begin my journey around the world, I was given a letter to take to the world's leaders by a child in Tacloban who had survived Cyclone Haiyan," Yeb says explaining that she wanted governments and leaders to understand that extreme weather events and the change in climate is happening now and needs urgent action.
"I will be carrying her letter with me when I arrive in Paris. I will also be carrying a copy of Pope Francis' Laudato Si Encyclical which I will also present to delegates at the Conference," he says.
To find out more about the People's Pilgrimage see http://peoplespilgrimage.org/join-in.html
To find out more about Catholic Earthcare Australia Catholic see http://catholicearthcare.org.au/