Race Against Time for Nepal's Quake Victims
Catholic Communications, Sydney Archdiocese,
12 Jun 2015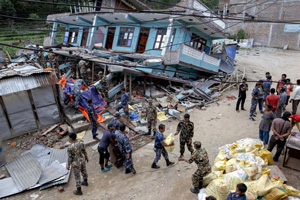 Caritas Australia and partner agencies are in a race against time in Nepal to provide urgently-needed relief supplies to survivors of the nation's two deadly earthquakes as the monsoon rains begin, creating even more misery for the grief stricken nation.
Yesterday a massive landslide wiped out six villages and killed 47 people with dozens more still missing. Rescue efforts for those in the remote mountainous region are being hampered by continuous rain and flashing flooding.
In the past 24 hours Nepal's meteorological department has recorded 129 mm of rainfall with the heavy monsoon rains set to continue until August and to cause even more devastation and heartache.
The death toll from the landslide is expected to rise adding to the more than 9000 who lost their lives in the 7.9 quake on 25 April and the 7.3 quake which rocked Nepal two weeks later.
"The Nepal Government report that together both earthquakes have destroyed as many as 500,000 homes, severely damaged a further 250,000 houses and affected more than 8 million people in 39 of Nepal's 75 districts," says Angela Ford, Caritas Australia's Communication Manager.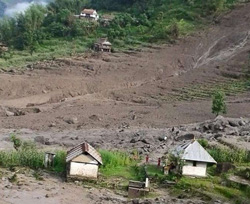 Angela along with Caritas Australia's Humanitarian Manager, Melville Fernandez have been on the ground in Kathmandu since early May, arriving shortly after the first quake hit on 25 April. Measuring a massive 7.9, the quake toppled ancient buildings in Kathmandu, triggered avalanches on Mount Everest killing hikers and climbers including one Australian, and wiped out entire villages.
A second quake measuring 7.3 rocked Nepal just over two weeks later. Buildings weakened by the first quake collapsed and landslides buried villages and made access to help people in remote regions almost impossible.
Caritas Australia has been working in Nepal providing aid and development programs over many decades.
"Our strong presence, local partnerships and the Church network, enabled us to mobilise immediately after the first quake," says Paul O'Callaghan, CEO of Caritas Australia.
Working closely with Father Pius Perumana, Director of Caritas Nepal along with local staff and volunteers, Caritas Australia has been distributing tarpaulins, food and water to devastated families in Kathmandu valley's worst affected areas.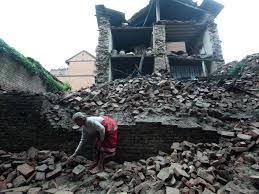 In the effort to get urgently-needed shelter, healthcare, hygiene kits, food and fresh water to the many thousands of quake survivors, Caritas Australia is also working alongside partner agencies who are part of the Caritas Confederation which includes USA's Catholic Relief Services (CRS).
"The success of global humanitarian response agencies hinges on partnerships and relationships with local agencies, government and communities. With 87 percent of Nepal's population living in rural areas, the challenging infrastructure and geography and the extent of the destruction and damage from the two earthquakes, ongoing aftershocks and landslides, local expertise, language and cultural knowledge are paramount," says Angela Ford.
Within the first one and a half months after the first major quake, Caritas Australia working alongside Caritas Nepal have provided 160,000 with temporary shelter supplies, kits for clean water and hygiene care in Gorkha, Sindhupalchowk, Nuwakot, Kavre, Lamjung, Okhaldhunga, Rasuwa, Sindhuli, Kathmandu, Lalitpur and Bhaktapur.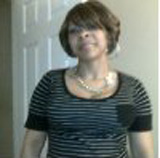 "Caritas is the Church's principal agency of love in action," says Bishop Paul Simick, Vicar Apostolic of Nepal. "Caritas Nepal is reaching out with this message of love to all our affected brothers and sisters through this love in action. We are here to save lives and give hope to the people."
In addition Caritas agencies together with CRS have provided 575 households in hard hit communities west of Kathmandu with materials to construct transitional shelters. This is the first step towards permanent rebuilding and includes corrugated galvanised iron sheeting, tool kits and nail kits. More than 1280 households in Nepal have also received water, sanitation and hygiene kits.
Caritas with CRS have also negotiated with the Mega Bank Nepal Ltd to donate cash to 1300 households in Southern Gorkha to help them rebuild. Caritas and CRS have also started giving cash grants to vendors to repair and construct much-needed infrastructure.
Both Caritas Australia and other Caritas agencies together with CRS are committed to remaining in Nepal for as long as it takes to provide relief and to help the battered nation recover and rebuild.
Poverty-stricken Nepal needs all the help it can get. But four weeks after the second quake, the priority remains emergency aid and finding ways of getting relief supplies and shelter to as many quake-affected communities as fast as possible ahead of the full impact of the monsoon.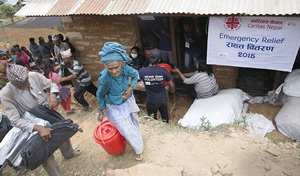 From now and for the entire summer it will rain almost every day in Nepal. Every day will be hot, muggy and wet. For the many thousands who lost their homes and everything they own in the April earthquake, or the one in mid May, conditions in tents and temporary shelters will be extremely difficult. The rain and heat and crowded conditions may also become a breeding ground for disease and infection.
Equally worrying for Caritas Australia and the aid and development agencies currently in Nepal is that in a nation already devastated by earthquakes they now face danger from severe mudslides. Infrastructure such as roads and bridges that remained undamaged by the quakes and aftershocks, are now at risk of being washed away.
For hard hit areas, the monsoon rains will also hamper efforts to begin rebuilding, or even to continue efforts to clear away the mountains of rubble triggered by the collapse of countless temples, houses and government buildings.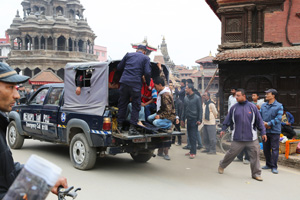 "During the monsoon season moving construction materials and relief goods will be difficult if not impossible," says Jen Hardy from America's Catholic Relief Services.
Even in the dry season, many of Nepal's mountainous villages are inaccessible and when the first quake hit the Nepal Government had to put out an urgent call to the world's nations for helicopters to find out what towns or villages had been affected, and even more important, provide immediate supplies of food, water, and shelter to those who had survived.
For many displaced and struggling families in Nepal, another danger has also emerged. This week Fides, the Vatican's international news agency, reported that vulnerable women and children are being tricked or kidnapped by unscrupulous human traffickers and forced into slavery, prostitution or used as cheap labour in Saudi Arabia, Kenya, India, Malaysia, South Africa and South Korea.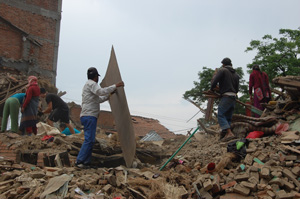 Rupa Rai from Caritas Nepal, who was guest of honour at Caritas Australia's Women for the World fundraiser last month, revealed that between 5000 and 7000 of mainly women and children were victims of human traffickers in Nepal last year, where the vulnerable and poverty-stricken are easy prey, and revealed her fears that many more will become victims of traffickers this year in the chaotic aftermath of Nepal's two earthquakes.
To donate to Caritas Australia's Nepal Appeal and find out more about their work at helping the devastated nation and its people recover see http://www.caritas.org.au/learn/emergency-response/nepal-earthquake-appeal