Catholic Vocational Trailblazer Offers Students Wide Range of Career Pathways
Catholic Communications, Sydney Archdiocese,
11 Jun 2015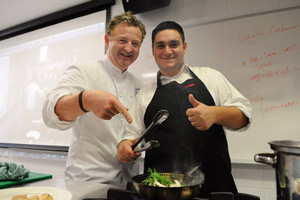 The Southern Cross Catholic Vocational College (SCCVC) at Burwood continues to lead the way when it comes to apprenticeships and specialist training for Year 11 and Year 12 students. Not only do the students complete the Higher School Certificate but leave school with three Vocational Education and Training (VET) qualifications under their belt.
Consistent winners and placegetters at the annual NSW Training Awards students at SCCVC are work-ready when leave school and in demand.
Founded just five years ago, SCCVC has also built a growing awareness among business and industry employers about school-based apprenticeship training and introduced a unique scheme where students spend one day a week in training with a small business, and the other four days of the week at the College.
Those in training receive one day's pay from the business as well as learning on the job.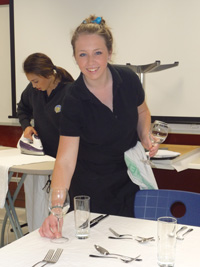 For students as well as the business taking on the apprentice one day a week, most of whom could not afford to take on a full-time apprentice, it is a real win-win situation.
SCCVC's visionary Principal, Patrick O'Reilly has already forged partnerships between the College and more than 600 employers across Sydney, and hopes to increase this number, or even double it, within the next year or two.
"We need between 1200 and 1300 work placements for our students each year," he says.
While there is still a certain amount of scepticism in the broader community about what schools such as SCCVC can achieve compared with TAFEs and private vocational training colleges, Mr O'Reilly says this is beginning to change.
"Employers in particular are seeing what we are doing and recognising the quality of the training and the motivation of our students. And as they become aware of how well-trained our students are, more and more employers are happy to partner with us," he says.
Those businesses that partner in the scheme and take on a trainee student one day a week are under no obligation to employ them once the student graduates. "But many do," Mr O'Reilly says.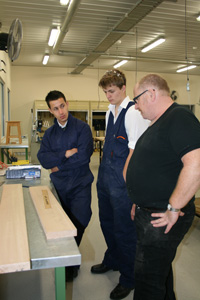 In the past two years, the College has also linked with a number of TAFE Institutes which has enabled SCCVC to offer an even wider range of courses.
"For instance with hair dressing we have linked with Petersham TAFE to co-deliver the course," Mr O'Reilly says. Students at SCCVC are able to earn units of competency for a Certificate II in hairdressing under the watchful eye of Leanne O'Connor, a Finalist in the 2012 NSW Vocational and Education Teacher/Trainer of the Year Award, but need to attend TAFE for their Certificate III.
"We are a registered training organisation for Certificate II but not for Certificate III, so TAFE at Petersham completes the delivery," Mr O'Reilly says.
A similar arrangement has been reached with another Sydney TAFE. This allows students in construction trades such as carpentry to obtain Certificate II in Construction Pathways at the College. In year 12 further Specialisation study is available at TAFE where they can obtain a Statement of Attainment towards a Certificate III in Carpentry, which is an important and nationally recognised qualification.
Students who enrol at SCCVC at the start of Year 11 and graduate two years later obtain their HSC as well as qualifications and certificates in the chosen field of study.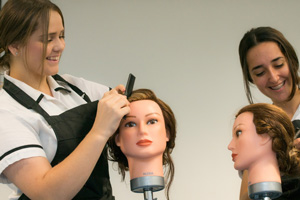 Among the courses and apprenticeship training on offer at the College are Automotive Trades, Beauty Therapy, Business Services, Children's Services, Construction, Furniture Making, Hairdressing, Hospitality - Commercial Cookery, or Hospitality - Food and Beverage, Information Technology, Media offering training in multi-media development, web design, graphic design, and Retail.
Courses recently added to this impressive list include training for those wishing to make a career in Travel Tourism and Events Management and training for the Sports, Fitness and Recreation Industry giving students a chance to become a Personal Trainer, sports coach or assistant and junior coach.
Also on offer is a course for young people wishing to enter the Music Industry as music producers, or want to become involved in sound mixing and recording, artists management or as a booking agent.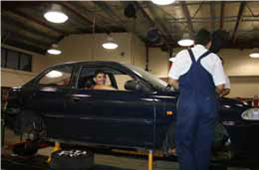 SCCVC students also have a chance to receive training in the Entertainment Industry as a technical operator, costume designer, makeup artist, prop designer and builder, set designer, audio and lighting technician or front of house manager.
Recently the College introduced a new and exciting initiative by linking up with many of Sydney's Catholic high schools, offering "taster" courses for students in Years 9 and 10, giving them a chance to experience what's on offer and also to participate.
A recent venture saw Aboriginal students in Years 9 and 10 from Ashfield's De La Salle College join SCCVC's hospitality class and learn the secrets of contemporary Bush Cooking. Using Indigenous herbs and spices the students from De La Salle grilled barramundi, made Kangaroo hamburgers and a range of other great dishes.
"With our school program we are committed to a pathway for Indigenous students. Many Aboriginal young people have preferred vocational pathways to tertiary education at universities and we want to encourage and support this," Mr O'Reilly says.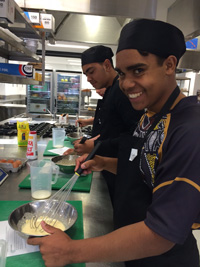 The Principal of SCCVC is also quick to dispel the myth that those choosing or undertaking vocational training are somehow less intellectually gifted than those opting to go study for a university degree.
"Too often in Australia university is seen as the first priority. Vocational education and training does not have the same parity of esteem or value. Our Government should be taking notice of what is happening in Germany," Mr O'Reilly says, explaining that in Germany every pathway to a career is valued and university considered only one of many different pathways.
"Membership of Germany's Chamber of Commerce in every town and city is compulsory. The Chamber of Commerce, looking ahead to the next generation, takes responsibility for the training of apprentices for business and industry, and ensures that members are the ones who subsidise, incentivise and take trainees on," Mr O'Reilly says.
He also points out Germany, as a result of its strong well-supported apprenticeship and trade training program, has a youth unemployment rate of just 8 percent which is by far the lowest in Europe. The figure is also well below Australia's youth unemployment rate which currently stands at 14.2% nationally, climbing to more than 19% specific areas such as Sydney's south west.
To find out more about Burwood's Southern Cross Catholic Vocational College see http://www.sccvc.nsw.edu.au/Pages/Home.aspx.