ACU Welcomes Sydney's New Archbishop & New Chancellor
Catholic Communications, Sydney Archdiocese,
8 May 2015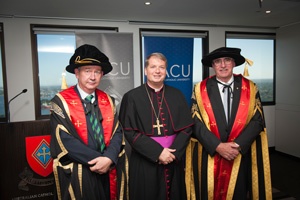 The Archbishop of Sydney, the Most Rev Anthony Fisher OP has been presented with an exquisite miniature of the Nativity taken from a 15th Century Flemish Book of Hours executed on vellum after the style of Willem Vrelant, one of the most important illuminators of the 1450s.
The superb miniature which depicts Mary and Joseph kneeling before the baby Jesus was presented to Archbishop Anthony on behalf of the Australian Catholic University by Vice Chancellor, Professor Greg Craven at a special reception to welcome Sydney's ninth Archbishop and ACU's new Chancellor, former NSW Premier, John Fahey.
The reception was held at the Peter Cosgrove Centre at ACU's North Sydney Campus.
"As a memento of this happy day and as a token of our good wishes for you in your new role, please accept this small gift," Professor Craven said when making the presentation to the Archbishop. "I hope this beautiful image will always be a joyful reminder to you of ACU's friendship and support."
Professor Craven also paid tribute to the ACU new Chancellor describing the appointment of John Fahey AC, as a "great coup for the University to have secured the services of such a prominent and well-respected Australian."
The fourth Chancellor in ACU's almost 25-year history, Mr Fahey succeeds General Sir Peter Cosgrove who was named Governor General of Australia by Prime Minister Tony Abbott in March last year.
Although Mr Fahey's appointment was announced just over six months ago, and his inauguration Mass held at St Patrick's Cathedral in Melbourne in November 2014, Wednesday this week was the first opportunity for the University to hold a reception to officially welcome both him and also Archbishop Anthony.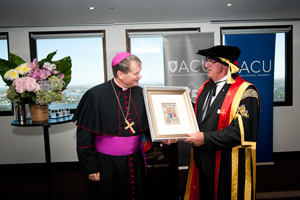 This week's reception also marked the start of a series of celebratory events, seminars, art exhibitions and ceremonies leading up to the university's 25th Anniversary.
Officially opened on 1 January 1991, Australia's youngest university was formed by the amalgamation of four highly regarded Catholic tertiary institutions. These were Sydney's Catholic College of Education, Victoria's Institute of Education, Queensland's McAuley College and the ACT's Signadou College of Education .
Since then ACU has gained a reputation as one of the nation's leading public teaching and researching universities.
Today ACU has a student body of more than 23,000. With seven campuses in North Sydney, Strathfield, Ballarat, Melbourne, Canberra, Brisbane and Adelaide, ACU is Australia's only truly national university.
ACU has also forged links with leading overseas universities and in a joint venture with the Catholic University of America (CUA) will open an overseas study centre in Rome later this year offering unique research opportunities for students and academics from both universities.
The Study Centre on Rome's historic Janiculum Hill will offer living quarters for undergraduates, a wing for post graduates and apartments for visiting faculty, and marks the second collaborative venture between ACU and CUA.
Since 2009, CUA's School of Nursing has had a reciprocal student exchange program with ACU's School of Nursing, Midwifery and Paramedicine.