Fears Human Traffickers Will Prey on Desperation of Nepal Earthquake Victims
Catholic Communications, Sydney Archdiocese,
7 May 2015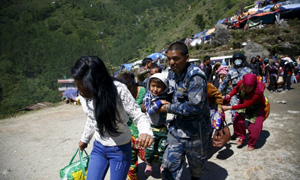 In Nepal as many as 5000 to 7000 - the majority of whom are women and children - are trafficked every year to India, Kenya, Saudi Arabia, Malaysia and other nations. Tricked or kidnapped by unscrupulous human traffickers they are forced into prostitution, exploited as cheap labour and maltreated, physically and sexually abused.
Now with as many as 8.2 million injured or left homeless as a result of Nepal's 7.9 earthquake, Rupa Rai of Caritas Nepal fears that hundreds of thousands of vulnerable Nepali women and children will become easy prey for human traffickers.
Currently in Sydney as the guest of honour and keynote speaker at today's Caritas Australia's Women for the World fundraiser, Rupa was at her home in Kathmandu when the earthquake struck just before midday on 25 April.
"I had just come home from Sunday Mass, which is held on Saturdays in Nepal because Saturday is a holiday but Sunday is a working day. I was with my husband in my kitchen and preparing when suddenly there was a massive jolt and the ground began to move. The quake was so strong it was impossible to stay standing. We wanted to run but there was no time to get outside," she says.
Everything in Rupa's house was tossed across the room. Glassware and chinaware was smashed. The fridge and other appliances along with the house's all-important water tank were destroyed.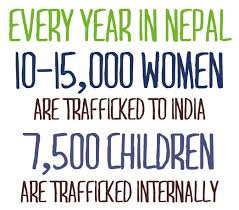 "But we were lucky. Our house is damaged but it is still standing," Rupa says.
Like so many in the first few days after the quake when 6.9 and 6.7 magnitude aftershocks continued to rock the city, Rupa and her husband slept outside, too afraid that the ongoing tremors would further undermine the house and trigger a possible collapse.
"We slept on the ground outside with many others from our neighbourhood. We prayed and sang together, ate together and looked out for one another. We came to know each other and there was a strong feeling of solidarity that gave us all strength," she says.
But for Rupa there was little time to worry about her own house or what may or may not have been lost. Instead as a key member of Caritas Nepal, she was instantly on the ground and doing what she could to help.
Working closely with Caritas Australia, which has been on the ground in Nepal overseeing literacy, health and other important programs, she helped assess the massive damage caused by the quake and deliver urgently needed tents and tarpaulins, along with blankets and other emergency relief to the hundreds of thousands made homeless.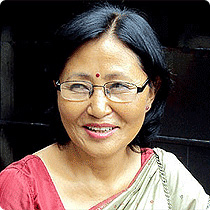 "People have lost everything and are desperate," she says. "Many are still in desperate need of food and shelter as well as medical attention."
Two weeks after the earthquake struck some villages high in the Himalayas remain inaccessible with many believed to have been reduced to rubble or buried by landslides triggered by the force of the quake.
Caritas Teams from Australia, India, Asia, Poland, Germany, Netherlands, Belgium, America's Catholic Relief Services and other Caritas agencies are now in Nepal helping with the relief effort.
"It really is Caritas Internationalis in Nepal at present with everyone working to help those affected and also working closely with local NGOs in outlying villages and towns," she says.
But already Caritas Nepal is not just assisting the immediate needs of the Nepali people, they are helping with recovery as people struggle to rebuild their lives over the long term.
"What is most concerning is that with nowhere to turn, desperate, vulnerable and with no money or home, Nepal's women and children will become prey to human traffickers," she says.
A member of Caritas Nepal since its establishment in 1990, Rupa was appointed to the Women's Desk in 1997 when she took on the all-important role of Anti Trafficking and Safe Migration Consultant.
For almost two decades she has fought to protect women and children and prevent human trafficking. Developing and implementing different programs, she has helped survivors of trafficking recover from their ordeal.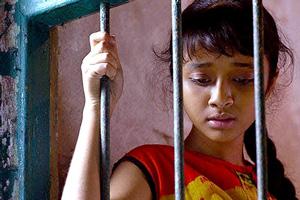 "Most of the victims of human trafficking in Nepal are children and women, especially those aged between 9 and 25 years of age. When I first began working in this area, trafficking was mainly confined to India but now Nepali women and children are being trafficked to countries across the world," she says.
Those behind trafficking, many of whom make millions of dollars out of this ugly and cruel trade in humans, prey on the desperate. Traffickers often kidnap their victims but what is more common is to "trick" the women and their families by offering them a chance at a future and a way out of poverty, Rupa says.
"In an extremely poor nation like Nepal where there are many with no education and where there is still a high rate of illiteracy, many communities are not aware of trafficking or what it means," she says. "Instead they believe what they are told by these traffickers."
Families firmly believe their daughter is being sent away to school for a chance of proper education. Young women are also persuaded and even undergo "fake marriages," convinced they have wed a wonderful caring man who will look after them. Still others think they are being flown to a new country to be trained for a job that will bring them and ultimately their family in Nepal a good and stable income.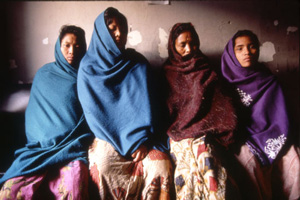 "They believe they are going to a better life but instead they are exploited, abused, forced into prostitution and used as cheap labour," Rupa says.
In addition many also become unwitting organ donors, forced to have operations to remove a kidney or other organ that will later be sold.
"I am here in Sydney to let people know what is happening in my country and why this is happening," Rupa says. "But I will not only be talking about the dark side of trafficking. I want people to also know that it is not all doom and gloom. I want to tell the good news as well, and the positive stories of the many women who have been rescued from brothels and other forms of exploitation and now lead lives of dignity and respect.
"As a Catholic woman and working with a Catholic organisation, we must remember that the first principle is to restore human dignity. Through rehabilitation, counselling, literacy programs, job skills and leadership training we try to bring back that dignity to the women who were once sold like slaves," she says.
To donate to Caritas Australia's Nepal Earthquake Appeal log on to: www.caritas.org.au