A Special Tribute to Two Mothers Who Helped Raise an Outstanding Young Daughter
Catholic Communications, Sydney Archdiocese,
7 May 2015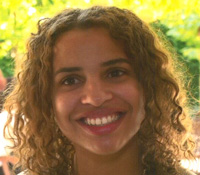 At just nine years old, Amber Boatman's mother died. For the next two years she was cared for by relatives and then at age 11 she entered into foster care. Now with the approach of Mother's Day, she pays tribute to her much loved mother and to her equally loved foster mother.
"These two amazing women have made me who I am today," she says.
Amber, who will celebrate her 24th birthday in a few days time, graduated from the University of Notre Dame in November last year with a Bachelor of Law and a Bachelor of Social Science. Since then she has undertaken legal practical experience at both the Aboriginal Legal Service and Mt Druitt and Area Community Legal Service. Now after successfully passing her Bar exams on 22 May she will be admitted to the NSW Supreme Court and licensed to practice law.
In addition she's already been selected from a large number of applicants for a coveted position in the public service as a lawyer.
Her birth mother would be extremely proud of her daughter and her achievements. Although still in primary school when she lost her birth mother, Amber remembers her as "a really kind-hearted person."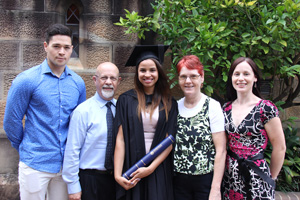 "She was always genuine and without pretence and always very giving. We had almost no money but my mother was always willing to help out wherever she could. She was the one who taught me about accepting people as they are and to be kind and generous. She was also great fun," she recalls.
Although surrounded by love, Amber's early childhood was one of disadvantage and struggle and although she has accomplished much in her 23 plus years, she insists this would not have been possible without the encouragement, support and love of her foster mother Kerry Gonzales.
From Kerry Gonzales, her foster mother, Amber says she learned the importance of achieving goals, of being responsible and of attaining general life skills.
"She is definitely a very special person and always supported me, gave me stability and love, and opened up a whole world of possibilities I had never even considered," she says.
Kerry who is a primary school teacher, along with Amber's foster dad, Ben who is an engineer, and her foster sisters one of whom is a practicing lawyer and the other who is studying law, were also powerful role models.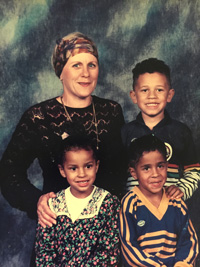 "When I first began living with the Gonzales family, I remember walking through the front door and seeing all the degrees hanging on the wall. I used to admire them as I walked past and as I grew older, I began thinking maybe one day I could have one of these too," she says.
Amber considers herself extremely lucky in having two families who have loved and cared for her, and insists she finds no difference in the way she is loved by her real family and her foster family, and the profound love she feels for them.
Amber's "real family" as she calls them include Myles, her twin brother, Leon her elder brother, her mother's six siblings along with cousins and extended family.
Amber's foster family is equally important to her and the close loving relationship between Amber and her foster family has continued long after she was discharged from foster care.
In NSW the majority of the 20,000 children across NSW placed in out-of-home care ends once they reach 18 years of age. This is when they cease to be wards-of-the-state and the NSW Department of Community Services ends its responsibility to them.
Left to fend for themselves many of these 18-year-olds struggle to survive with large numbers lacking the education and skills to find a job, end up homeless or in prison.
But for Amber, not only has her foster family remained in close touch, but they were out in force to cheer her at her graduation from UNDA last November and to take her out to a celebratory dinner afterwards.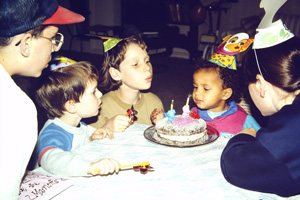 They will also be there to congratulate her when she is admitted as a solicitor later this month.
"When I first came to live with the Gonzales family I was just a few weeks off starting Year 7. I had no idea which high school I'd be going to or how I'd fit in. But Kerry and my foster Dad not only organised for me to go to Our Lady of Mercy College at Parramatta, but the fees for the school came out of their own pocket," she says.
She also pays tribute to Kerry and the way she helped prepare a 17-year-old Amber for her transition from foster care.
"She helped me with the whole process and at 18, she was there to help advise me about careers and to help me find somewhere to live when I was accepted by the University of Western Sydney and spent my first year of study there," she says.
By the second year at uni, the strain of scrambling to finance the cost of her studies by working at any job she could find, living in shared accommodation and eking out her expenses with the help of Centrelink's Youth Allowance and an HECS loan, triggered a series of health issues that had her missing classes as well as days at work.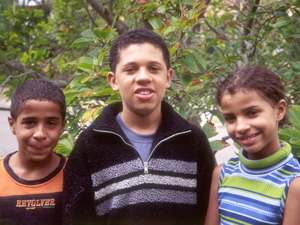 The solution came from her case worker at Aftercare Resource Centre, the NSW Government agency that supports young adults aged from 15 to 25 who have spent much of their lives in foster care, who suggested she apply for a scholarship offered by the Sisters of Charity Foundation.
The scholarships were established by the Foundation to provide support to young people who grow up in foster care and financial help with tuition fees and text books to continue their studies.
Amber became one of the first to be awarded the Sisters of Charity's Foundation's Tertiary Scholarships, which enabled her to enrol at UNDA and complete her double degree.
Throughout this period, Amber remained in close touch with her foster family who continued to encourage her, give her the emotional support she needed as well as the strength of their love.
But what is probably even more remarkable is that Kerry Gonzales and her family have been a part of Amber's life since she was just two years old.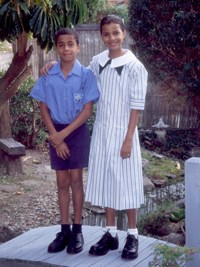 Kerry was a volunteer with the Aunties and Uncles program which offer friendship, care and guidance to children from disadvantaged backgrounds and from early childhood, Amber would spend every second weekend with the Gonzales family.
"Kerry and Ben are two people with successful careers and a loving family, who were more than willing to accept not only myself but my two brothers into their family. When I think about it I realise yet again how fortunate I am to be in the position I am in. The guidance and support turned my life around," she says.
Amber entered foster care with her twin brother Myles who stayed with her and the Gonzales family for two years. Her elder brother Leon remained living with their Aunt.
"Being separated from my brothers was one of the hardest things I had to overcome. But I was always encouraged to see my brothers and keep in touch. Myles and I now share a house together and we see Leon who lives in the inner city, whenever we get the chance," she says.
Now about to embark on a career in criminal law, Amber is filled with admiration for her foster family, and her foster mother in particular.
"Kerry and Ben always set a great example for the type of person I aspire to be. They loved and accepted me and made me a part of their family. They share my achievements and their love and support over the years has been the greatest gift of all."