Special Thanks to Birth Mothers for the Great Gift of Family
Catholic Communications, Sydney Archdiocese,
7 May 2015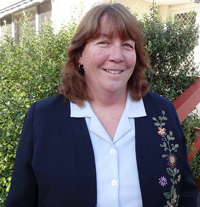 Canberra mother of four, Trish Mowbray will never forget the day she and her husband Glenn met the birth mother of the couple's adopted son, Peter.
Disability Projects Officer for the Australian Catholic Bishops Conference (ACBC) for the past nine years, the recipient of an OAM in 2013 and named Canberra's Local Hero for 2014, Trish has long been a champion and tireless advocate for people with a disability. She is also the mother of three adopted sons and a daughter.
Peter, like his elder and younger brothers, was born with Down syndrome. In addition, at just 10 weeks of age, he was diagnosed with six holes in his heart which would require a series a life-saving operation from which cardiologists advised he might not recover.
"His birth family did not have the resources or skills to care for Peter let alone cope with the surgery he needed or to help him reach his full potential," Trish says explaining why Peter, now 27, was put up for adoption when he was just under three months old.
"We were lucky in that we had the resources to take over Peter's care and blessed to be able to become his adoptive parents," Trish says.
Peter's birth family kept in touch with Trish and Glenn and when he was four months old a meeting was arranged.
"That's when Glenn and I realised how deeply they had been affected by their heart wrenching decision to give up their birth son. They had made a huge sacrifice to put the best interests of Peter ahead of everything else," Trish says.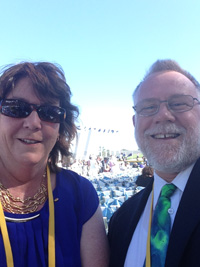 The day Glenn and Trish met Peter's birth parents, rather than taking Peter with them to the meeting, they left the little boy with his grandmother, and instead took their eldest adopted son, Luke.
Born with Down syndrome spectrum, Luke also lives with autism and has severe hearing loss. But under the Mowbray parents' unstinting love, care and guidance, the then 18-month-old toddler was full of smiles, outgoing and an endearing happy youngster.
"I have never seen someone as distraught as Peter's birth mother. She had others she cared for and loved, but she was obviously still grieving for her baby son and suffering deeply at having to give him up. She was so upset, I think if we had taken Peter to the meeting with us, I'd have wanted to give him back to her - anything to stop her pain," she says and praises Peter's birth mother for her selflessness at putting Peter's needs ahead of her own.
"Giving him up to a family with the resources to care for him and his special needs was a huge sacrifice for Peter's mother, but she wanted him to have a chance not only to be loved but to reach his full potential," Trish explains.
Peter's birth parents continued to keep in touch with Trish and Glenn for the next several years.
Many years later, when the then 20-year-old Peter graduated from college, Trish sent his birth parents a photograph of the Mowbray family celebrating his very special milestone.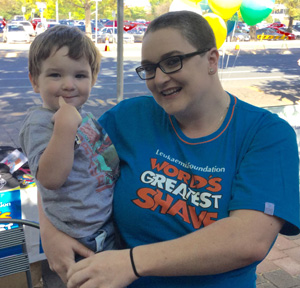 Adopted through the Catholic Adoption Agency when he was four months old, Trish and Glenn did not have the chance to meet Luke's birth mother.
"But I am sure the decision to give her baby son up for a adoption would have been as difficult and heart wrenching as it was for Peter's parents. My heart goes out to any woman to have to make that sort of choice," Trish says.
Emmalee, who has mild cerebral palsy, was the third baby adopted by the Mowbrays and their first daughter. Before the adoption was finalised however, there was a period of four months when Glenn and Trish exchanged visits with Emmalee's foster parents, who were also her godparents, to enable the baby girl to get used to Glenn and Trish as well as the boys.
"Then when the day came for baby Emmalee's birth mother to cut the ties and for us to take over, not only Emmalee's birth mother but her biological grandmother and great grandmother came to say goodbye as well," Trish says describing the heart break and poignancy of the farewell.
The birth mother of her youngest son, Paul now 23, also cared deeply about her small son and wrote him a letter, enclosing photographs of his birth family, telling him how much she loved him.
This week as Mother's Day approaches, Trish is anxious to dispel many of the myths and misconceptions that surround mothers, who for whatever reason give up their children for adoption or out-of-home care.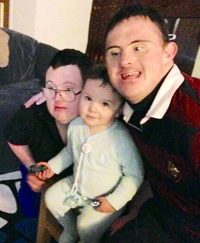 "Most people don't understand how much most of these mothers love their babies," she says.
Unable to have her own biological children, Trish admits it took the pregnancy of her adopted daughter, Emmalee and the birth of the Mowbray's much loved first grandson, Noah 2, to bring home to her the sacrifice and courage involved.
"I journeyed with Emmalee throughout her pregnancy and that's when I began to realise just how difficult it would be to go through all that, and to feel your baby move and respond and to know them as a tiny human being, and then to give birth and have to say goodbye," she says.
Trish also pays special tribute to the women who become pregnant, and even after discovering their baby would be born with a disability such as Down syndrome, did not take the option of having an abortion.
"I thank God every day for our three sons and our daughter. I also thank God they were born in the 1980s and early 1990s when few women were given prenatal tests for Down syndrome," she says.
Keen to start a family from the time they first married on 7 May, exactly 32 years ago, once it became clear that they would not be able to have their own biological children, Trish and Glenn were keen to adopt and contacted the Catholic Adoption Agency in Sydney.
"Until then we had no idea that in addition to the list of babies available for adoption, there was a Special Needs List of babies who were waiting for families," Trish says.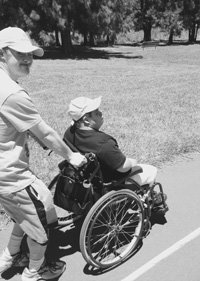 "We filled in this form and when we were asked to tick the boxes of what disabilities we thought we could manage, we ticked them all! We figured that when all couples begin a family, they leave it up to God. And that's what we did as well."
To prepare for Luke's arrival, Glenn and Trish undertook a CatholicCare training course in the care of special needs children and attended group sessions to talk with other parents with Down syndrome children.
Luke arrived in 1985 and 17 months later, she and Glenn put in an application for another baby.
"We had discovered looking after Luke who is at the severe end of the Autism Spectrum wasn't as scary as we'd first thought. We were keen to add to our family and a month and a half later, the agency called and asked if we were interested in a six week old baby with health problems," she says.
Peter joined the growing Mowbray clan a short time later and underwent a complicated and painful operation to repair his damaged heart.
"In 1986 when Pope John Paul II visited Australia, we took Peter and Luke who were blessed by him and I firmly believe that that's what got Peter through and helped both our boys," she says.
Emmalee also needed surgery after she arrived as a baby as the Mowbray's much loved daughter three years later. Born with gastroesophagal reflux disease she underwent an operation known as fundoplication to correct this and restore the upper curve of her stomach, which was wrapped around her esophagus, to a normal position.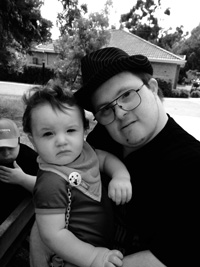 Three years later, Emmalee was followed by the arrival of Paul, the youngest of the Mowbray family.
Now 22, in addition to Down syndrome Paul has asthma and chronic lung disease. After many years on prednisone to control his breathing, he recently also underwent hip replacement surgery.
"Paul is the most delightful person you could ever meet," says Trish. "He is always happy and even when he was in considerable pain after his hip operation, he would thank the nurses and insist that he felt 'much better now.'"
Peter now 28 is the "blokey bloke" of the family who loves hanging out with other men and talking football, especially his favourite team the Rabbitohs.
"Peter doesn't believe he has a disability and believes he is here to help us, and while there are some things he can't do, he concentrates on what he can do. He also has a great ability to find out about people and after sitting next to another young man on the train or bus, he will tell us later in detail of where the man works, if he's married, what his hobbies are and other details."
The eldest Mowbray, 30-year-old Luke Trish says has the most challenges when it comes to behaviours but is also a constant joy. She describes him as "Mr Bean." Not only does Luke love the Rowan Atkinson character Mr Bean but at times with his lankiness, he even looks like him, she says.
Luke also has a wicked sense of humour, can "read" people in five seconds and loves Reconciliation.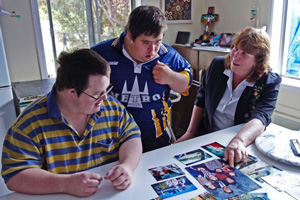 "If he could go to Reconciliation every day, he would," his mother says laughing.
Emmalee, the young mother and the Mowbray's only daughter, is also a source of great pride.
"She is very out there and has just shaved her head and raised $2000 for cancer and works part time so she can also devote plenty of time to Noah."
Trish says her three sons and daughter have enriched her life, brought great joy and taken her on an unforgettable journey of self-discovery, and taught her about acceptance, patience, tolerance, concern for others and above all about the real meaning of love.
On Mother's Day as in previous years, Trish and Glenn, their sons, daughter and grandson Noah will drive from their home in Canberra to Sydney to spend part of the day with Trish's mother before heading for Bateau Bay to spend the rest of the day with Glenn's mother.