Archbishop Made Member of the Congregation for the Doctrine of the Faith
Catholic Communications, Sydney Archdiocese,
7 May 2015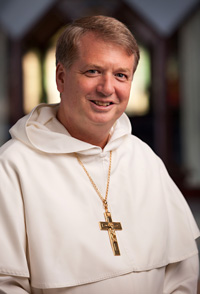 The Archbishop of Sydney, Most Rev Anthony Fisher OP said he is honoured and humbled to be appointed to the Congregation for the Doctrine of the Faith by Pope Francis.
The appointment was announced by the Vatican overnight.
Responsible for promulgating and defending Catholic doctrine, the Congregation for the Doctrine of the Faith or CDF is the oldest among the nine congregations of the Roman Curia.
"I truly love the Catholic faith and the way of life it proposes and so it is a joy to join the body that is charged with safeguarding and clarifying these things. I am honoured and humbled that Pope Francis has chosen me to assist him in this new way!" Archbishop said following the announcement.
Founded by Pope Paul III in 1542, the congregation's objective was to "spread sound Catholic doctrine and defend those points of Christian tradition which seem in danger because of new and unacceptable doctrines".
The body was renamed the Supreme Sacred Congregation of the Holy Office in 1904 by Pope Saint Pius X and then changed again in 1965 to the Congregation for the Doctrine of the Faith. However in many countries it is still referred to as Holy Office. Its headquarters are also at the Palace of the Holy Office which is just outside Vatican City.
The congregation is made up of an advisory board including cardinals, bishops, priests, lay theologians and canon lawyers.
"Dominicans have traditionally been very involved with 'the Holy Office' and so this new work should be 'a good fit'. My work in moral theology, especially in bioethics, and many years as a member of the Australian Bishops Commission for Doctrine and Morals, will have been good preparation, "Archbishop Anthony added.