Death Toll from Nepal's Earthquake Tops 7250 with Thousands Still Missing
Catholic Communications, Sydney Archdiocese,
4 May 2015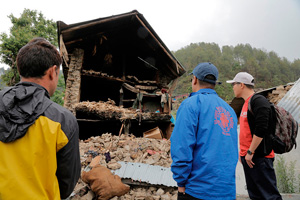 One week after Nepal's devastating 7.9 earthquake, a 101 year old man has been pulled alive from the rubble of his home in a district northwest of Kathmandu. But with thousands still missing the death toll of 7,250 is expected to climb even higher. There is also increasing despair in the Himalayan nation due to food shortages, lack of shelter and the sheer logistics of getting aid to the estimated 8 million injured or made homeless by the quake and in desperate need.
Nepal experienced further bad news yesterday when the main airport at Kathmandu had to be closed as a result of runway damage from large military aircraft that have been delivering much needed aid from nations worldwide, including Australia.
The runway was built to handle only medium sized jets. However the cargo planes loaded with food, medicines, tarpaulins, search and rescue teams and equipment as well as humanitarian workers, has resulted in considerable damage which will need to be repaired before it can be reopened.
Congestion at the airport has also posed difficulties as have hold ups in customs by Nepalese bureaucracy.

Relief agencies have expressed frustration with Nepal bureaucracy which has held up the release of much needed aid supplies and has issued urgent calls to the Nepalese government for customs restrictions to be relaxed to enable supplies to be distributed as soon as possible after arriving in Kathmandu.
Caritas aid missions are reporting that villages in remote areas of Nepal have been utterly devastated by the quake. While some remain inaccessible those that Caritas teams have managed to reach put emergency shelter as the main priority along with food and clean drinking water.
Already increasing cases of diarrhoea from contaminated water are being reported with Nepal's hospitals and medical staff struggling to cope. Even with the help of foreign medical teams, emergency field hospitals and teams from Medicins Sans Frontiers, the scale of the disaster and logistics involved in reaching those who need help is overwhelming.
More than 14,000 are now reported injured. Many are unable to receive treatment particularly those injured in remote villages where there are no medicines or facilities let alone a hospital.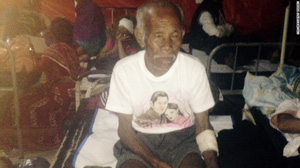 Nepal has issued an urgent call not only for medicines but also for doctors, particularly orthopaedic surgeons as well as nurses and paramedics.
At the weekend, Foreign Affairs Minister Julie Bishop announced Australia would send a further $5 million on top of the $5 million sent early last week.
Caritas Internationalis, the aid and development arm of the Church, says Caritas agencies worldwide have been flooded with donations and solidarity with more than 3 million euros or $AUD 4.9 million already pledged to help victims of the disaster.
Caritas Australia which has been working in Nepal for more than a decade, is working closely with Caritas Nepal on aid and relief efforts. By the weekend teams from Caritas Nepal and Caritas Australia had managed to reach 4000 families in the Kathmandu Valley providing them with plastic sheets, blankets and food. Other teams from the two agencies had also managed to reach some of the worst affected rural areas of Gorkha, Sindapalchowk, Nuwakot and Kavre.
"Each of these teams is staffed by experienced experts," says Father Pius Perumana SJ, Director of Caritas Nepal.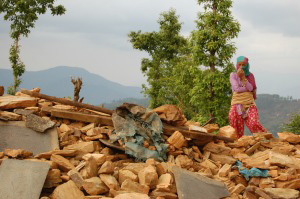 Catholic Relief Services, another member of Caritas Internationalis' 164 member agencies has also sent experienced teams to provide relief and humanitarian aid, providing food, clean water, sanitation, and counselling.
There is particular concern for the children of Nepal. At least 40 percent of the children in Nepal which is one of the poorest in the world are stunted as a result of malnutrition. UNICEF has raised the alarm about the further harm to their health and wellbeing as a result of the earthquake, saying at least 15,000 children are in need of urgent therapeutic feeding as a result of severe malnutrition, with many thousands more at risk of diseases such as cholera and diarrheal infections.
With an estimated 8.2 million affected by the quake, hundreds of thousands of children are homeless and in many cases orphaned after entire villages and districts were reduced to rubble.
Over the past week the first priority for Caritas Australia and other Caritas agencies in Nepal has been to help coordinate rescue efforts. After almost nine days since the quake struck, the chances of finding anyone alive are increasingly remote with the search for survivors moving to the next phase which is the recovery of bodies.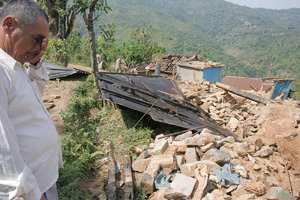 The priority now is to ensure the homeless have adequate shelter, says Fr Pius Perumana.
With the annual monsoon season set to begin in June, providing substantial, albeit temporary shelter will be a race against time.
UNICEF warns there is only a small window before the monsoons bring cold, wet and muddy conditions to Nepal's stricken population.
The UN agency also warns of the dangers particularly the spread of disease in wet and muddy conditions brought on by the rainy season.
To donate to Caritas to help the people of Nepal recover and rebuild their lives after last week's devastating earthquake, log on to http://www.caritas.org.au/learn/emergency-response/nepal-earthquake-appeal