Archbishop Welcomes Armenian Community to St Mary's Cathedral
Catholic Communications, Sydney Archdiocese,
4 May 2015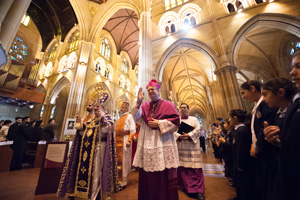 Sydney's Armenian community, and many from interstate, packed St Mary's Cathedral on Saturday for the Divine Liturgy Commemorating the Centenary of the Armenian Genocide 100 years ago.
Celebrated by His Grace, the Primate of the Armenian Church of Australia and New Zealand, Bishop Haigazoun Najarian, Archbishop Anthony was asked to preach during the Divine Liturgy in commemoration of the suffering of the Armenian people one century ago.
More than 1.5 million men, women and children lost their lives during the Ottoman Empire from 1915 to 1923.
While many countries have recognised this as genocide, many have not.
Pope Francis recently described it as "the first genocide of the twentieth century".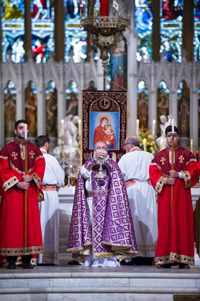 More than a thousand people attended the Divine Liturgy on Saturday, the main worship service of the Armenian Church and the first to be held in St Mary's Cathedral.
Called the Badarak it is rich in ancient tradition, music and symbols.
Bishop Najarian was accompanied by Armenian priests and deacons.
Also attending the Divine Liturgy His Grace Bishop Daniel of the Coptic Orthodox Diocese of Sydney and Affiliated Regions; Very Rev. Yousif Jazrawi representing His Grace Archbishop Mar Meelis Zaia of Assyrian Church of the East; Rev. Fr. Apostolis, representing Their Graces Archbishop Stylianos and Bishop Seraphim of the Greek Orthodox Diocese of Australia; Rev. Fr. Varghese Thomas representing Rt. Rev. Irinej, Bishop of the Serbian Orthodox Church in Australia and New Zealand; and Very Rev. Fr. Shenouda Mansour, General Secretary of NSW Ecumenical Council. From other ecclesial communities I acknowledge: Rev. Hagop Sarkissian of the Armenian Evangelical Church; Rev. Krikor Youmoushakian of the Armenian Missionary Association; and Lt. Colonel Graham Durban of the Salvation Army.
Archbishop Anthony welcomed his brothers and sisters of the Catholic Church - His Excellency Most Rev. Antoine Tarabay, Bishop of the Maronite Eparchy of Australia; Very Rev. Basil Soussanian of the Armenian Catholic Church of Australia; Rev. Fr Peter Dowd representing His Lordship Bishop Peter Comensoli of Broken Bay, with Fr Paul Finnucane; Mr Chris Meney, Chancellor of the Archdiocese of Sydney; Very Rev. Paul Hilder, Dean of St Mary's Cathedral; Sr Elizabeth Delaney SGS, Secretary of the National Council of Churches; Sr Giovanni Farquar RSJ, Director of the Commission for Ecumenism and Interfaith Relations; and other clergy, monks and nuns.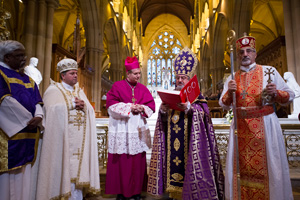 The NSW Treasurer, representing the Premier, Gladys Berejiklian was also present along with many representatives of the Armenian political, religious, benevolent, educational, cultural and sporting organizations.
Archbishop Anthony said during his homily that though mistreatment and pogroms were long the lot of Christians in the Ottoman empire, it was not until ANZAC eve, 24 April 1915, that the authorities determined to eliminate the Armenians altogether. "Police first arrested hundreds of Armenian academics, professionals, clergy and other leaders in Constantinople, jailed, tortured and hastily killed them.," he said. "Then came the house-to-house searches, summary arrests of the men and 'resettlement' in labour camps, military service or the tomb. Next, the women, children and infirm were driven out into the desert with whips and cudgels and at gunpoint. The eyewitness accounts and photos are heart-wrenching: corpses littered the way; nude women were crucified; little children were starved to death; and the bodies of babies floated on rivers. An enormous population 'disappeared' into the Prophet Ezekiel's nightmare of 'the valley of dry bones'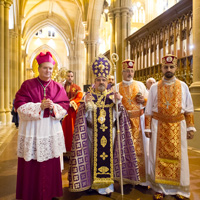 "The University of Minnesota's Centre for Holocaust and Genocide Studies estimates that there were over two million Armenians in the Ottoman Empire in 1914; by 1922 there were only 387,800 left.[i] Most of the survivors got out. Christians in Turkey dwindled from perhaps 20% of the population a century ago to less than 0.2% today; their rich cultural patrimony of churches, monasteries, libraries and art has been systematically destroyed; and their history denied.[ii] While politicians and diplomats argue over the facts and how best to describe them, historians and popes agree: this was genocide."
Archbishop Anthony also spoke of those who did implore the Ottoman leaders to stop the massacre including Pope Benedict XV. Some Turkish people also defied orders to expel 5,000 Armenian villagers with whom they had lived peacefully for generations. They hid and protected them until French ships arrived evacuate them. And Australia also played a part in offering assistance and refuge. The Dominican Archbishop of Adelaide Robert Spence joined the public protests and assisted with resettlement of many widows and orphans while a member of the executive of the Australian Armenian Relief Fund. Some of the recipients of that assistance were at the Cathedral on Saturday.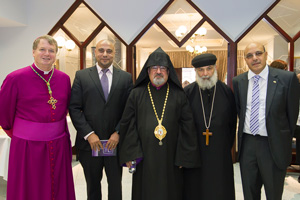 "Since the earliest Christian centuries, Armenian Christians have known that their worship is surrounded by a multitude of martyrs.," Archbishop Anthony said. "They know that they must survive and find it somewhere in their hearts to forgive and rebuild. " A story is told from one century ago of a Turkish troop raiding and looting an Armenian house. They killed the aged parents and raped the daughters. The officer in charge used the eldest daughter for his own purposes until she escaped. She later trained as a nurse. Time passed and she found herself in a ward of wounded Turkish officers. One night, by the light of a lantern, she saw the dreaded face of that officer. He was so gravely ill that without exceptional nursing he would die. But as the days passed, he gradually recovered. One day, the doctor stood by the bed and said to him: "But for that nurse's devotion to you, you would be dead." He looked at her and said, "We've met before, haven't we?" "Yes," she replied, "we have met before." "Why didn't you kill me?" he asked. She replied, "I am a follower of the One who said 'Love your enemies'"
Archbishop Anthony's full homily can be read here