Cardinal Pell Restates Willingness to Give Evidence at Royal Commission
Catholic Communications, Sydney Archdiocese,
29 May 2015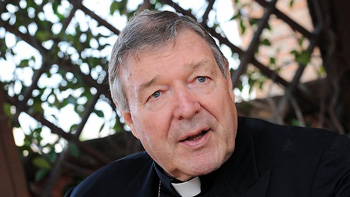 In a letter sent directly to the Chair of the Royal Commission into Institutional Responses to Sexual Abuse, the Hon Peter McClellan AM, Cardinal Pell has restated his willingness to give evidence to the Commission
At the Commission hearings in Ballarat this week there have been further allegations Cardinal Pell was aware of the abuses being committed by former priest Gerald Ridsdale, now serving a lengthy prison sentence. Cardinal Pell has always denied these allegations.
During the week there has been excited speculation Cardinal Pell is unwilling to appear before the Royal Commission although he has given evidence twice already under oath and made clear he would continue to assist the commission.
Following the letter to the Commission Cardinal Pell said in a statement from the Vatican that it was important to restate his strong personal commitment to full co-operation with the Royal Commission, in light of the Ballarat hearings and speculation about his own willingness to give evidence.
"Without wanting to pre-empt the Royal Commission in any way - you can't just invite yourself to give evidence - I want to make it absolutely clear that I am willing to give evidence should the Commission request this, be it by statement, appearance by video link, or by attending personally", he said.
"Like everyone else I am horrified by the accounts that survivors have given in their evidence during the Ballarat hearings, and at the enormous impact the abuse has had on them, their families and the community.
"I am also deeply saddened by the way Church authorities have failed in responding to these crimes.
"So far I have not been asked to give evidence in any form, but as I have said repeatedly, I am deeply committed to assisting the Royal Commission and to doing anything I can to help survivors.
"This includes giving evidence in person, if asked to do so".