The Royal Commission in Ballarat - Week 2
Catholic Communications, Sydney Archdiocese,
29 May 2015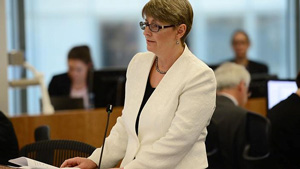 The Royal Commission into Institutional Responses to Child Sexual Abuse completed the first stage of its two-stage hearing in Ballarat this week. The second stage will occur towards the end of this year.
Last week, the Royal Commission heard from seventeen survivors of child sexual abuse. For a summary of those hearings, click here.
One of these witnesses, Andrew Collins, gave a small amount of additional evidence. Apart from the testimony from Mr Collins, there was no testimony from survivors this week.
The Commission heard from Associate Professor Carolyn Quadrio, a psychiatrist with expertise in child sexual abuse, Father Adrian McInerney, the current parish priest of St Alipius Parish, Ballarat East, convicted paedophile Gerald Ridsdale (who gave testimony via video link from prison), and the current Bishop of the Diocese of Ballarat, Bishop Paul Bird.
Child sexual abuse: a psychiatrist's perspective
Dr Carolyn Quadrio told the Commission that 25-30% of girls and 5-15% of boys in the general community suffer some sort of sexual abuse, and that this number is higher amongst those who spend time in institutional care.
She said that when children disclose abuse, they are often not believed, and that this in itself is a damaging experience which compounds the trauma of the abuse. She said that allegations of abuse needed to be taken seriously and a survivor should be made to feel that they are believed and not judged.
Dr Quadrio told the Commission that it is impossible to sexually abuse a child without psychologically and spiritually abusing them as well. She said that abuse affects every aspect of a child's development.
She told the Commission that many children do show signs of some disturbance (eg sadness, anger, fear, sexualised behaviour) and called on the community to be vigilant in identifying the signs that abuse might be occurring. In terms of long term effects, Dr Quadrio spoke about depression, anxiety, and substance abuse. Often, she said, the sense of shame, betrayal and the loss of faith are more damaging than the abuse itself. Because of these wide-ranging effects, Dr Quadrio called for a holistic approach to the treatment and care of survivors.
Dr Quadrio told the Commission she did not think that celibacy drives child abuse, but because priesthood is a respected profession which gives a person access to, and authority over, children, it could be an attractive life for potential abusers.
Father Adrian McInerney
Father Adrian McInerney is the current parish priest of the St Alipius Parish, Ballarat East. For a period of approximately 5 years between 1973 and 1978, Father McInerney was secretary to then- Bishop of Ballarat, Bishop Ronald Mulkearns. During his time as the Bishop's secretary, Father McInerney was present at meetings of the College of Consultors. He could not recall what was discussed in these meetings, but told the Commission that he was shocked and aghast at hearing the charges against Gerald Ridsdale in 1993 during his court hearing.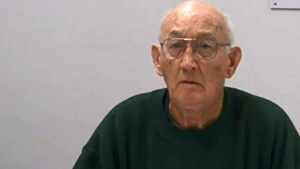 Gerald Ridsdale
Gerald Ridsdale, who has been convicted of more than 100 crimes against children and has been in prison for more than 20 years, appeared via video link from prison. He gave testimony over two days.
Commissioner Peter McClellan and Senior Counsel assisting the Royal Commission, Gail Furness, questioned Ridsdale about who he had told about his offending against children. Ridsdale explained that the nature of paedophilia was that a person would be untruthful about their actions, and could not recall telling anyone about his crimes. Ridsdale was asked specifically about Cardinal George Pell who, along with Ridsdale, lived at the St Alipius presbytery during 1973/4 for a period of approximately 12 months. Ridsdale could not recall ever living with Cardinal Pell but accepted the records that showed this.
Details were also drawn out about complaints made against Ridsdale to those in authority in the Church. Records of meetings and correspondence indicate that complaints about Ridsdale's offending had been made to Bishop James O'Collins and Bishop Ronald Mulkearns, and Ridsdale was sent for counselling rather than being removed from ministry. Testimony also showed that Ridsdale was moved to several parishes in the Diocese of Ballarat, and also spent some time in Sydney at the Catholic Enquiry Centre.
Bishop Paul Bird
On the final day of the hearings, Bishop Paul Bird gave evidence to the Commission. Bishop Bird has been the Bishop of Ballarat since October 2012. He spoke to the Commission about what he has done to understand the depth of the impact of child sexual abuse on the Ballarat community, initiatives he has undertaken as a Bishop to promote healing, and the reopening of previous claims to provide additional monetary payments to survivors, as needed.
Cardinal George Pell confirms willingness to appear
Cardinal George Pell was referred to in some of the testimony and the majority of media reports about the Ballarat hearings, with some querying why he had not appeared at the Commission. Cardinal Pell had not been asked to give evidence to the Commission in any form, but wrote to Commissioner McClellan to reiterate his deep commitment to assisting the Royal Commission and help survivors, and restated his willingness to provide evidence by statement, appearance by video link, or by attending personally.