USA's Acclaimed Notre Dame Folk Choir on First Ever Tour of Australia
Catholic Communications, Sydney Archdiocese,
27 May 2015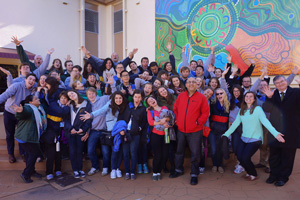 America's acclaimed 49-strong University of Notre Dame Folk Choir is in Sydney today as part of their first ever tour of Australia.
In the jam-packed four day Sydney program , the choir will join parishioners and sing at Mass this weekend at North Ryde's Holy Spirit Catholic Church, St Mary's Catholic Church, North Sydney and at St Patrick's Cathedral Parramatta.
The Choir will also give a free concert for lovers of choral music following their participation in the 6.pm Mass at St Mary's Catholic Church on Sunday, 31 May.
In addition the Notre Dame Folk Choir along with Choir Master and Director of Music, Steven Warner will conduct a series of workshops. On Friday there will be a Workshop Day for high school students from schools within the Parramatta Diocese. A second workshop on Friday will be held for members of the Australia Catholic University's Strathfield Choir, after which the two choirs will get together for dinner where they'll have a chance to exchange ideas, get to know one another and talk music.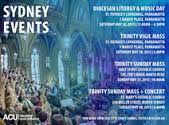 On Saturday morning, 30 May, arguably one of the most important workshops will be conducted by the Notre Dame Folk Choir for Diocesan Liturgical Musicians and Musicians from across the Archdiocese of Sydney and the Dioceses of Parramatta, Wollongong and Broken Bay.
Established in the late 1970s at the University of Notre Dame, Indiana, by the 1980s the Notre Dame Folk Choir had moved beyond the conventional definition of a "folk group" and along with 48 male and female choristers included musical back up from flute, organ, violins, guitar, string bass, Celtic harp, cello, and bodhran (Irish drum). For special liturgies brass is added and in recent times the Choir has also created a synthesis of guitar and organ bridging the gap between contemporary and older compositions in their repertoire.
The music performed by the Notre Dame Folk Chair has been gathered from all parts of the world with special emphasis placed on contemporary music, sung almost entirely in four-part harmony.

During the academic year, the Choir sings each Sunday at the American University 's Basilica of the Sacred Heart and lend their talents for dedication services, vespers, memorial liturgies, penances services, weddings, ordinations and a host of other celebrations which form a vital part of worship at the Catholic university.
But during the long summer break, the Choir embarks on national and international tours and has done so since the Choir's first liturgical tour of Ireland in 1988.
Since then the Choir has performed for the Archbishop of Canterbury, made eight more trips to Ireland and performed at cathedrals and churches across Scotland and England.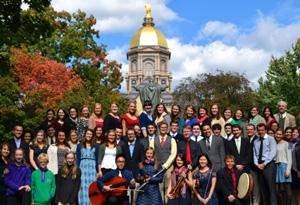 Now the Indiana's acclaimed Notre Dame Folk Choir is making its first-ever tour Down Under.
Such was the appeal for the Choir's 48 undergraduate choristers that they each raised money to fund their trip and throughout the tour will stay with Australian families.
Arriving in Australia five days ago, the Choir has already performed and conducted workshops in Ballarat, the Archdiocese of Melbourne and the Archdiocese of Canberra and Goulburn.
Although there has been little time to relax, tomorrow has been set aside for sight-seeing, giving the Choir a chance to see Sydney's spectacular harbour and visit Taronga Zoo to see kangaroos, emus, Tasmanian devils , lorikeets and other Australian marsupials and birds.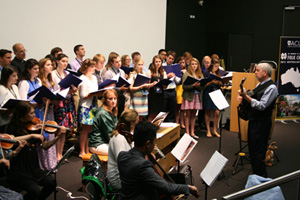 From Sydney the Choir will travel to Brisbane where they will give more workshops to young people and high school teachers and also sing at St Stephen's Cathedral at Vespers on Tuesday evening, 1 June. They will then spend three days in prayer and reflection and commence travel for their return to the USA on 5 June.
For full details of the Notre Dame Folk Choir's program in Sydney as well as in other states log on to the Australian Catholic University's website at http://students.acu.edu.au/student_life/campus_community/campus_ministry/notre_dame_folk_choir_tour