Permanent Custom-Designed Home for UNDA's School of Philosophy & Theology
Catholic Communications, Sydney Archdiocese,
22 May 2015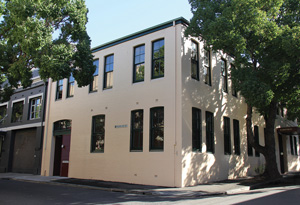 The Archbishop of Sydney, the Most Rev Anthony Fisher OP officially opened and blessed the new home of University of Notre Dame, Sydney's School of Philosophy and Theology this week.
The custom-designed interior of the refurbished and restored two-storey building at 10 Grafton Street, Chippendale provides spacious teaching and tutorial areas for students, offices for staff and academics and is the latest addition to UNDA's Broadway campus.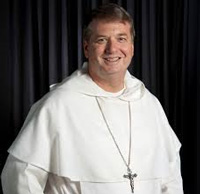 The University's School of Philosophy and Theology will occupy the top floor of the building while the ground floor will provide for a variety of purposes including a large staff common room, a video conferencing facility and a Board Room.
Known as the Moorgate Building, the building was formerly a run-down bookshop. Bordered by Grafton Street, Moorgate Lane and Moorgate Street, the building's exterior has been sympathetically restored. Although not heritage-listed, renovations and restoration to the one-time 1920s warehouse turned bookshop were designed to blend heritage buildings in what is regarded as one of the city's oldest and most important conservation areas.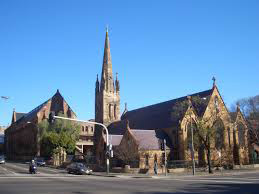 To cope with increasing numbers of students enrolling at UNDA, since the University established its Sydney campus in 2006, the School of Philosophy and Theology has been on the move.
The Moorgate Building marks the third home for the School. It is also the first true permanent home for the School and the first to have been purpose-designed by Sydney architects, Tanner, Kibble & Denton in collaboration with faculty staff to meet their particular needs as well as those of their students.
Archbishop Anthony has a long association with the University of Notre Dame both as a great friend, supporter and teacher.
UNDA's Adjunct Professor of Bioethics and Moral Theology since 2007, he is also a member of the Advisory Board of the School of Philosophy and Theology. A trained and former practicing lawyer himself, the Archbishop officially opened the School of Law at the Sydney Campus in 2006.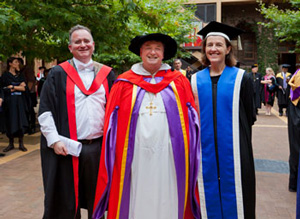 Three years later in 2009, Archbishop Anthony officially opened UNDA's Centre for Faith, Ethics and Society.
Prior to his appointment as Bishop of Parramatta in 2010, Archbishop Anthony regularly taught a full unit in moral theology to Notre Dame students and despite increased responsibilities as Bishop of Parramatta and now as the ninth metropolitan Archbishop of Sydney, he continues to be involved with Notre Dame. He still gives guest lectures, formation sessions to staff and attends and participates in public discussions and conferences.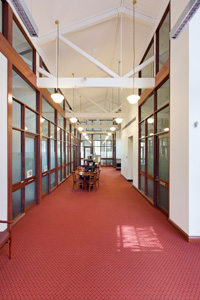 In 2011, in recognition of the Archbishop's service to the Church in Australia and international standing as one of the world's authorities on bioethics and moral theology, the University of Notre Dame conferred him with an Honorary Doctor of Laws.
The official opening and blessing of Notre Dame's new School of Philosophy and Theology was also attended by Acting Chancellor, Peter Prendiville, Vice Chancellor Celia Hammond, Senior Deputy Vice Chancellor Hayden Ramsay and many of UNDA's trustees, governors and directors, professors, lecturers, tutors and staff at the Sydney-based School of Philosophy along with Paul Dyson and other representatives from Tanner, Kibble & Denton Architects.