Statement from Cardinal George Pell on the Royal Commission Hearings in Ballarat
Catholic Communications, Sydney Archdiocese,
21 May 2015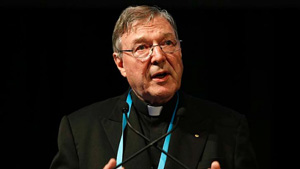 The Royal Commission into Institutional Responses to Child Sexual Abuse is continuing a public hearing into Case Study 28 this week, which involves a number of institutions run by the Catholic Church in the Diocese of Ballarat. Over the past days the Commission has heard harrowing stories about abuse within these institutions in the years 1972 to 1984, and the enormously tragic impact this has had on the community.
A number of claims have been made concerning the response of Cardinal George Pell during these years. These claims had already been addressed by Cardinal Pell when they were first made in 2002, and were further addressed by the Cardinal during the Victorian Parliamentary Inquiry in 2013. Cardinal Pell's submission to that inquiry and a transcript of his evidence are available on the Victorian Parliament's website. See: http://www.parliament.vic.gov.au/fcdc/article/1788.
In a statement released by Cardinal Pell overnight, he expressed his deepest sympathy for the victims of abuse, their families and the community of Ballarat for what they have suffered.
The Cardinal confirmed that despite yesterday's allegations and media reports, at no time did he attempt to bribe a victim or his family, offer any financial inducements for him to be silent, cover up priest abusers, or ignore any claims of abuse.
Cardinal Pell remains committed to complete cooperation with the Royal Commission, emphasising in his statement that the crimes committed against children by priests and brothers are "profoundly evil and completely repugnant to me."
Cardinal George Pell's full statement is available here: (PDF)