Ephpheta Centre Prepares to Farewell Stephen Lawlor, Papal Knight & Inspirational Leader
Catholic Communications, Sydney Archdiocese,
1 May 2015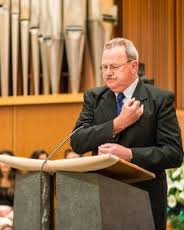 Papal Knight and the world's first-non hearing man or woman to head up a Catholic facility for the deaf, the Director of the Archdiocese of Sydney's Ephpheta Centre, Stephen Lawlor has announced his retirement.
After 14 years of providing pastoral and practical care for Sydney's deaf community, including 10 years at the helm as the Centre's inspirational, innovative and much-loved Director, Stephen, who will celebrate his 65th birthday in August, believes it is time to step down.
Tall, charismatic with an easy smile, keen sense of humour and known for his strong attachment to the powerful Yamaha XJR 1300 motor bike he sometimes rides to the Centre, Stephen will be greatly missed.
The Chancellor of the Archdiocese Chris Meney, along with the former Chancellor Monsignor John Usher, individuals and many others from Catholic organisations and agencies across the city, will pay tribute to Stephen at a special farewell gathering to be held at the Ephpheta Centre on Friday, 15 May.
His Eminence Cardinal George Pell, who made history when he appointed Stephen as the world's first profoundly deaf person to head up a Catholic organisation for the deaf, is also expected to send a written tribute from Rome where His Eminence the Vatican's is Prefect of the Secretariat for the Economy.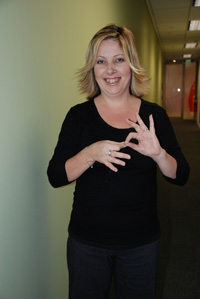 "I believe the Cardinal thought appointing a deaf person as director of the Centre would be a good opportunity for leadership role-modelling for Sydney's deaf community and I have tried to be that and to be a strong leader," Stephen says.
Involved with the Ephpheta Centre since it was first established in 1979, Stephen originally joined the Centre as a community member. Then in 2000 after a 33-year career in creative graphic reproduction with a leading Sydney litho printing company, he was asked by the then Director and Chaplain of Ephpheta, the late Father Peter Woodward, to join the Centre as a member of his pastoral team.
"At the time I was helping out as a teacher's aide at Thomas Pattison School for Deaf Children. But after all those years working in the printing trade, I really had no direction. So when I was offered the chance of working at the Ephpheta Centre, I grabbed it," Stephen says. He was also keen to take on this new challenge because it involved proficiency in AUSLAN, Australia's sign language, as well as opening up opportunities to meet, serve and support Sydney's deaf community.
"I also felt taking the job would give me great satisfaction in a pastoral sense and offered a chance to become involved with a whole new world," he says.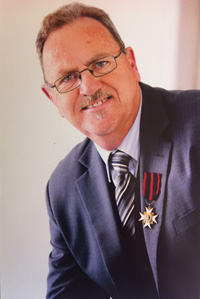 As a pastoral worker and member of Ephpheta's chaplaincy team, Stephen says he faced a real learning curve. Despite the importance of faith in his and his family's life, and in spite of being a long time member of the Ephpheta Centre and involved with Sydney's deaf community, he says it took time for people to get to know him personally, as well as for him to get to know them.
His time as a pastoral carer and the 14 years he was a member of the Centre's Chaplaincy team, he has learned an immense amount about respect, compassion and understanding, particularly from those in nursing homes or leading isolated lives in their apartments or houses.
"I'll never forget the times when I go on my usual rounds the way their eyes light up and how grateful they are to see me," he says.
For those who are profoundly deaf or hard of hearing, Stephen would often be the only person they could "talk" to and have a real conversation, sharing both laughter and faith.
From the time he first began working at the Ephpheta Centre and especially since he took over as Director, Stephen has instigated initiatives to promote the inclusion of non hearing or hard of hearing people not only within the Church but in their local communities and across the city.
"I would like to see our community accepted or recognised as a cultural linguistic minority group," he says and wants deafness to be understood from a cultural perspective rather than a medical perspective. "We see ourselves as a cultural minority which like all cultural minorities is a world within a world with its own language and where we are most comfortable and at home."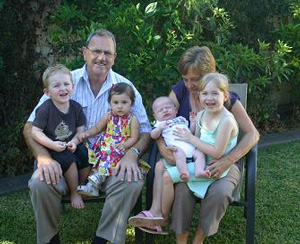 Stephen was able to hear until he was about three years old. No other person in his family had any problems with hearing and more than six decades later, no one sure quite how he came to lose his hearing or what caused this.
After being diagnosed as profoundly deaf, and unable to follow classes at St Joseph's Primary School in East Sydney, he was enrolled as a boarder at St Gabriel's School for Deaf Children at Castle Hill.
This was where Stephen's world changed and he discovered sign language. This was also where he met Nola, his wife of 43 years. As Nola tells it, the pair first met when St Gabriel's visited Rosary Convent's Waratah School for Deaf Girls in Newcastle where she was a student. Stephen however admits he has no memory of this and instead insists they met at Sydney's Deaf Club which they both attended as young adults each Wednesday night.
The couple have two sons and two daughters, all of whom can hear. They are also proud grandparents to nine exuberant youngsters who like their parents, have no problems with their hearing.
"Most deaf people grew up in hearing families or have hearing children of their own as well as hearing friends," he says.
However isolation from the mainstream community remains a problem for those with hearing loss with teenagers and those in late middle or old age feeling often feeling isolated from their peer groups.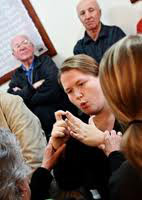 To give Sydney's deaf of all ages, including mothers of deaf babies and children, support, a real sense of community and most of all a sense of belonging and identity, Stephen along with his team at the Ephpheta Centre at Punchbowl have introduced a range of initiatives which include Deaf Youth Sydney, formerly known as "Deaf Dudes," where 12 to 17 year olds join together on weekend adventure trips that include surfing lessons, weekend camps and white water rafting.
The Centre also made it possible for young people who are deaf not only to attend Sydney's WYD in 2008 but organised fundraisers so 14 deaf young pilgrims could attend World Youth Day in Madrid in 2011.
Another great innovation under Stephen is the Centre's Deaf Cafe where young and old get-together from 10 am until 2 pm on the second Friday of each month. When the weather is fine this is held in the Centre's newly-created garden and outdoor space with the $3000 coffee machine donated by Sydney Catholics and Mount St Joseph's students at Milperra acting as volunteer baristas.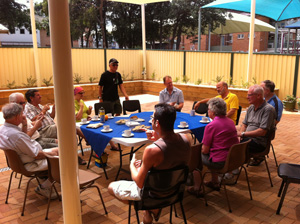 Ephpheta also organises regular initiatives such as Men's Day Out, Women's Day Out, Special Interest Groups and a Deaf Craft Group where a group of older women get together to chat and laugh and make outstanding baby clothes, shawls and whatever else might be needed for Westmead Children's Hospital and a wide variety of charities.
In addition, Stephen and his team have continued to support and encourage the Centre's famous Signing Choir and are currently at the forefront of a program to teach AUSLAN to a group of Sydney priests and seminarians.
"It would be wonderful to have a full-time chaplain who is fluent in our sign language and hopefully this will start introduce others to learning our language," Stephen says.
In the meantime, the Ephpheta Centre has its own chapel and organises an integrated Mass with an AUSLAN at Catholic churches within the Archdiocese of Sydney, the Diocese of Parramatta or the Diocese of Broken Bay each month.
Unlike many deaf people, Stephen is able to speak and is an expert lip-reader. But the language he prefers is AUSLAN.
"But to become fluent, you need to 'live and mix' with our community," he says.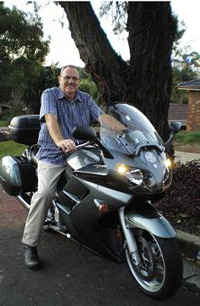 One hearing person who does just that is Ephpheta's Assistant to the Director, Nicole Clark who for the past 10 years as also acted as interpreter bridging the gap between the hearing and non hearing world.
"I am proud of the work of the team at the Centre. From the start they have supported me, particularly my assistant, Nicole who has been by my side since I was appointed Director. She has been my ears for my communication and we hit it off and are of the same mind for at least 90 percent of the time. The rest we don't bother about!" he says laughing.
After Stephen steps down in June to enjoy his retirement, the leadership role at Ephpheta will become a joint venture. Ephpheta's energetic Community Manager, David Parker, who like Stephen is profoundly deaf, and Liz McDowell, who can hear and who is the Centre's current Business Manager will jointly manage the Centre.
"They are currently in the transition period and I have no doubt will do a great job," Stephen says.
Today, looking back over his many years with the Ephpheta Centre and serving the Archdiocese of Sydney, Stephen says the highlight has to be receiving a Papal Knighthood from Cardinal Pell on behalf of Pope Benedict XVI in 2012 when he was created a Knight of the Equestrian Order of St Sylvester.
"I was really shocked to say the least. I have always felt I am an average person and nothing special. However it was a great honour to receive it and I have dedicated the award to the deaf community for their support as I have gone about my work," he says.
Although no one is quite sure if Stephen is the first deaf person from the laity to receive a Papal Knighthood, he is certainly the only one in Australia.
Stephen jokes that the person who is happiest about his impending retirement is his wife Nola.
"I think she wants me to do the washing up and hanging the clothes on the line," he quips.
The couple in fact have plans to spend a lot of time travelling and have purchased a caravan to begin their adventures on the "Grey Nomad" trail.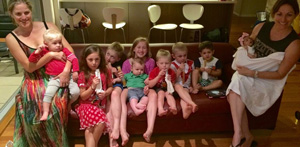 "I still ride my motorbike, although other commitments in recent years I haven't ridden it as much as I used to. But last weekend I went on a round trip to Oberon with friends. It was freezing but a beautiful ride in spectacular countryside," he says admitting that now the couple have a caravan he is tossing up whether he should sell his Yamaha XJR 1300.
"I love the bike and am finding it hard to make the decision, particularly in light of last weekend's ride which put all thoughts of selling out of my mind!" he says.