Catholic Institute of Sydney Introduces Research Scholarships in Theology
Catholic Communications, Sydney Archdiocese,
1 May 2015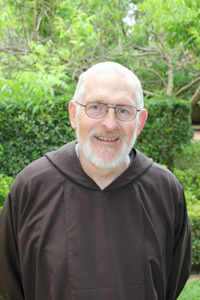 Scholarships to students at the Catholic Institute of Sydney will be offered to students undertaking research degrees in Theology.
Named after Australian Capuchin Friar, archivist, translator and Vicar of the Community of the General Curia, and well known scholar and expert on 16th century texts who died on 19 January this year, the Fr Paul Hanbridge Research Scholarship will be awarded annually to a student who has already completed at least one year of studies for their research degree.
The President of the Catholic Institute, the Rev Dr Gerard Kelly says the Scholarship has been established not only to help support a student during his or her studies for a Ph D or Masters in Theology, but to recognise and acknowledge Fr Paul's spiritual leadership and his theological research over many years.

Made possible by the generosity of the Father Atanasio Gonelli Charitable Fund Inc, the initial grant will enable the Catholic Institute to offer the Scholarship, valued at $5000 in each of the next five years.
"There are many new discoveries to be made and to explore, particularly in light of the questions we are asking today and bring new insights into the rich tradition of the Catholic faith," says Fr Gerard, as the President of the Institute is popularly known.
Citing Dei Verbum from the Second Vatican Council which called for "the growth in understanding of the realities and the words which have been handed down" (DV, 8), Fr Gerard says theological research involves attention to the sources and to human experience.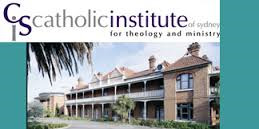 News of the ground breaking Fr Paul Hanbridge Research Scholarship precedes the Graduation Ceremony to be held in the Great Hall at Sydney University on 16 May when seven students from the Catholic Institute will graduate with a Masters in Theology. Seventeen others from the Institute will be awarded Bachelors of Theology and one will graduate as a Bachelor of Arts (Philosophy) and a Bachelor of Theology.
Eight other students from the Catholic Institute will also graduate, including two who will receive Associate Degrees of Christian Thought and Practice, two who will be awarded Masters of Arts, one who will graduate with a Bachelor of Ministry and another who will earn a Diploma of Christian Studies.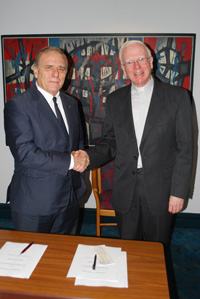 Founded in 1888, the Catholic Institute of Sydney, is not only one of the oldest tertiary institutions in Australia but in 1954 was given authority by the Vatican to offer Ecclesiastical Degrees which include Baccalaureates in Sacred Theology, Licentiates in Sacred Theology and Doctorates in Sacred Theology.
However as a private university, unlike other public universities, the Catholic Institute of Sydney receives no government support for research, by which places of higher learning are measured, is reliant on benefactors and philanthropy.
The launch of the Fr Paul Hanbridge Research Scholarship will help change this. More importantly encourage theological research scholars to result in new discoveries, insights and understanding that will resonate not only with theologists here in Australia, but worldwide.
Among the remarkable and ongoing legacies of Fr Paul Hanbridge is his translation into English of the history of the Capuchins dating back to the 1500s.
His translations of the early chronicles of the Capuchins from ancient Italian and Latin and involved many years of painstaking research to track down centuries' old letters and documents in European libraries and Papal archives.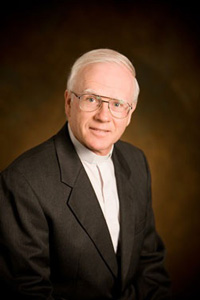 No one had ever attempted such a task before.
But thanks to Fr Paul, his dedication and his scholarship, translations of these ancient letters and documents have given English-speakers remarkable insight into the earliest years of Franciscan movement, and the founding of the Capuchin community.
Many of these translations by Fr Paul can now be accessed and downloaded on line. Some have also been published in book form with more likely to follow.
The Catholic Institute of Sydney has also been a beneficiary of Fr Paul's outstanding scholarship in another way.
"Last year he donated a significant number of books, translations and papers to the Veech Library, here at the Institute," says Fr Gerard adding that Fr Paul also spent many hours in the Library himself, helping to catalogue the material which included significant items.
"Research is an important dimension of the activity of any faculty of theology," Fr Gerard says, explaining that one of the faculty's tasks is to offer research training to those undertaking higher degrees by research.

Research is also carried out at the request of an agency or members of the Church looking for deeper insights into particular questions. Research by lecturers is used to feed into their teaching in what is traditionally known as "research led teaching."
But according to Fr Gerard most research arises from "the passion of the researcher who wants answers to the puzzle."
This is what the Fr Paul Hanbridge Research Scholarship will help promote and support.