Estimated 8000 Men, Women & Children Refugees Stranded at Sea with Nowhere to Go
Catholic Communications, Sydney Archdiocese,
19 May 2015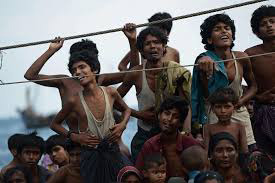 More than 8000 of Burma's persecuted Rohingya ethnic Muslim minority together with impoverished refugees from Bangladesh are currently adrift in over-crowded ramshackle vessels in the Bay of Bengal and the Andaman Sea. Refused permission to land in Thailand, Malaysia or Indonesia, they are being towed back out to sea.
Fast running out of food, fresh water and ill from exposure and starvation, many are in need of urgent medical care while others including children have already died, according to human rights organisations.
As the United Nations warns of a "massive humanitarian disaster," and Human Rights Watch condemns Malaysia, Thailand and Indonesia for playing a deadly game of "ping pong" in refusing to allow dangerous overladen boats to land, the Jesuit Refugee Service Australia (JRS) has called for urgent humanitarian assistance from nations across the region.
"Australia can contribute to this effort by providing logistical, financial and humanitarian assistance," says Oliver White, Head of Advocacy and Policy at JRS . "This is an opportunity for Australia to show the region it is genuinely committed to 'saving lives at sea' not only by addressing human smuggling, but by providing life-saving assistance to these refugees many of whom have been stranded at sea for some weeks with nowhere to go and nowhere to land."
Despite the current and previous Australian government's'policy of "stopping the boats" and turning them around "when it is safe to do so," this is not an option for the Rohingya.
Despised, persecuted and stateless, Burma's 1.1 million Rohingya Muslims live in apartheid-like conditions. Denied citizenship despite having lived in Burma for generations, they are treated as illegal immigrants from Bangladesh. For the Rohingya, the choice is grim. Remain in Burma and face what many are now calling "state sponsored ethnic cleansing" or die at sea from drowning or starvation.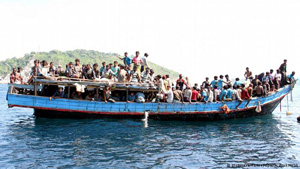 "The policy of intercepting and turning back boats highlights a terrible reality now unfolding in our region," says John Ferguson, Executive Officer of the Australian Catholic Social Justice Council and warns that if these policies are adopted by all nations, we will be living in a world in which no person fleeing persecution will find the "dry land of human dignity, protection and compassion."
"The fundamental right to seek asylum is now being denied to the most vulnerable in the world," he says and points out that in the current crisis, stopping the boats does not address the key issue which is the persecution and displacement of the Rohingya in their homeland.
"Prime Minister Tony Abbott's comments in support of South East Asian countries pushing back boats are deeply unhelpful," says Oliver White of JRS. "Whilst not a direct cause of this current crisis, Australia's push back policy has set a dangerous precedent in the region."
Oliver White warns that if South East Asian countries continue with their current action then the Rohingya, who cannot be returned to Burma will be left to starve and die at sea.
He said Australia should be working in collaboration with ASEAN to find a solution for the world's persecuted and vulnerable.
JRS has not only called on Thailand, Malaysia and Indonesia to immediately stop pushing boats back to sea, but urges all nation members of ASEAN (Association of South East Asian Nations) to attend the regional summit on the plight of the Rohingya and the deteriorating situation set to be held in Thailand on 29 May.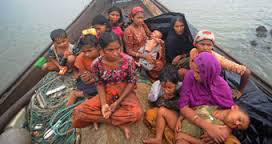 "We urge ASEAN countries at this meeting to abandon their policy of non-interference and hold Burma to account. The persecution of Rohingya must stop and their full rights as citizens of Burma realised," Oliver White says.
JRS is also urging countries at the meeting to develop a standardised system of protection.
"One that is underpinned by principles of compassion and justice and which ensures more equitable responsibility-sharing for states, and enhanced protection for all refugees transiting through the Asia Pacific region," he says.
As an example of what can be achieved, Oliver White cites the regional response to the humanitarian crisis in the 1980s when Indo-Chinese refugees took to the sea, fleeing their homeland in massive numbers in the aftermath of the Vietnam War and the Communistic take over.
"We need a commitment to finding long-term solutions," he says.
John Ferguson agrees.
"We need a united regional response that addresses humanitarian crises at the source and adequate protection spaces in the region. What is not needed is the combined self interest of nations protecting their borders," he says and holds out the hope that the meeting in Thailand will begin a long overdue and vital discussion that will lead to the protection of some of the world's most vulnerable persecuted people.
But with Burma or Myanmar as the nation is also frequently known, announcing it will not attend the regional meeting in Thailand, chances of a regional solution and successful outcome are limited.
This week the Government of Burma announced that it not attend events either nationally or internationally where the word "Rohingya" is used.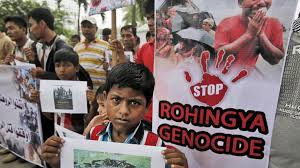 "We are unlikely to attend..we do not accept it if they (Thailand) are inviting us just to ease the pressure they are facing," Burma's Presidential Office Director, Zaw Hotay said yesterday.
The Refugee Council of Australia has also called for Australia to act to help save the thousands of lives of Rohingya adrift at sea. In addition Paul Power, the Council's CEO urges Australia to put pressure on the Government of Burma where the Rohingya are "stateless, vilified and subject to ongoing brutality and violence."
The 200 refugee organisations working with refugees and asylum seekers represented by the Refugee Council of Australia have also reiterated calls for members of Burma's persecuted Rohingya be included in the Department of Immigration's Humanitarian Resettlement Programme.