Filipino Cardinal Luis Tagle Elected President of Caritas Internationalis
Catholic Communications, Sydney Archdiocese,
15 May 2015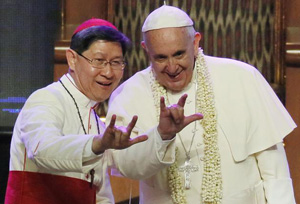 The Philippines' charismatic Archbishop of Manila, Cardinal Luis Antonio Tagle has been elected President of Caritas Internationalis, becoming the first President from Asia to head the global aid and development arm of the Church.
His appointment has been warmly welcomed by Caritas' 130 member organisations and in particular by Paul O'Callaghan, CEO of Caritas Australia.
In Rome this week where he is attending Caritas Internationalis' 20th General Assembly, Paul O'Callaghan worked closely with the Cardinal in the aftermath of Typhoon Haiyan. He also spent time with him during the 58-year-old Cardinal's five-day visit to Australia in August last year.
Like so many worldwide, Paul O'Callaghan has nothing but praise for the Cardinal and describes his appointment as President of Caritas Internationalis an "inspired choice."
Following his election Cardinal Tagle immediately took to Twitter.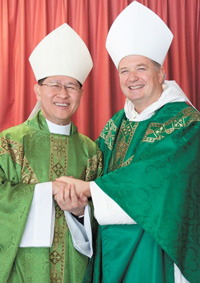 "In the name of all of the poor people of the world, I accept this election," he tweeted.
To the delegates at the Assembly, he spoke by phone from the Philippines. First he greeted them in Italian with "Buena Sera Tutti" - Good evening to you all - and then went on to thank them for their trust in electing him to succeed Cardinal Oscar Maradiaga, who is stepping down after serving two terms.
"I am limited in my capacities but with all of you, with the love that Jesus has poured into our hearts and in the name of all the poor people in the world, I accept this election," Cardinal Tagle told the 133 delegates gathered in Rome for the Caritas Internationalis Assembly last night (AEST). "Let us together strengthen the church of the poor so our witness can help guide us to a world of understanding, justice, true freedom and peace."
Cardinal Maradiaga was one of the first to offer his congratulations and warm support.
Father Edu Gariguez, executive secretary of Caritas Philippines, was also quick to applaud the choice of Cardinal Tagle as the new President of Caritas Internationalis.
"His Eminence has the qualities of a good leader for the organisation," he said and like delegates from Caritas Asia, focussed on the major roles Cardinal Tagle has taken in raising various issues affecting the poor and marginalised of the Philippines with the nation's Government, as well as the effort and compassion he has shown in helping victims recover and rebuild in the wake of typhoons and other natural disasters.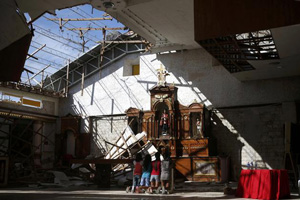 Living in a nation surrounded by water and located in the world's Ring of Fire, the Philippines are also subject to severe earthquakes and volcanic eruptions, as well as an average of more than 80 typhoons each year.
As spiritual leader to the Philippines 75.5 million Catholics, as both a priest, Bishop and now Archbishop of Manila, Cardinal Tagle has long been involved in overseeing the logistics of providing emergency assistance and helping co-ordinate Government, Church and overseas NGOs to ensure immediate help is given to those who need it most.
Caritas Australia's Paul O'Callaghan had a chance to see this first-hand when he arrived in Manila in January 2014 less than six weeks after Typhoon Haiyan devastated much of the Philippines, sweeping away entire towns, causing the deaths of more than 8000, injuring 28000 and leaving as many as 4 million homeless.
Caritas Australia has long been on the ground in the Philippines with programs to help the poor, vulnerable and those in need.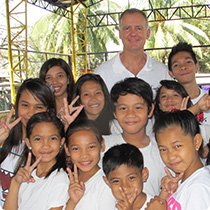 On arrival in Manila, Paul O'Callaghan and a team from Catholic Relief Services, the US member organisation of Caritas Internationalis, met with Cardinal Tagle to assess what needed to be done and the best way to distribute urgently needed aid and relief.
"The church structure is in a state of shock," Cardinal Tagle told them. "We have been offering emotional and psychological first aid."
But he also said he had come to see how important local parishes have become in offering shelter and becoming centres for hygiene, sanitation as well as the distribution of food and support for displaced people.
"At least for me it has become a special lesson because in moments like these a place of worship also becomes a place of charity. The place is made sacred not by sacraments and prayer but by the belief we can find a refuge here. It is our home," he said.
Caritas Australia's close links to the Philippines were shown by the overwhelming response to the agency's Typhoon Haiyan Appeal which raised a record $6 million within the first two months after the disaster, helping provide emergency relief as well as support long term rebuilding and recovery efforts.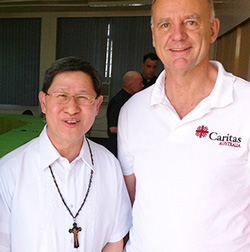 The theme of the Caritas Internationalis Assembly which concludes on Sunday, 17 May is "One human family, Care for Creation and it is during the next few days that goals for the next quadrennial term will be decided. As President, Cardinal Tagle will work in the framework of these guidelines.
Born in 1957, Cardinal Tagle who is fluent in Italian, English and his native Tagalong and able to read Spanish, French and Latin with equal ease, was created Cardinal by Pope Benedict XVI in November 2012. Dubbed the "smiling Cardinal," he is also well-known for eschewing pomp and ceremony, for not owning a car, preferring to walk or hop on one of Manila's cheap mini-buses known as "jeepneys."
Informal, friendly and humble, he likes to be called by his nickname "Chito," and loves to tell stories against himself, including the time when during a recent Mass he forgot to turn off his mobile phone. When the phone rang in the midst of the Mass he ignored it, only to discover later the call was from Pope Francis.