Archbishop to Chair New Commission for Family, Youth and Life
Catholic Communications, Sydney Archdiocese,
14 May 2015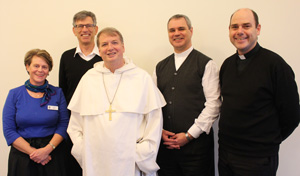 The Australian Catholic Bishops Conferences has elected Sydney Archbishop Most Rev Anthony Fisher OP to chair a new Bishops Commission for Family, Youth and Life during its plenary meeting in North Sydney this past week.
The new Commission will liaise with several councils and lay bodies working to defend human life at all stages, to support marriage and family life, and to engage with young people, especially through youth ministry.
"Some of the biggest challenges for the Church and the wider community today are in the areas of marriage, family, life issues and engagement with young people, and the Bishops have decided that it is time to create a Commission specifically devoted to these tasks," Archbishop Anthony said.
"Pope Francis has given these matters particular attention, including organising two Synods on the challenges for and pastoral care of marriages and families, teaching prophetically about how "throw away societies" disadvantage the unborn, elderly, refugees and others, and committing himself and his Church to young people at the Rio World Youth Day."
"In Australia there is enormous pressure on people to agree to a redefinition of marriage that would effectively deconstruct marriage as traditionally understood.
"Politicians have told us that they are being pressured publicly to 'convert' from support for marriage as traditionally understood to support for a version of 'marriage equality' that will actually deconstruct marriage as we know it.
"We engage in those dialogues respectfully and humbly, with particular compassion for those who are struggling, and with no desire to alienate or discriminate against anyone," Archbishop Anthony said, "We want to support people to live and to love well, to set high ideals for people and assist those struggling to reach those ideals."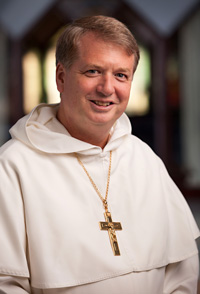 Also members of the new Commission are Bishop Peter A. Comensoli of the Diocese of Broken Bay, Bishop Michael Kennedy of Armidale and Auxiliary Bishop Mark Edwards of Melbourne for the Eastern Region.
The Executive Secretary is Alison Burt.
During the week the Bishops voted to divide the capacity of the Bishops' Commission for Pastoral Life by establishing the new family, youth and life commission.
The decision came following discussion about the need to reflect the growing importance of the Church's care for youth, and support for marriage, as well as care for the lives of all especially the very young and elderly.
This new commission will now have a very specific focus.
Archbishop Anthony was also elected as a Member of the Permanent Committee of the ACBC (the Executive); Member of the Supervisory Group of the Truth, Justice and Healing Council; Member of the Bishops omission for Catholic Education and Bishops Delegate for Youth.
Auxiliary Bishop of Sydney, Terry Brady will chair the restructured Bishops Commission for Pastoral Life which will be responsible for defending the rights of migrants and refugees, the pastoral care of prisoners, prison chaplains and people with disabilities.