Free Organ Recital at Cathedral Celebrates Ascension of Our Lord
Catholic Communications, Sydney Archdiocese,
14 May 2015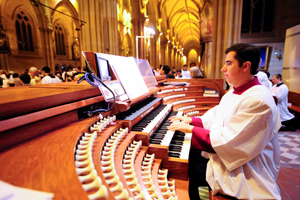 To celebrate the Feast of the Ascension of Our Lord on Sunday, 17 May, renowned Sydney organist, Dominic Moawad will perform French composer Charles Tournemire's Cycle of the Ascension at St Mary's Cathedral as part of the Cathedral's popular Sunday afternoon recitals program.
Introduced last year, the Cathedral concert series which are free to the public, have quickly become one of the most popular and sought-after events on Sydney's musical calendar.
Not only are the recitals a wonderful opportunity for music lovers to hear some of the nation's, as well as many of the world's, most highly acclaimed organists, but they are able to enjoy the music in the spectacular setting of the city's much-loved Cathedral.
At this Sunday's special recital, organist Dominic Moawad will be accompanied by a Schola Cantorum who will sing the Gregorian chants to complement selections from Tournemire's master work.
"As far as I am aware, Tournemire is the only Catholic composer who created organ music for Mass throughout the liturgical year. The whole book, known as L'Orgue Mystique is quite incredible and features 51 sets of five pieces with each set based on the Gregorian chants of the day," Dominic says.
The much-loved sacred music cantatas of Johann Sebastian Bach composed in the years after the Reformation were designed to be interwoven with Protestant liturgies.
Born more than 100 years after Bach in the late 19th Century, Tournemire's contribution to the sacred music and liturgies of the Catholic Church is equally impressive.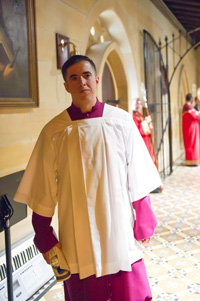 "L'Orgue Mystique was a monumental achievement," Dominic says, explaining that not only was the French composer known for his master work but also for his improvisations on the organ which were almost always rooted in the music of Gregorian chant.
"As well as drawing on the Gregorian Chant for each Sunday of the Church year, Tournemire was very much influenced by French Roman Catholic mystic philosophers of 19th century such as Ernest Hello," he says.
In addition to four sections of the Cycle of Ascension set to be performed on Sunday at the Cathedral's afternoon recital, there will also be a reading taken from Ernest Hello.
Dominic hopes this will not only help those at the concert better understand and appreciate the influences of Catholic philosopher, writer and theologian Ernest Hello on Tournemire's music, but will also provide an insight into the composer and his thinking.
The 37-year-old musician and organist has been involved with music at St Mary's Cathedral for more than 27 years.
"I was 10 years old and in Year 5 when I became a chorister with St Mary's Cathedral Choir," he says.
With a scholarship to St Mary's Cathedral College, Dominic was one of the Cathedral Choir's famous trebles and says he received a wonderful grounding in music in those first few years.
"But by the end of Year 7 my voice had changed and that's when I began studying organ under Peter Kneeshaw," he says.
Peter Kneeshaw OAM, Organist Emeritus at St Mary's Cathedral is regarded not only as one of Australia's most outstanding organists and musicians, but is renowned for his skills as a music teacher and tutor.
Dominic grew up in a musical family, and although he says neither of his parents played an instrument, they encouraged him along with his three sisters.
"We all learned piano from a young age," he says adding that piano helps develop a good technique for organists.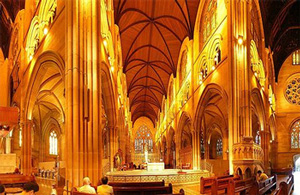 After leaving school, Dominic says he was lucky enough to be awarded a scholarship by the Cathedral to continue his studies with Peter Kneeshaw.
These days, the 37-year-old is one of St Mary's Cathedral's Assistant Organists and the musician who plays improvisations before and during certain parts of the Mass such as when the Archbishop makes his way to the pulpit each Sunday as part of the weekly 10.30 am Solemn Mass.
This weekend's much anticipated organ recital will be followed on Friday 29 May by a third concert in the Cathedral's Evening Recital Series when acclaimed American organist and musician, Colin Andrews will perform works by Bach, Howells and Messaien.
The free organ recital to celebrate the Ascension of Our Lord with Tournemire's Cycle of Ascension performed by Dominic Moawad will held at 4 pm on Sunday, 17 May at St Mary's Cathedral.