World Champion Rower Turned Medical Student Still Winning Gold
Catholic Communications, Sydney Archdiocese,
12 May 2015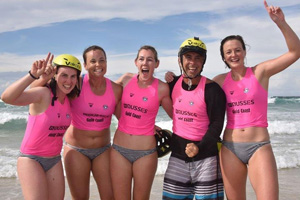 At 19, Charlotte Walters and other members of the Australian women's rowing four took out gold at the World Rowing Championships in Belgium in 2006. Now 27 and juggling the demands of final year Medicine at the University of Notre Dame Sydney, Charlotte is still taking out gold.
These days however Charlotte has swapped rowing on still water for the challenge of surf boat racing with South Curl Curl's Surf Life Saving Club, and last month she and her crew won the hard- fought Open Women's Surfboat Title at the Australian Surf Life Saving Championships at Kirra Kirra Beach in Queensland.
Calling themselves South Curl Curl's Straw Hat Pirates, the team which included Charlotte stroke, Sophie Coolican, Emma Costello, Ellie Winstanley with Rob Lowery as Sweep, were placed in each of their heats before pulling out all stops to win the Grand Final - beating out fierce competitors and rival crews from Northcliffe and Manly.
"Rowing keeps me sane and there's nothing like being able to de-stress by going out and having a bit of a play in the waves," she says laughing.
Rowing is also behind her choice of career and decision to become a doctor and at a future time, specialising in Sports Medicine.
Growing up in Hobart, she started rowing in Year 7 and within a short time was head hunted by coaches. A member of Tasmania's junior rowing training squads, Charlotte competed in singles on Hobart's Derwent River and while in still at school and in Year 12, represented Australia at an international rowing regatta in Germany.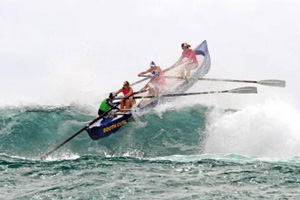 Joining other elite athletes at the Australian Institute of Sport, Charlotte switched from singles to fours and not only took out Gold at the World Rowing Championships in Antwerp in 2006 but was selected as a member of Australia's Olympic Shadow Squad.
"It was an amazing time," she says of the five years she competed at an international level. "We used to train in Italy in the lakes district near Como. And we travelled all over, racing at regattas and events in Germany, Belgium, Scotland, England and the Czech Republic."
It was during her years at the Institute of Sport that Charlotte developed an interest in physiotherapy.
"I studied to be a physiotherapist. Because of our training schedule, I had to study part time and it was five years before I graduated," she says.
But Charlotte never practiced as a physio. Instead by the time she decided to give up rowing and the "big toll" it was taking on the rest of her life, she had decided that for her physio was not enough, and she wanted to study medicine.
"I gave up still water rowing shortly before I was accepted by Notre Dame to study medicine," she says.
But she couldn't bear to give up rowing completely, so she joined South Curl Curl Life Saving Club and tried her hand at surfboat rowing.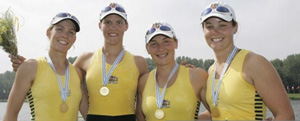 "There's real adrenalin in surfboat rowing and it's always exciting. I love being in a beach environment and out in the waves," she says and hopes to persuade her fellow students at Notre Dame's School of Medicine to take up the sport.
"So far I am the only one and while surfboat rowing can be hard work it is great fun and you meet great people," she says.
For Charlotte, training for surfboat racing has the added plus of not being as intense and all-consuming as the training needed during her years competing in world championships and international rowing regattas.
Charlotte as second stroke and fellow team members, Sophie Coolican, Emma Costello, Ellie Winstanley and Sweep Rob Lowery meet for training sessions off South Curl Curl three times a week. In between those sessions, Charlotte also does cross-training, admitting that she'd go "crazy without exercise."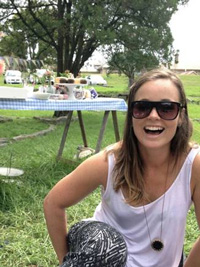 "Exercising whether it's rowing or some other form, is always a great break from study and helps put everything back in perspective," she says adding that she feels very lucky to have been able to continue both her medical studies and her passion for sport and surf lifesaving, and has nothing but gratitude for the support and encouragement she has received from the staff at Notre Dame, and the School of Medicine in particular.
"I am sure the entire staff of UNDA's School of Medicine, Sydney join me in congratulating Charlotte on her achievements to date. The School will continue to support students in their quest for academic and sporting success," says Professor Christine Bennett, Dean of the School of Medicine. "Charlotte's story is a great example of the School's aim to assist students to achieve academically and compete in their sport of choice," says Professor Christine Bennett, Dean of Notre Dame's School of Medicine, Sydney.
At her high school in Tassie, rowing was part of the Phys Ed program and both Charlotte's younger and older sister also trained as rowers.
Her sisters may not have represented Australia, but rowing is very much in the family with Charlotte's mother, Viki Walters fast making a name for herself at Masters Rowing Regattas. This year Viki will be part of the Queensland Women's Masters Rowing Team which will compete at the 2015 Australian Masters Rowing Championships to be held at Penrith on May 28-31.
Charlotte will be there to cheer her on.