CEOs Shine Spotlight on Female Homelessness
Catholic Communications, Sydney Archdiocese,
9 Apr 2015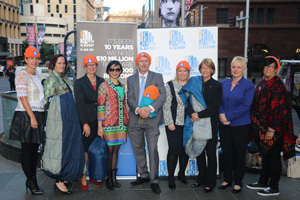 A group of high flying female CEOs pulled on beanies and slung sleeping bags over their shoulders for the launch of St Vincent de Paul Society's 10th annual CEO Sleepout.
Gathering in Martin Place this morning, the group of female CEOs gave their time and clout to launch Vinnies' 2015 CEO Sleepout, and to raise awareness of the increasing number of women who are homeless.
Among the CEOs were Penelope Holloway, Managing Director of Hill-Knowlton Strategies; Sue Cato, Principal Cato Counsel; Christine Bartlett, Non-Executive Director, Mirvac; Caroline Hong, CEO, CH Asia Australia; Dionne Sinay, General Manager, TVSN; Alison Watkins, Group Managing Director, Coca- Cola Amatil Ltd; Gemma Rygate, CEO, Centre for Volunteering; Constance Fairelight, Energy in Motion; and Linda Scott, City of Sydney Councillor.
Veterans of many previous Vinnies CEO Sleepouts were also there, including Holly Kramer of Best and Less and Martine Jager from RAMS.
"Female homelessness is on the rise and is intrinsically linked to a lack of social and affordable housing," says Michael Perusco, CEO of Vinnies NSW.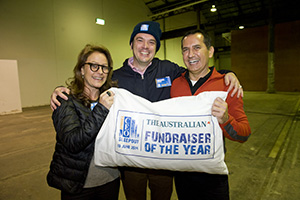 For women fleeing situations of domestic or family violence, the lack of safe alternative accommodation has become a leading cause of female homelessness.
Not only do women now make up more than 44% of the 105,000 Australian men, women and children who experience homelessness on any given night of the year, but 60 percent of these women are under the age of 35. Many of these women are mothers trying to protect and look after children. But when there is no home or affordable accommodation available, the entire family becomes homeless.
At present it is estimated 27% of those currently experiencing homelessness in Australia are children under the age of 18, with an estimated 35,000 under the age of 12.
The Vinnies CEO Sleepout has become an annual event raising millions of dollars for Australian's homeless each year.
It's the brainchild of long-time member of St Vincent de Paul Society, Sydney financier Bernard Fehon of Tactical Solutions. Bernard thought a good way to raise funds and awareness about the plight of the city's homeless was a sleepout. The first Vinnies CEO Sleepout took place at the Telstra Stadium, Homebush on 21 June, 2006.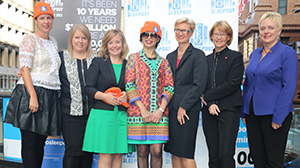 Twenty CEOs took part and between them they managed to raise $40,000.
The following year, 40 CEOs took part in the mid-winter Sleepout and raised more than $60,000.
By 2010, the Sleepout had gone national with 700 CEOs taking part in seven cities across Australia and raising a whopping $2.9 million which went directly to assist people who are homeless or in danger of becoming homeless.
Each year since then, the CEO Sleepout has gone from strength to strength.
Last year's CEO Sleepout broke all records when 880 CEOs slept rough for one night with nothing but a piece of cardboard, a sleeping bag and a mug of hot soup. They raised a record $5.6 million for the homeless.
But this year, Vinnies is hoping to not only exceed that amount but have set a target of $10 million to tie in with the 10th anniversary of the national CEO Sleepouts.
"The target we have set ourselves is much more than just a number. Every dollar raised has the potential not only to provide crucial assistance to people experiencing homelessness, but enables us to make inroads and address the causes of homelessness and prevent homelessness becoming a continuing ongoing cycle," says Michael Perusco.
Although this year's CEO Sleepout in Sydney is still two and a half months away, Michael set himself a target of $11,000 and has already managed to raise $10,645.
Other CEOs have also begun fundraising ahead of time and donations so far for the 2015 Vinnies CEO Sleepout exceed $150,000 and are climbing fast.
On hand at the launch today, to dispel the myths and stereotypes surrounding homelessness and to talk about the increasing number of thirtysomething women experiencing homelessness, was Bernard Fehon.
The financial planner admits he is amazed at how the Vinnies CEO Sleepout has gone from strength to strength and has not only become an annual event in cities and towns across Australia but has also been picked up by homeless agencies in New York, Winnipeg in Canada, the UK and in cities across New Zealand.
"Not all of those are fundraisers for Vinnies which does different work in different countries, but all have been involved with helping the homeless," Bernard says and recalls how the idea of the Sleepouts was inspired by his five children.
On the organising committee for a gala dinner aimed at raising funds for Vinnies Parramatta, Bernard was looking for better way to raise awareness and funds to help Sydney's homeless.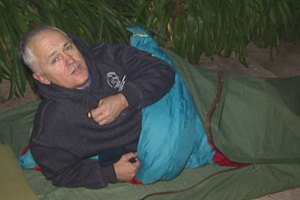 "Business people are invited to dinner fundraisers all year and I realised we needed to do something different to grab their attention," he says. "At the time two of my kids were in Year 11 at St Columbus in Springwood and took part in a Sleepout for the Homeless. That's when I thought why not try the same thing with Sydney's CEOs. I remember I also thought that organising a sausage and a bun as a meal would also be a whole lot easier to organise than a three course gala dinner!"
Regulars at the Vinnies CEO Sleepouts include multi millionaire Andrew "Twiggy" Forrest, Minister for Communication, Malcolm Turnbull, Bernard Boerma CEO of the Archdiocese of Sydney's welfare agency, CatholicCare, Prime Minister Tony Abbott, Minister for Education Christopher Pyne, Prime Media TV chief John Hartigan and NSW politician, Linda Burney.
This year the Sydney CEO Sleepout will be held at Luna Park on Thursday, 18 June. This will also be the date of other CEO Sleepouts planned for Sydney, Melbourne, Brisbane, Perth, Canberra, Hobart, Darwin, Wollongong and Newcastle. Adelaide will also hold a Vinnies CEO Sleepout but due to conflicting dates, this will take place a week later on 25 June.
To sponsor one of the CEOs and to find out more about the Vinnies CEO Sleepout log on to www.ceosleepout.org.au