Mass to Give Thanks to God for the Precious Gift of Consecrated Life
Catholic Communications, Sydney Archdiocese,
9 Apr 2015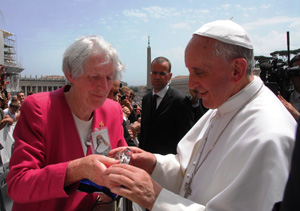 Religious sisters, priests, seminarians and lay members from Sydney's many parishes will join representatives from the city's Catholic youth ministries, university chaplaincies and Archdiocesan agencies at a special Mass at St Mary's Cathedral at 10.30 am on Saturday, 11 April to give thanks to God for the great gift of consecrated life to the Church and society.
The Mass which will be celebrated by the Archbishop of Sydney, the Most Rev Anthony Fisher OP and concelebrated by Bishop Terence Brady, will bring together the Church as one large, united family rather than a series of individual congregations, orders, institutes, charisms and separate entities.
"When Pope Francis wrote his letter to consecrated men and women worldwide, and announced 2015 as the Year of Consecrated Life, one of his key points was for all members of the Church whether clergy or bishops or institutions or lay people to come together in joy and rejoicing as one great united family," says the Archdiocese of Sydney's Vicar for Consecrated Life, Sister Maria Casey rsj.
The Mass will also acknowledge the gift of consecrated life not only to congregations and Catholic communities but to the Church as a whole.
A Mass to herald the start of the Year of Consecrated Life was held at St Mary's Cathedral on 6 December last year. Celebrated by the then newly-installed Archbishop Anthony, the Mass was attended by religious, priests, seminarians and representatives from parishes across the city.
But tomorrow's Mass will not only include clergy, religious and representatives from parishes, but will be attended by many of the men and women who manage and staff many of the Archdiocese's agencies including Caritas Australia, CatholicCare, St Vincent's and Mater Health, a range of Catholic nursing and aged care homes, the Catholic Education Office (CEO) and principals from many of the Archdiocese's 150 Catholic primary and secondary systemic schools.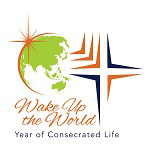 Less than a few days after declaring 2015 as the Year for Consecrated Life, Pope Francis wrote an Apostolic Letter to all consecrated people and sent this to leaders of congregations, dioceses, orders and religious communities worldwide spelling out his aims, expectations and hopes for the Year for Consecrated Life which began on the first Sunday in Advent and will conclude with the Feast of Presentation of Jesus in the Temple on 2 February 2016.
In his letter the Holy Father urged the world's consecrated men and women to look at the past with gratitude, to live the present with passion and to embrace the future with hope.
He also stressed the importance of the Church coming together as a united whole so that institutions, agencies and lay members of parishes can share their experiences with members of consecrated life including clergy, religious and bishops, and come up with different and better ways to address the new needs of today's world.
"Much of the Holy Father's letter reflects the renewal asked for in the document Perfectai Caritatis issued after the Second Vatican Council just over 50 years ago," Sr Maria says, explaining that it was during Vatican II that it was decided religious institutes should not be seen or operate as separate from the Church, but that they took their place as part of the Church's all-inclusive, global, united family.
"Vatican II showed we are all part of this world with its beauty and joys, hopes and sorrows. We suffer with those who suffer and walk the walk with those who are in need. This vision of an all-inclusive Church was very much part of Vatican II," Sr Maria says.
In his historic letter, Pope Francis also exhorted those in Consecrated Life to go out and meet new challenges, telling them to explore the existential periphery where those struggling on the margins lived.
"He told us not to get domesticated and comfortable where we are and reminded us of the Church's mission to help those who are sick, tired, hungry and needy," she says.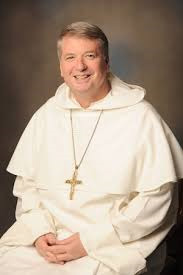 Pope Francis also urged the world's consecrated men and women to "wake up the world" and reminded those in consecrated life that the distinctive sign of consecrated life is prophecy.
"Radical evangelical living is not only for religious. It is demanded of everyone. But religious follow the Lord in a special way, a prophetic way," he wrote. "Prophets know God and they know the men and women who are their brothers and sisters. Because they are free, they are beholden to no one but God and they have no interest other than God. Prophets tend to be on the side of the poor and the powerless, for they know that God himself is on their side."
The Holy Father also cited the words of Benedict XVI on Consecrated Life, which he also referred to in the Apostolic Exhortation Evangelii Gaudium, saying that: It is not by proselytising that the Church grows but by attraction. The consecrated life will not flourish as a result of brilliant vocation programs, but because the young people we meet find us attractive and because they see us as men and women who are happy!"
According to the Australian Catholic Bishops Conference's Pastoral Research Office, Australia currently has 4973 religious sisters, 1884 diocesan priests and 1169 priests belonging to religious institutes with a further 226 young men training to become priests in seminaries across the country.
In the Archdiocese of Sydney there are almost 1000 religious sisters, 200 priests and more than 230 brothers.
After Saturday's Mass for Consecrated Life, Archbishop Anthony will welcome attendees to a buffet lunch at the Cathedral College Hall where religious, priests, lay people and members of Catholic agencies and institutions can meet in an informal setting and share their ideas and thoughts.
All are welcome to attend this special Mass which will begin at 10.30 am on Saturday, 11 April at St Mary's Cathedral.