Vanuatu Recovery in Wake of Tropical Cyclone Pam Enters Second Stage
Catholic Communications, Sydney Archdiocese,
7 Apr 2015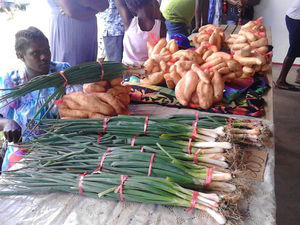 The first green vegetables since the devastating tropical Cyclone Pam, went on sale at Vanuatu's villages over the weekend.
Nearly three weeks ago the cyclone with winds gusting to around 300kph and seas surging onto the islands, destroyed crops, uprooted trees and left few buildings or homes standing on the worst affected outlying islands.
Although Port Vila's main downtown market is still without local food and vegetables and remains closed, a group of mothers have set up small outdoor stalls and are selling watercress, taro, yams and spring onions.
"The green vegetables are not widespread but seeing them for the first time in almost a month is a potent sign of hope for Vanuatu's men, women and children as they pitch in to help each other and rebuild their lives," says Stephanie Lalor, Caritas Australia's Pacific Programs Manager who flew into Port Vila from Sydney to help to co-ordinate humanitarian relief efforts less than 48 hours after the Category Five Cyclone swept across the island nation.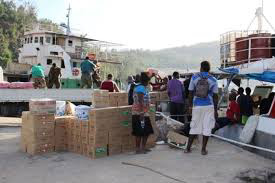 Believed to be the strongest tropical cyclone ever recorded to make landfall in the South Pacific, the monster storm was responsible for 11 deaths and the destruction of more than 75,000 homes. It caused major damage to bridges, roads, landing strips on outer islands along with disrupting water supplies and electricity. Hospitals were also damaged as well as many schools, particularly on Efate, Vanuatu's third biggest island and site of the nation's capital, Port Vila. The islands of Tanna and Erromango also suffered severe damage.
While the sheer logistics of assisting more than 166,000, or almost half Vanuatu's population, who lost their homes amid the fury of Cyclone Pam, as well as accessing populations on Vanuatu's 22 islands remains a challenge, what is remarkable is that despite the utter devastation wrought by the Category Five storm, only 11 people lost their lives.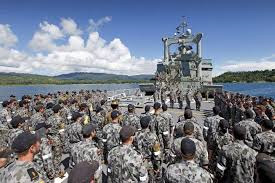 The fact that so many survived despite their houses being swept away and almost everything in sight flattened is no accident, Caritas Australia and its partner agencies have been involved with long-term programs
For well over a decade, Caritas Australia has been assisting Pacific Island communities such as Vanuatu in a bid to help people prepare for natural disasters such as cyclones, and mitigate their impact and the damage to their lives.
"The severity and scale of the physical and emotional damage from Cyclone Pam is immense but we are also extremely grateful that so few people died," says Paul O'Callaghan, CEO of Caritas Australia. He believes the main reason for this is that most people knew what to do and where to be when the cyclone hit. As is the custom on the islands where tropical cyclones are a fact of life, many families had also prepared for the lack of food in the wake of the storm and had buried root crops and breadfruit underground so that there was something to eat once the danger had passed.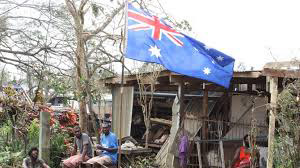 While those on the smallest islands sought shelter in caves or behind large rocks, communities on the larger islands and in Port Vila sought shelter in their local church or church hall.
"Churches are solidly built with strong walls and good foundations and were places of safety for many hundreds of people to ride out the storm," says Stephanie Lalor.
Port-Vila's well-constructed and sturdy Cathedral du Sacre-Coeur was able to give sanctuary to a large number of men, women and children and helped by Caritas Australia and Caritas Aotearoa New Zealand, the Catholic Church in Vanutu continues to offer, food, shelter and emotional and pastoral support to almost 1000 people at three different evacuation centres.
Throughout Easter, Vanuatu's Government worked closely with non-government aid agencies such as Caritas. In addition assistance on the ground is also being given by Australian Army engineers and members of the Australian Defence Force, teams from the United Nations, the Royal New Zealand Navy and UNICEF.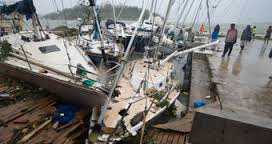 A team of Australian medical workers is treating the injured at the main hospital in Port Vila and last week P & O and Carnival Cruise line ships left Sydney and Brisbane for Vanuatu laden with cargoes of vital emergency aid including bottled water, generators, blankets, clothing and water purification systems.
Foreign Minister, Julie Bishop who visited Vanuatu seven days after Cyclone Pam made landfall to assess the damage and what was needed, pledged Australia's help to the island nation "for as long as it takes."
In addition, the Australian Government has provided $10 million to meet the immediate demands of the emergency. Australia's HMAS Tobruk is also in Vanuatu offering assistance together with its MRH-90 Helicopter which has joined two Australian Blackhawk helicopters on missions to Vanuatu's remote islands.
It is estimated that there are now 600 Australian personnel in Vanuatu distributing tents, tarpaulins, emergency kits, food, clothing and blankets, and helping the country rebuild.
Late last week, UNICEF launched "back to school" relief providing resources, recreation and tents as temporary classrooms so that 30,000 children are able to resume classes and continue with their studies. School also helps children emotionally giving them a sense of normalcy and structure to their lives.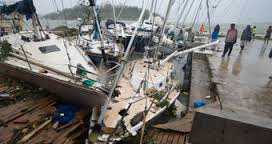 Over the past few weeks, Caritas Australia, has distributed water, food and more than 2000 tarpaulins for temporary shelter and is already turning attention to replanting of crops and looking ahead to the long term recovery of the island nation and its people.
Although Caritas Australia has launched a Vanuatu Appeal on its website, the agency does not want to confuse people with many different appeals, and stresses that many of the contributions made to this year's annual Lenten Fundraiser, Project Compassion will be put towards helping the people of Vanuatu as well as supporting Caritas Australia's disaster preparedness programs in the region.,
"We want to let Australians know that by contributing to Project Compassion they will be helping the people of Vanuatu as well as contributing to communities worldwide where Caritas teams continue their work at helping people help themselves," says Paul O'Callaghan.
For more information on Vanuatu's recovery and Project Compassion log on to www.caritas.org.au