Let Your Light Shine
Catholic Communications, Sydney Archdiocese,
7 Apr 2015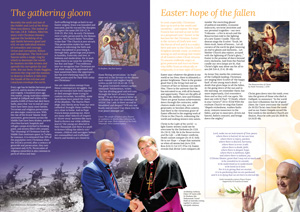 In his first Easter Pastoral Letter to the clergy, religious and the people of the Archdiocese, Archbishop Anthony Fisher OP encouraged hope and peace in a time in insecurity.
Archbishop Anthony writes that every age has its battles between good and evil, and its stories of heroism and tragedy.
He writes;" A hundred years ago this month, young Australian soldiers landed at Gallipoli and within a few months 8,000 of them had died there. Sadly, since that 'war to end all wars' there have been many more battles. Terrorism and religious persecution are also major concerns now.
With the rise of the brutal 'Islamic State' movement, governments across the Middle East have been shaken, ancient churches burned, hospitals and refugee camps stretched to breaking point, and streets filled with corpses.
The 'cleansing' of Christians from the Middle East continues apace: in Turkey, for instance, it is estimated that 20% of the population were Christians when the ANZACs arrived; after a century of genocide and persecution, they now represent only 0.2%. Persecution of religious minorities is also common in parts of Africa and Asia.
Such suffering brings us back to our Easter origins: Jesus was hounded and executed, and He warned His disciples to expect the same (Mt 5:10-12; Jn 15:18-25; 1Pet 3:14).
As early Christians were cruelly persecuted by the Roman empire, the Church father Tertullian wrote that 'The Church is awe-struck.
This persecution makes her more zealous in informing the faith and better disciplined in practising it, through fasts, gatherings and prayers, in humility, fraternity and love, in holiness and moderation. For in such times there is no room for anything but fear and hope.'
Two millennia later we recognize that Christians are not alone among the oppressed and have sometimes been the oppressors, but the overwhelming majority of those persecuted for their faith today are Christians.
Nor are Australians exempt from these contemporary struggles. Our own servicemen have been injured or died amongst those trying to contain terrorism.
Incredibly, some Australians have joined the ranks of the jihadists. The Martin Place siege, only blocks away from our own cathedral, brought these conflicts very close to home.
And as Pope Francis keeps pointing out, there are many other failures of respect in 'throw-away' societies like ours: food is thrown out while millions starve;4 the young are aborted in their thousands and there is a push to licence killing the elderly too;5 women, children and surrogate babies are commodified and trafficked; hearts and borders are closed to those fleeing persecution.
As Jesus observed in the Sermon on the Mount such violence and neglect begin within us (Mt 5:21-26,43-48; 7:1-5). The great twentieth century author, Aleksandr Solzhenitsyn, wrote: 'the line dividing good and evil cuts through the heart of every human being'.
In my first pastoral letter as Archbishop so near the centenary of ANZAC Day I ask: is there no end to bloodshed and despair? Will any war finally end all wars? Can there ever be true peace amongst us?"
Archbishop Anthony goes on to explain that Easter is the hope of the fallen, the victory of God's love over the forces of evil.
"Easter says: whatever the gloom in our world or our lives, there is ultimately a greater brightness. There is the greater good that is the living God and no creature of fact or fantasy can match Him. There is the universe that He has entrusted to us, with all its beauty and opportunity. There are the gifts of human life, intellect, love and freedom. There are great human achievements down through the centuries, noble choices made every day, acts of generosity or heroism often unseen. And there is the victorious grace of Easter effected in the ongoing work of Christ in His Church, redeeming the world and making sinners into saints. Christ is the Light of the world."
For Archbishop Anthony's complete Easter Pastoral letter click here