Students 17KM Walk for Project Compassion Raises More Than $14,000 for World's Poor
Catholic Communications, Sydney Archdiocese,
2 Apr 2015
Last weekend, 16-year-old Jasmin Jowitt and 45 of her Year 11 classmates trekked 17 kilometres through the rugged bush terrain of Garigal National Park making their way from the Roseville Bridge overland to Balmoral to raise $14,570 for Project Compassion, Caritas Australia's annual fundraiser.
The Loreto Kirribilli students were sponsored by their families, friends and neighbours with several fit determined parents also taking part to keep an eye on the girls and encourage them in their endeavour.
Most of the marathon trek involved an uphill climb over rocks through dense bush.
"But for the final five Ks it was downhill all the way to Balmoral Beach," says Jas, as Jasmin is known to her family and friends.
Greeted by a team from Caritas as well as cheering families and friends, the students arrived at Balmoral and immediately threw off their trainers and socks and still wearing their bright red Caritas T-shirts, jumped into the water to cool off.
For most of the 16 and 17 year old students, the trek last Sunday, 29 March to raise money for Caritas' Lenten fundraiser, Project Compassion, marked the first time they had joined Jas in the 17K charity walk along the bush trails of Garigal National Park to Middle Harbour and Balmoral Beach.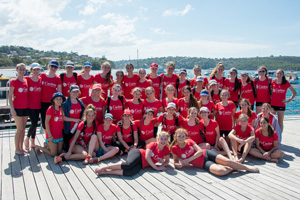 But Jas is an old hand. Not only was she the instigator of this year's walk for Caritas, organising and persuading her classmates to raise money for Caritas, but 2015 marks the third time she has organised a Ks for Caritas Walk.
At 12 years old and in her first year at Loreto Kirribilli, Jas organised the first 17 K Walk for Caritas overland from Roseville to Balmoral. Setting herself a personal fundraising target of $400, Jas managed to double that raising a whopping $842. When this was added to the amounts raised by her seven friends taking part in the walk, the enterprising youngsters were able to donate a little under $2000 to help the world's poor.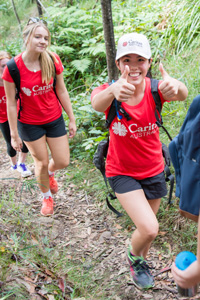 But Jas, who is the elected Student Representative for JPIC (Justice, Peace, Integrity of Creation) didn't intend to stop there and two years later in Year 9 was organising another Ks for Caritas Walk from Roseville to Balmoral.
This time 20 of her class mates joined her on the 2013 walk, between them raising more than $5000 for Project Compassion.
But the number of Jas' Year 11 classmates who participated this year and the $14,570 amount raised by the group for Caritas has broken all records.
And not only have the Loreto students received special thanks from Caritas Australia, but Loreto Kirribilli is discussing whether to make the 17 K walk from Roseville to Balmoral an official annual fundraising event for the school as part of Project Compassion.
"Next year I will be doing my HSC so I don't think I am going to have the time to get everyone motivated and organised. But that doesn't mean I won't be involved in the future," Jas says and promises that she will continue to organise walks to raise funds for Caritas after she leaves school at the end of the next year.
"In 2017 I'll be back and doing the walk," she says.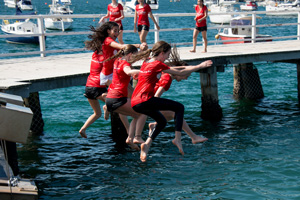 Chances are by then with her energy and determination, by then she will be marshalling a whole team of fellow uni students into a series of Ks for Caritas to raise funds for aid and development arm of the Church.
Caritas works in 200 of the world's poorest communities, educating people about sustainable farming, encouraging the local skills, helping found schools and teaching about hygiene and health. This way lives are being changed and the poorest of the poor are being given the knowledge and resources to help themselves and with guidance from Caritas, emerge from poverty into a future filled with promise and hope.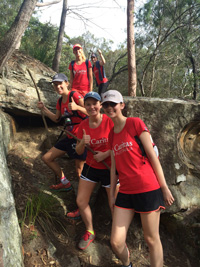 "Charities and helping those on the margins and the less fortunate are very much part of the ethos of Loreto and of Catholic teaching. This is what originally had me thinking of ways of contributing more to those who really need help. Thanks to my parents, as well as my school, I am very aware of how lucky I am and what a great family I have. Raising funds to help those who haven't had the advantages I have had is a way of reaching out and also a way of saying thank you for God's blessings," she says.
The combined total of the funds Jas and her friends have raised for Caritas Australia since the first fundraising walk in 2011 totals more than $21,000.
Although Jas admits she is not yet sure what she will study at university when she enrols in 2017, what she is sure about is that whatever career she ends up choosing will involve helping other people.
"That's what I love doing. I am not sure if this means I will be helping people who are on the margins, or helping save lives, or helping the sick and just helping wherever there is need. But that is the direction I want to take in my career, and hopefully make a difference to the lives of people who are struggling," she says.
Photography courtesy of Corporate Photographer Gavin Jowitt and his wife, Sandra