Executions Not the Answer - Archbishop Anthony Fisher OP
Catholic Communications, Sydney Archdiocese,
29 Apr 2015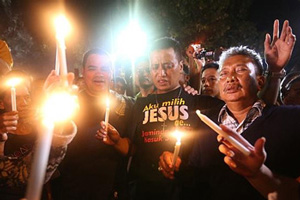 Capital punishment - particularly violent executions as seen with Andrew Chan and Myuran Sukumaran is never the answer for legal or social problems, the Archbishop of Sydney said when hearing the two men had been killed by firing squad overnight.
The Most Rev Anthony Fisher OP, who had joined many other religious, government and academic leaders in calling for clemency, said he was deeply saddened to hear the executions had gone ahead on the prison island of Nusakambangan while their families suffered a tortuous night on nearby Cilacap where they heard the guns from the execution party soon after midnight.
"Like most Australians I do not support capital punishment: there is enough violence in our world already without legal systems modelling it to others," Archbishop Anthony said.
"When the Grand Mufti of Australia, Dr Ibrahim Abu Mohamed, and I made a joint appeal for clemency, we made it clear that we respected Indonesia's sovereignty and shared its condemnation of drug trafficking. We are all aware of the terrible damage drugs cause. But refusing even to entertain appeals for mercy - even after the pair had demonstrably turned their lives around - seemed to us to damage our neighbour's reputation for justice.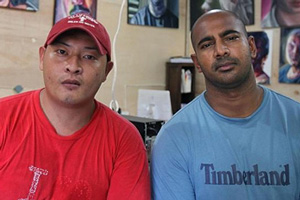 "In some ways capital punishment punishes the families more than those executed. They must carry the memories for years to come. My heart and the hearts of all good-willed Australians go out to the Chan and Sukumaran families and the families of the others executed with them. May their children rest in peace."
Following news of the executions Prime Minister Tony Abbott describe the action as both cruel and unnecessary.He and Foreign Minister Julie Bishop are withdrawing Australia's Ambassador Paul Grigson from Indonesia. Ms Bishop said;" Our concern centres on the fact the apparent rehabilitation of Mr Chan and Mr Sukumaran were not taken into account. Rehabilitation is a fundamental aspect of successful prison systems. "I was in contact with the family overnight. They are in a devastating position."
Chan, 31 and Sukumaran, 34, both from Sydney, were part of the Bali nine who attempted to traffic more than 8kg of heroin into Australia in 2005. The two were convicted, sentenced to death and spent almost a decade in Bali's Kerobokan prison prior to their execution. Appeals were rejected and despite turning their lives around completely in prison and helping many other inmates their final appeal for clemency to President Joko Widodo, and those of our government, were rejected.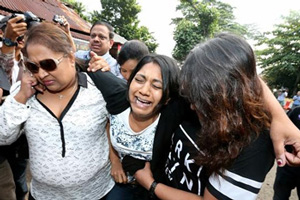 Six other drug offenders were executed with Chan and Sukumaran A fourth, Mary Jane Veloso, a mother of two from the Philippines, Was given a last minute reprieve after her alleged human trafficker surrendered. The woman was arrested in 2010 with 2.6 kilograms of heroin in the lining of her suitcase. She has always maintained she was duped into smuggling the drugs by someone who had bought her new clothes.
On the last day of their lives reports from the prison island indicated Chan and Sukumaran would not be allowed their long-time spiritual advisors to spend their last hours with them. However authorities announced a sudden change in the afternoon allowing Salvation Army Minister David Soper to spend time with Sukumaran and minister Christie Buckingham with Chan.
Australia's Consul General to Bali, Majell Hind was on the island and officially identified and received the bodies of the two men. Their final journey home is the twelve hour ambulance drive to a Jakarta funeral home and then the flight back to Australia.