Reports Indonesia Refuses Myuran Sukumaran & Andrew Chan Their Own Spiritual Advisors in Final Hours
Catholic Communications, Sydney Archdiocese,
28 Apr 2015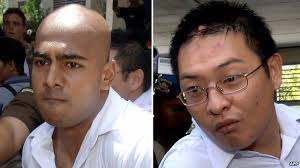 In a shock decision, Indonesian authorities have denied Myuran Sukumaran and Andrew Chan permission to have their chosen Christian pastors to be with them offering comfort up to their execution expected tonight, according to reports from the prison.
The two Australians who were sentenced to death by an Indonesian court in 2005 for attempting to smuggle 8.5 kilos of heroin out of Indonesia as members of the so-called Bali Nine, were given 72 hours notice of their pending execution on Saturday.
This afternoon their families, including Andrew Chan's fiancée whom he married in the past 24 hours in Nusakambangan island prison, have been escorted from the island. It is expected the men and the other six prisoners, will be taken from their cells tonight to a nearby jungle clearing, tied and blindfolded and executed by firing squad.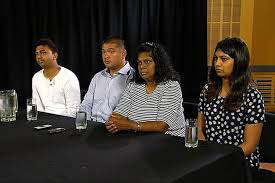 Yesterday the Prime Minister Tony Abbott, the Foreign Minister Julie Bishop, Amnesty International, the Mercy Campaign and the families of the two men continued to make representations to Indonesian President Joko Widodo for clemency.
But the President and Indonesian authorities, against Australia's request, issued the 72 hour notice to the two men on Australia's revered Anzac Day, has now decided not to allow the men their long time spiritual advisors present at their execution.
Less than 24 hours ago, Indonesian authorities asked Myuran Sukumaran and Andrew Chan to nominate their spiritual advisors who would not only spend the tense hours prior to tonight's execution with them but would also be present as witnesses to offer comfort when the men faced a military firing squad.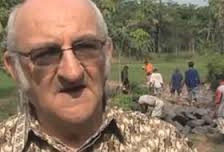 Sukumaran nominated his longtime friend, Salvation Army Minister David Soper while Andrew Chan, who was ordained a minister during the 10 years he was incarcerated in Kerobokan Prison nominated frequent visitor, friend and fellow pastor, Christine Buckingham from Melbourne's Bayside Church.
Christine Buckingham and David Soper are already in Cilicap, the Javanese town nearest to the infamous prison island.
Despite the harrowing experience of watching two men they know and love, and who turned their lives around during the decade they were held in prison, both had agreed to be with them in their final moments on earth.
But now reports from the island and Cilicap claim Indonesia's Attorney General's Office has denied Christian pastors Christie Buckingham or David Soper permission to attend the execution, saying it will appoint its own religious counsellors for the execution.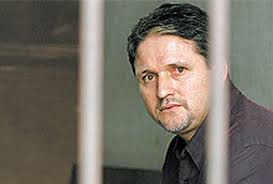 It is not known what this means but there is consternation that Andrew Chan and Myuran Sukumaran will face the firing squad alone without the prayers and support of their spiritual advisors.
The eleventh hour decision is also a troubling echo of the travesty perpetrated by Indonesian authorities when a Brazilian Catholic was denied the last rites or even a priest to be present when he was executed by firing squad in January this year.
Marco Archer Moreira was among the last of the convicted drug traffickers to be shot by firing squad on the prison island of Kamanbang on 18 January. Father Charlie Burrows OMI, the Irish priest who has been parish priest of the Catholic parish of Cilicap for the past 40 years, was set to administer the Sacrament of Reconciliation and Penance and the Extreme Unction. But when Fr Charlie, as he is known, went to board the boat for the short stretch of water from Cilicap to the island, he was refused permission by the Indonesian authorities.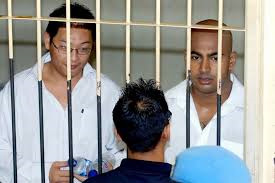 "I kept telling them I wanted to be there. Usually there is a time for a minister or spiritual director to come forward and console them. Nobody consoled Marco," an upset Fr Charlie said at the time.
What concerns him now is that another Brazilian man and a Catholic, Rodgrigo Gularte who is set to be executed tonight along with eight other men and one woman, including the two Australians, will also be denied Last Rites.
That Rodrigo Gularte is even being executed is deeply troubling. Diagnosed as a schizophrenic and bi polar, he has no idea what is happening to him and amid all the activity believes he is about to be sent home.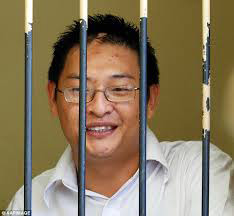 Yesterday Fr Charlie was insisting that despite the horror of death by firing squad, which he calls "torture, sheer torture," he would be on the Kambanbang Island to offer comfort and pastoral care to Rodrigo Gularte until the very end.
But it now seems that just as the Indonesian authorities have denied Myuran Sukumaran and Andrew Chan to be with their own Christian spiritual advisors when they face the firing squad, mentally-ill Rodrigo Gularte will also be denied comfort from a Catholic priest and the final Sacrament.
Tonight the Mercy Campaign will hold a candlelight prayer vigil for Myuran Sukumaran and Andrew Chan in Martin Place from 6.p.m. Among those who will address the crowd and call for the abolition of capital punishment will be international human rights lawyer, Geoffrey Robertson QC.
Other vigils are also planned for Melbourne, Perth, Brisbane and other cities across the country.