Neighbours Help Neighbours as Big Clean Up Begins
Catholic Communications, Sydney Archdiocese,
24 Apr 2015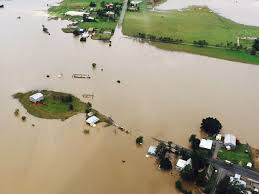 Dungog is a close-knit community and everyone is pitching in to help each other, says Sue French, Deputy President of St Vincent de Paul Society in the Upper Hunter town where three people lost their lives and 80 homes were severely damaged or swept away entirely in what is being described as the worst flood in more than a decade.
After non-stop teeming rain, gale force and at times cyclonic winds, Myall Creek broke its bank early on Tuesday morning triggering a flash flood that rose at frightening speed leaving three elderly residents living in assisted care no time to escape.
"It was still dark and most people were in bed when the water suddenly started rising. There was no warning and although it poured with rain all night, no one dreamed anything like this would happen," Sue says.
The flood-shattered town was declared a disaster by Premier Mike Baird who toured the area and saw the damage created by the 312 mm of rain, or a third of the annual average, that fell on Tuesday, with most of this rain falling in the early hours of the morning.
Father Paul Hopper, parish priest of Dungog's St Mary's Catholic Church, which is part of the Maitland-Newcastle Diocese, says the town of just over 2,100 is mourning the loss of the three residents who lost their lives when their residences were hit by the flash flooding and completely submerged by the rushing water.
What is extraordinary however is that the death toll of Monday and Tuesday's storm with winds over 100 kph was not much higher.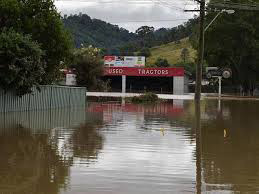 In addition to the three who tragically lost their lives during Dungog's flash flood, 86 year old great grandmother Anne Jairman of Gillieston died on Wednesday, 22 April when the hatchback she was driving was swept more than a kilometre downstream as she attempted to cross a flooded road near Maitland.
Now three days after the storm with waters having receded in Dungog, although Maitland and many surrounding communities still remain cut off by what resembles a massive inland sea, the difficult and often heartbreaking cleanup has begun.
"Until late on Tuesday we had no power and landlines and other communications remained down for several days," says Fr Paul. "On Tuesday we used the pavilion at the local oval as an emergency hub. That's where SES, firemen, police and volunteers made their headquarters and also where they could go for cups of tea and something to eat. Our local parish hall was also used with four dedicated ladies from the parish working non-stop making sandwiches which one of their husbands delivered wherever food or a snack was needed."
Vinnies Op Shop, which is managed by Sue French and her husband Philip, was also on hand to give clothing and food vouchers to families who had lost everything.
Of the 80 homes damaged by Dungog's flash flood, 20 are unliveable with four completely destroyed including the four that were swept off their foundations and carried downstream where they broke up under the force of the water.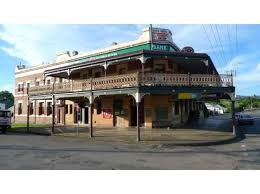 "On the first day the town was completely cut off with no power or phones after a fibre optic cable was cut. So Vinnies' was where people came for help. By Wednesday the town also had the help of relief services, but we are still giving people clothes and vouchers and helping any way we can," Sue French says.
Yesterday Dungog's Vinnies store was bolstered by a load of additional clothing and other necessities from Vinnies at nearby Raymond Terrace and on Tuesday next week, another load is expected to help all those affected by the disaster in the small country town.
Many of the families who cannot return to their homes, or those who have no home to return to, are currently either staying with friends or at the local Dungog Bank Hotel.
"People have really pulled together with the local bakery on Tuesday feeding people until they finally ran out of food. A cafe in town did the same thing. And neighbours are pitching in to help families salvage whatever they can from the destruction," Sue says.
A poignant reminder of how much has been lost are a series of much loved family photographs carefully laid out yesterday and currently drying in the sun outside the local pub.
Although metropolitan Sydney was also hit by the storm that swept sand off beaches, saw the St George's River burst its banks, cut off power to thousands of residents and brought down trees and power lines, the worst hit areas were to the north of the city at Collaroy, Dee Why and the Northern Beaches.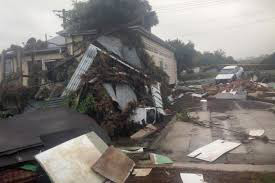 In the Archdiocese of Sydney only one school, Drummoyne's St Mark's Primary, had to close its doors on Tuesday and again on Wednesday as power still had not been restored to the area. But the rest of the Archdiocese's 150 Catholic systemic primary and secondary schools were able to remain open.
According to the Catholic Education Office damage to schools from the storm was not major. But in the Broken Bay Diocese and the Diocese of Maitland Newcastle, some schools were hard hit with several remaining closed throughout the week and not expected to open until Monday or Tuesday next week.
St Joseph's Primary school in Dungog, Morisset's St John Vianney Primary, Merewether Beach Holy Family Primary, Lambton's St John's Primary and Raymond Terrace St Brigid's Primary remained closed on Friday as did St Paul's High School at Booragul and All Saints College, Maitland.
By today most of the schools in the Broken Bay Diocese had reopened but St John Baptist Primary at Woy Woy will not open until next week.
Across Sydney and the Central Coast 155,000 Ausgrid customers were still without electricity last night with warnings that more isolated regions like Mangrove Mountain and Peats Ridge are unlikely to have power restored for another week.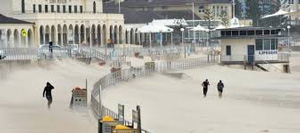 To date there have been 95 flood. SES volunteers, Rural Fire Brigade volunteers, and Fire and Rescue NSW workers have now been joined by SES volunteers from Victoria, the ACT and Queensland as the massive clean-up begins to clear roads, remove damaged trees, and help people as they struggle to repair their homes damaged during the two day storm.
The damage estimate for the storm in Sydney and the Central Coast has been put at $161 million but is expected to go higher once full assessments of damaged areas can be made.
To help the people of Dungog, donations to St Vincent de Paul Society in the hard hit Maitland-Newcastle Diocese can be made by calling 02 4967 6277