Quick Thinking Action Saved Bellringer's Life
Catholic Communications, Sydney Archdiocese,
24 Apr 2015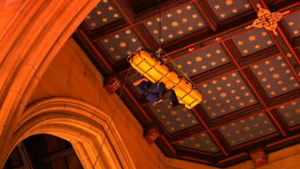 A 71-year old man who suffered a cardiac arrest while practicing with the St Mary's Cathedral bellringers is alive today thanks to the quick thinking and first aid knowledge of other bellringers.
Alan Coates is now recovering in St Vincent's Hospital following his collapse and dramatic rescue from the Cathedral's Bell Tower.
Paramedics and rescue crews said the outcome may have been very different if other bellringers had not acted so quickly and were not skilled in CPR.
A bellringer from St James Church who practices at St Mary's Cathedral, Alan had only rung once on Thursday night and was sitting down when he collapsed.
Fortunately a colleague quickly began CPR while another phoned 000.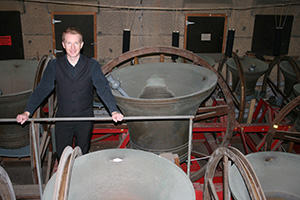 Paramedics had to run up 120 stairs to the Bell Tower to reach Alan.
Then Fire, Police and Ambulance rescue crews were confronted with how to get their patient down to the ambulance. The stairs were out of the question so the crews rigged up a winch and pulley through a trapdoor and lowered Alan in a stretcher sixty metres to the floor of the Cathedral.
Paramedics and rescue workers later said Alan owes his life to the quick thinking and CPR knowledge of two other bellringers, Murray-Luke Peard the head bellringer or Tower Captain of St Mary's Cathedral, volunteer Mark Ferguson and also Alan's wife, Marilyn.
"Alan was not ringing at the time and it was long after we actually started that I saw he collapse to the floor," Murray-Luke said.
"He was unconscious and didn't seem to be breathing so Mark and Marilyn started CPR while I rang triple 0.
"We took turns with the CPR until the paramedics arrived. Alan was blue and we were obviously very concerned but when the paramedics arrived they shocked him twice and fortunately he responded.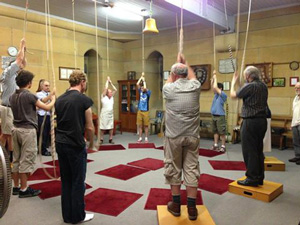 "Then there was the problem of how to get him down to the ambulance and hospital.
"Fortunately I remembered there was a trapdoor in the belltower. I lifted up the carpet and the rescue teams were able to open it and then set up a winch to lower Alan on the stretcher.
"I have heard today that Alan is recovering and responsive in hospital and doctors are pleased with his progress. That is a great relief to all of use. The bellringers of all the churches are a pretty close community and mostly know one another so we hope Alan makes a full recovery," Murray-Luke said.
While the Cathedral's 14 bells range in weight from 281 kilograms to a little over 1740 kilograms it is not physical strength needed to be a bellringer. It is balance, coordination and technique.