From Atheist Blogger to Catholic Speaker, Leah Libresco Talks to Sydney Youth about Prayer
Catholic Communications, Sydney Archdiocese,
22 Apr 2015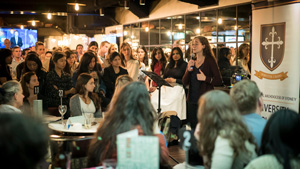 The popular atheist blogger Leah Libresco made headlines around America in 2012 when she converted to the Catholic faith. Three years later, young people from around Sydney were privileged to attend an address by the Catholic speaker and author at a gathering at Le Pub in Sydney's CBD for the latest Theology on Tap event.
The topic of Leah's engaging address on Tuesday 14 April was "Arriving at Amen: How An Atheist Blogger Learned to Pray."
Leah is a former atheist blogger and writer for the Huffington Post who stunned her readers in 2012 when she announced that she was converting to Catholicism. She now writes about her conversion and newfound Catholic faith in the "Unequally Yoked" blog. A frequent commentator on Catholic issues, she has appeared on CNN and other national and international media outlets to discuss her conversion from rationalist atheism to Catholicism.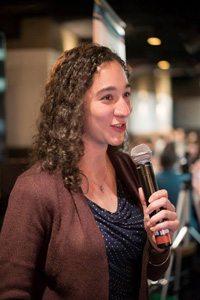 It was her love of mathematics, and the understanding drawn from her study of number theory that truth can be transcendental, which started the conversion process at an intellectual level for Leah. She explained during Sydney's Theology on Tap event that one of the questions she grappled with before her conversion was 'how can we come to have knowledge of what is good and true?'
"Ultimately I found it was far more probable that God existed, and the Christian faith was true, and that was the reason our consciences respond to what is good," Leah explained to the 300 plus crowd.
However, Leah said, although most people seem to want to know the "how" part of her conversion story, what she finds more interesting is not that she came to believe in God, but how she figured out what to do next.
"I didn't have any idea how to pray", she said. Leah explained to the audience that learning how to pray was a bit like studying a foreign language. Figuring out how to live Catholic spirituality was more challenging for her than the conversion itself.
"One thing I turned to was the rosary because it was a very well laid out prayer, and I didn't have to make up any of the words myself", Leah laughed.
"But even there I had trouble," she continued, adding she was concerned she was 'wasting God's time' if she was praying incorrectly.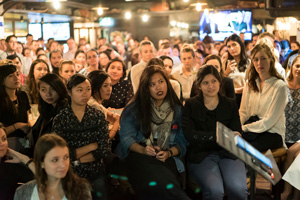 After explaining some of the practical means that she employed to learn how to pray step by step, Leah revealed to the audience she was actually going about the process the wrong way. She was approaching prayer as a "task", when prayer is really just time of silence set aside to listen to what God wants to say, and to open one's heart to him.
This, Leah said, is what it means to pray!
The audio from her engaging talk at Sydney's Theology on Tap, hosted by the University of Notre Dame Chaplaincy, is available for download on Xt3.com: http://www.xt3.com/library/view.php?id=3370&categoryId=26&episodeId=2252
Leah Libresco's first book, Arriving at Amen: Seven Catholic Prayers that Even I Can Offer, will be published by Ave Maria Press on May 11.
(Photos from the Theology on Tap Facebook Page)