Statue of Aussie Digger Highlight at Domus Australia's ANZAC Remembrance
Catholic Communications, Sydney Archdiocese,
23 Apr 2015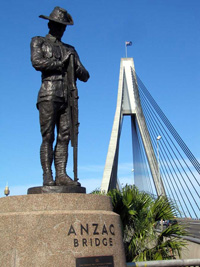 When the early morning ANZAC services are over, the veterans and their relatives have marched and been proudly supported by many thousands of Australians along the city or country roads and they are probably catching up with a few drinks and numerous stories and memories, a group in Rome will be starting their own commemoration and celebration. The 100th anniversary of ANZAC Day will be celebrated with representatives of the Embassies of Australia and New Zealand at Domus Australia in Rome.
A special Mass will be celebrated by Cardinal George Pell in the Chapel of St Peter Chanel at Domus, followed by a reception which will be attended by the Australian Ambassador to the Holy See, John McCarthy QC and Mrs McCarthy along with many Australian and New Zealand expatriates.
Standing among them will be a very special reminder of not only Australia but of those who fought and died at Gallipoli one hundred years ago.
It is an impressive statue or maquette of the bronze World War I Digger which stands at the west end of the ANZAC Bridge in Sydney. Sculptured by Alan Somerville the original statue and the maquette carries the powerful symbolism of remembrance, mateship and nationhood and the strong bond between Australia and New Zealand.
The maquette, a small scale model of the sculpture, was the original one Alan Somerville used to create the final four metre high one for the ANZAC Bridge which was officially unveiled on ANZAC Day 2000. Last year the former Director of the Sydney Archdiocese's Good Shepherd Seminary at Homebush, Fr Tony Percy arranged for Alan to turn the maquette into a bronze statue or "mini replica" of the WWI Digger. The Seminary then presented the maquette to Cardinal Pell as a parting gift when he moved to Rome to take up his position as the Vatican's Prefect of the Secretariat for the Economy. For Cardinal Pell the obvious choice for the maquette's final resting place was Domus Australia.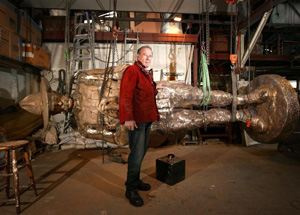 And as official, guests and expats gather at Domus Australia they will see the one metre bronze statue which stands on a plinth bowed in reflection and with rifle in reverse position to remember the fallen.
For an Australian pilgrim house in the middle of Rome it is a fitting addition.
Following the original WWI Digger, Alan sculptured a second bronze statue for the ANZAC Bridge. It is a statue of a New Zealand soldier, again in resting arms position . Unveiled on the east side of the Bridge in 2008 it symbolises the close friendship between New Zealand and Australia in times of peace and war.
Although born in New Zealand Alan Somerville has worked and taught in Australia for many years and is well known for his many works and civic commissions.
His talents will now be part of the ANZAC 100th anniversary commemoration and celebrations in a pocket of Rome.