Strangers in No Man's Land - the Remarkable Story of Lance Corporal Mick Stafford
Catholic Communications, Sydney Archdiocese,
22 Apr 2015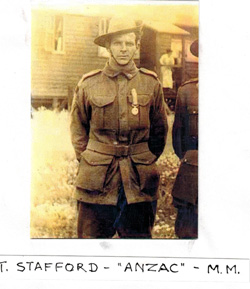 When Redemptorist Brother Dan Stafford OAM attends this week's ANZAC Eve Centenary Vigil Mass of Remembrance at St Mary's Cathedral he will be wearing the Military Medal awarded to his father, Michael "Mick" Stafford for "bravery in the field" during World War I.
"Dad was just 18 when he joined the first Australian Imperial Force in October 1914 shortly after war was declared and he saw action in Gallipoli, Belgium and France," says Brother Dan.
Appointed by the former Archbishop of Sydney, Cardinal George Pell as the official Catholic Chaplain to the Australian Turf Club in 2002, Brother Dan is also well known for his work with St Vincent de Paul Society's Matthew Talbot Homeless Services. For many years he co-ordinated the 450 volunteers for the Mathew Talbot Hostel and for the past 10 years has been Fundraising Ambassador for Matthew Talbot and helped raise many millions of dollars to support the homeless.
Less well known is the remarkable story of his father, Mick Stafford who despite being shot in the leg and badly gassed three times, not only survived the carnage of World War I but would go on to become one of Australia's best known and most admired golf professionals, especially as a teacher of the sport.
Brother Dan who was the youngest in a family of five boys and one girl. Like many veterans of the Great War as well as those who served in World War II, seldom spoke about his time at Gallipoli or the bloody battles of the Western Front, where more than 217,000 were wounded and 49,000 reported missing.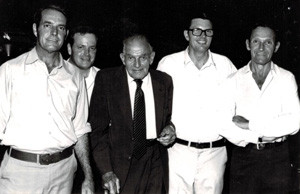 Brother Dan and his siblings were able to piece together some details of their father's time fighting for "King and Country," from snatches of conversation Mick Stafford let slip and through records held at the Australia War Memorial.
But it is the citation accompanying the awarding of the Military Medal that probably sums up best the extraordinary courage of Lance Corporal Mick Stafford who was a stretcher bearer with the Third Australian Field Ambulance Unit amid the mud, cold and carnage of the battles waged between the Allies and the Germans on the Western Front in 1917.
"At Westhoek, East of Ypres, and forward of this place during the operations 4th to 9th October 1917, Lance Corporal Stafford set a most valuable example to the Bearers under arduous and dangerous circumstances," Lt Colonel A. Graham Butler of the Australian Army Medical Corps writes in the citation. "For eight days in succession, with a break of only twenty hours, his exertions were most strenuous and he and his squad carried from a post at Retaliation Farm was continually and accurately shelled and the Bearers' path was sniped and came under machine- gun and shell fire. This man had been wounded a few days prior to this but despite the fact, and the rain and mud, he was always eager to work and set an inspiring example to all ranks."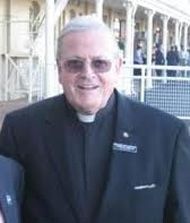 Mick Stafford might have been reluctant to talk about what he had seen on the killing fields of Europe and the terrible toll of dead and wounded on the Western Front. But in later life there was one story he loved to tell.
"During that week on the Western Front for which he would later be awarded the Military Medal, Dad was asked to round up three volunteers to go out and pick up three wounded men lying in the mud in No Man's Land. So out Dad went and grabbed the smallest bloke who was very badly injured and piggybacked him to the medical trench. In gratitude the wounded man offered Dad his money belt, saying 'thanks, Australia.' My father, of course told him what to do with the money belt and that was the last they saw of each other."
Or so Mick thought, says Brother Dan.
After being severely gassed for the third time, Lance Corporal Mick Stafford was sent to England to convalesce and was there when the Great War finally ended.
Six months later he returned to Australia where he married his sweetheart, Nell raised his family. He also began his career as a golf pro at the Woodend Golf Club outside Melbourne where he defeated Joe Kirkwood who went on to win the Australian Golf Open later that year. By 1920 he had been appointed to the Brisbane Golf Club and the family moved from Melbourne to Queensland.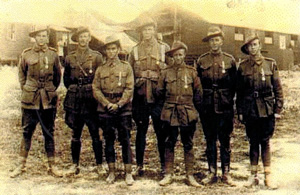 "As a result of being gassed Dad needed a warmer climate," Brother Dan explains and recalls how growing up as Mick Stafford's son, he and his siblings knew many of his father's friends who included some of Australia's greatest golfers including Kel Nagle, Norman Von Nida and Peter Thomson.
But it was a match between his father and a visiting Scottish doctor and scratch golfer that is indelibly etched in his memory.
"Back in 1920, Edward McCartney who would later become Sir Edward McCartney told Dad that a new eye specialist was coming to town. The specialist's name was Dr George Thomson and he wanted to know if Dad would have a game with him," Brother Dan says.
The game duly took place and Mick Stafford kept thinking he had seen the doctor before. He thought back to the British soldier he had rescued, but this seemed far too improbable so he said nothing. During the game, Dr George Thomson was equally curious about Mick Stafford and asked Edward McCartney where the man he was playing golf with had been stationed during the War.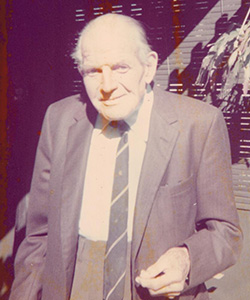 "When he was told Dad had been a stretcher bearer with the Australians on the Western Front, George Thomson instantly knew it was Dad who had saved his life and the pair became life-long friends," Brother Dan says.
Mick Stafford died in 1977 a few weeks before his 81st birthday.
"He still had the bullet in his leg from the gunshot he received in 1917," Brother Dan says.
Of Mick Stafford's six children, Tyrrell followed in his father's footsteps and became a golf professional. Brother Dan and his elder sibling, Dominic, both became Redemptorist Brothers while another brother, Michael fought in World War II in the RAAF and received the Croix de Guerre before becoming a restaurateur in London. The second eldest brother, Peter also lived in London and become a well known hotelier and was managing director of the famous Dorchester Hotel on Park Lane. During his career he also ran the renowned Savoy Hotel in London and the Mandarin in Hong Kong.
Brother Dan's only sister, Judy van Dalen married and lives in Bundaberg, Queensland.
The ANZAC Eve Centenary Vigil Mass of Remembrance will be celebrated by Archbishop Anthony Fisher OP at St Mary's Cathedral at 5.30 pm on Friday, 24 April.