Bishop of Port-Vila Celebrates Mass of Thanksgiving
Catholic Communications, Sydney Archdiocese,
22 Apr 2015

The Catholic Bishop of Port-Vila, the Most Rev John Bosco Baremes SM celebrated a Mass of Thanksgiving at Vanuatu's Cathedral du Sacre-Coeur as the island nation struggles to recover from the devastation of Tropical Cyclone Pam.
The Category 5 Tropical Cyclone with winds gusting to more than 250 kph is the most powerful cyclone ever recorded to make landfall in the Pacific. Striking Vanuatu shortly after midnight on 14 March, the severe tropical cyclone left 75,000 homeless and destroyed schools, roads, bridges, crops and vital infrastructure.
"But despite the destruction only 11 people lost their lives. While we mourn those who were lost, we wanted to thank the Lord that the death toll was so low, particularly when you see just how much damage was caused," Bishop Baremes told Catholic Communications.
Port-Vila on the island of Efate and Vanuatu's southern islands of Tanna and Erromango were hard hit but on some of the islands to the north such as Santo, some crops survived and came through relatively unscathed.
"As soon as the people on Santo heard that our crops and all food had been wiped out, they packed barrels of yams, sweet potatoes, taro, bananas and other fruit and shipped them across to us here in Port-Vila," Bishop Baremes says. "The trip by sea took five days but it was wonderful to see how people all over Vanuatu have pitched in to help one another at this time."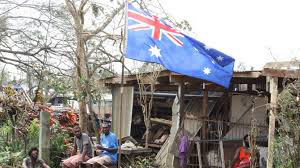 Neighbours are helping neighbours rebuild and communities are also creating working bees so that many of the schools damaged in the cyclone can reopen.
"Everyone is doing whatever they can to help in the recovery," says Bishop Baremes.
One of those at the forefront of the recovery effort is Caritas Australia along with its partner agencies, Caritas Aotearoa New Zealand and Caritas Oceania.
"Caritas has been supplying tents and temporary shelter for the thousands who lost their homes and have also supplied tarpaulins where roofs were damaged or blown away," the Bishop says.
Teams of aid workers from Caritas and other NGOs are also on the ground helping with sanitation supplies, food, clothing, and medical supplies, particularly on the devastated islands of Tanna and Erromango.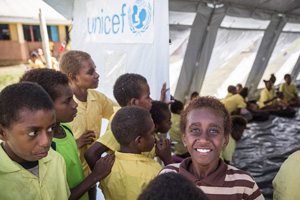 The Australian Defence Force has also been on the ground playing a major role in the immediate relief effort, restoring basic services such as electricity, clearing roads and also helping provide humanitarian assistance.
Australian helicopters were also able to check remote islands and ferry supplies between the 22 island nation. Until late last week, the Australian Navy's heavy landing ship HMAS Tobruk was also on hand to give whatever help was needed.
Now after four weeks in Vanuatu, the Australian Defence Force team of sailors and army engineers have headed back to Australia as the second phase of recovery begins.
Military support from Britain, France and New Zealand have also been helping repair schools, infrastructure and medical facilities.
But as Bishop Baremes points out Vanuatu still has a long way to go and there are grave fears that in a nation which relies on subsistence farming to feed its population of 253,000 the utter destruction of as much as 90 percent of crops along with the resultant loss of income, will cause major problems in the months to come.
"Vanuatu is a very poor diocese. We manage and we try to do the best we can with what we have," he says.
But the cyclone has brought added pressures for the Dioceses including repairs to Catholic schools which lost roofs and suffered severe damages. A chapel was also completely destroyed and will need to be rebuilt while other churches will need repairs, he says.
In the aftermath of Cyclone Pam it has also been discovered that many birth records of the nation's children may have been lost during the fury of the storm. UNICEF is now working with churches, officials and communities to re-issue birth certificates to children whose births had either not been registered or whose documents were destroyed in the storm.
"Birth registration is an official recording of a child as a citizen by a government and is a right and an important process in child protection," says UNICEF's Pacific Representative Dr Karen Allen when she launched the drive to replace lost birth certificates in Vanuatu.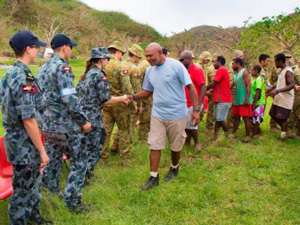 Caritas Australia will continue its work in Vanuatu for "as long as it takes."
Although Caritas launched a Vanuatu appeal on its website, the agency does not want to confuse people with many different appeals, and wants people to know that a portion of the contributions made to this year's annual Lenten fundraiser, Project Compassion will go towards helping the people of Vanuatu as well as supporting Caritas Australia's ongoing disaster preparedness programs in the region.
To donate to Caritas Australia and support the long term recovery of Vanuatu, log on to www.caritas.org.au