Notre Dame Student Heads for Gallipoli
Catholic Communications, Sydney Archdiocese,
20 Apr 2015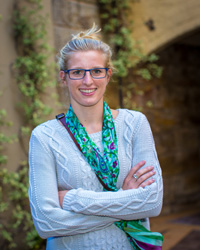 First year medical student, Emily Neville will lay a wreath at the Gallipoli Lone Pine Service on behalf of the University of Notre Dame Australia in honour of those who lost their lives 100 years ago.
Sydney-based Emily will not only honour the courage of the first ANZACs, particularly those who served as medical personnel in the Great War, but will be following in the footsteps of her great grandfather, Joe McCaffrey who fought at Gallipoli in 1915.
Turning 24 this year, Emily is the same age as her great grandfather when he left Gowrie, Queensland as a solider with Australia's First Imperial Force (AIF).
"My great grandfather signed up on 19 August 1914, two weeks after World War I began, and served at Gallipoli and in France," Emily says.
Joe McCaffrey was wounded twice and gassed three times, before he was finally discharged from the Australian armed forces on 2 May 1919.
"In laying the wreath at the Gallipoli Lone Pine service on behalf of the University of Notre Dame, I will also be paying my respects both as a medical student and as the great granddaughter of a serving soldier, to all those who served and gave their lives at Gallipoli," she says.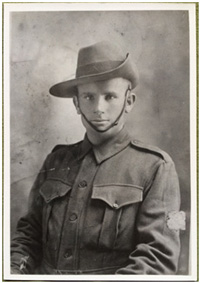 Emily is quick to pay tribute to the doctors and nurses who manned the casualty stations and hospital ships and who bravely fought to save lives of wounded soldiers despite being close to the front line and exposed to almost constant shelling and gunfire.
"Courageously putting their own lives on the line, these men and women were responsible for ferrying thousands of wounded to hospitals in Imbros, Lemnos, Salonika, Alexandria, Malta and England," she says.
Professor Christine Bennett, Dean of the School of Medicine, Sydney has expressed her pride in Emily and the role the first year student will undertake at this year's 100th anniversary commemorative services on the Gallipoli Peninsula.
Emily who left Australia late last week for Turkey, is part of a contingent of 60 Australian Conservation Volunteers. Since 2006, Conservation Volunteers have helped provide logistical assistance and support during the ANZAC Day commemoration services on the Gallipoli Peninsula. Working with the Department of Veterans Affairs, Emily and her fellow volunteers from Australia as well as a group of Conservation Volunteers from New Zealand, arrived in Ecebat, Turkey at the weekend and are now undergoing ANZAC orientation across the region, including visits to the Australian Lone Pine memorial and cemetery, the Lone Pine trenches, Anzac Cove, North Beach, Ari Burnu Cemetery, Shrapnel Gully, Bair memorial and cemetery, Monash Valley and Razor Edge.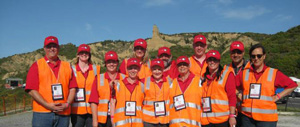 Like Emily many of the 60 Conservation Volunteers selected to help with logistics at this year's historic centenary commemorative services at Gallipoli are not only young and physically fit but in many cases have medical paramedic or nursing backgrounds. Although there are extensive medical support services provided at all commemorative services held on the Turkish Peninsula, Conservation Volunteers are invaluable giving assistance to the large number of elderly men and women who will be at Gallipoli services this year, as well as a considerable number of those who may be in wheelchairs or who need assistance with mobility.
Emily attended her first ANZAC Dawn Service as a two year old alongside her father, a returned serviceman. But this year will mark the first time she has been at a Dawn Service on the Gallipoli Peninsula where her great grandfather fought and where so many many young men from Australia and New Zealand died.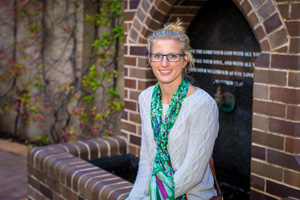 During the Great War, Australian and New Zealand forces not only fought at Gallipoli but also in France and the Middle East.
For Australia, World War I remains the most costly of all conflicts in terms of deaths and casualties. From a population of fewer than 5 million, 416,809 Australians enlisted with more than 60,000 killed and 156,000 wounded, gassed or taken prisoner.