Understanding & Appreciation of Aboriginal Spirituality
Catholic Communications, Sydney Archdiocese,
1 Apr 2015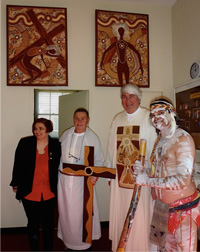 Students at Sydney Catholic secondary and primary schools are not only discovering the richness of Aboriginal spirituality and Indigenous culture, but are attending Mass at the Church of Reconciliation, La Perouse and at Sydney's Aboriginal Catholic Ministry's monthly Mass at Erskineville's Our Lady of Perpetual Succour.
"Each month I speak to at least two local schools about Aboriginal spirituality and tell the story of how my great grandfather chose to follow the teachings of the Catholic Church, and the importance of faith to me and my family. This has lead to many schools deciding to attend Mass where they can experience Aboriginal prayers, the land, fire, water as well as traditional Aboriginal music played on the didgeridoo," says Valerie Bryant, Ministry Co-ordinator with the Archdiocese of Sydney's Aboriginal Catholic Ministry (ACM).
Valerie is delighted at the response of primary and secondary school students as they learn about Australia's first peoples and Aboriginal spirituality, and believes not only does this further understanding and tolerance but also creates a strong bond of faith between the nation's Indigenous and non -ndigenous Catholics.
Before retiring in 2012, well-known elder, Aunty Elsie Heiss was executive officer and one of the co-founders of Sydney's Aboriginal Catholic Ministry. In the 1980s used they ran programs in schools, talking about Aboriginal culture and spirituality. They also establishment instituted two regular monthly Masses for Aboriginal Catholics.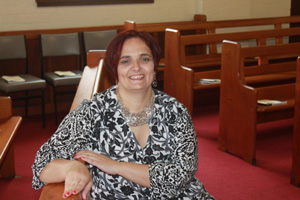 One of these is held on the first Sunday of each month at La Perouse and at Erskineville on the third Sunday of each month.
"When the students arrive they are not sure what to expect. At the Mass there is always acknowledgement of country and Aboriginal prayers and the land, fire and water ceremony and the young people go away with a whole new understanding of Indigenous spirituality," she says.
For Valerie visiting schools and re-establishing the program initiated by Elsie is rewarding and fulfilling.
"Most of the questions that are triggered by these talks involve Aboriginal Spirituality and what this means as well as The Dreaming," she says, and loves it when the students whether primary school age or teenagers in secondary school, suddenly make the connection to the number of similarities between Aboriginal stories and the stories of Bible.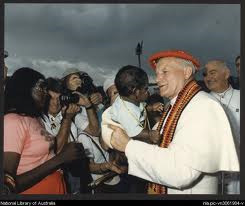 "The Creation story for Aboriginal people is just like the Bible's Book of Genesis and there are many other stories that are also almost the same," she says.
The students at the schools Valerie visits are also fascinated by her own story and how her great grandfather, a Gumbaynggirr traditional man, chose to become a Catholic after taking part in what was the last Corroboree of the Gumbaynggirr Nation, whose lands stretched along the Nambucca River in the South to the Clarence River in the North.
"This was a time of great turmoil with missions being established and churches coming into the area and also the time of the Stolen Generation when kids were being taken away, and when people of the Gumbaynggirr Nation lost their language and much of their culture," she explains.
"Because our people were forced to give up so much, my Great Grandfather, Lambert Whaddy saw how much we needed something to support us and that's when he decided to follow the Catholic faith," she says adding one of the reasons for this was her ancestor's love of the Holy Sacraments he believed had similarities to the ancient Aboriginal initiation ceremonies.
Each generation of Valerie's family have followed the Catholic faith and found deep comfort as well as strength in the Catholic ethos and the Church's teachings.
Now she is opening the eyes of Sydney's young people to the importance of faith and in particular what the Catholic faith means to Aboriginal people and their culture.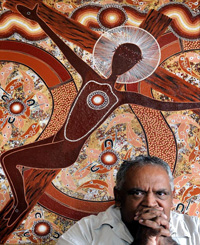 In telling her own story she also gives credit to many pioneers who not only brought the faith to Australia's first people such as the Jesuits in Northern Australia and St Mary of the Cross MacKillop in South Australia, but to Christian Brother Steve Morelli of the Diocese of Lismore's Aboriginal Catholic Ministry who has been a major force in revitalising and reviving the Gambaynggirr's language, stories and songs.
At some Catholic schools Valerie visits she is the first Indigenous person the children have seen let alone met and one of the questions she was asked last week was "why are Aboriginals different colours?"
"I had to explain that like all people, we come in different shades and colours. Some Aborigines have blonde hair and green eyes. Others have blue eyes. Some have dark skin some have pale skin. What is important, I tell them, is not what you look like but your identity. What you feel inside and the identity your family brought you up to have is far more important than skin or eye colour or outward trappings," she says.
In addition to making regular twice-monthly visits to speak at a Sydney Catholic primary or secondary school, Valerie also runs an annual three-day retreat for Year 11 students from Loreto Kirribilli at the Church of Reconciliation, La Perouse.
"This year they spent the first day with elders who came to the Church and told their stories, which is an enormous privilege in itself," Valerie says.
The girls also learn about Aboriginal prayer, spirituality and the cultural differences between Australia's Indigenous people and the nation's other Catholics.
"We didn't come out of Europe but our culture evolved here among the eucalypts and red earth and an entirely different flora and fauna. When the missionaries came we didn't know what a lamb was. We'd never seen a sheep. We had holy places too but they were different from European holy places. When we wonder what God is like we think in terms of the landscapes and the animals and creatures of Australia."
Among the stories Valerie tells students is one of the "Nativity future". Rather than using Northern hemisphere animals such as lambs, cockerels and donkeys Indigenous people instead celebrated Christ's birth in a stable surrounded by native fauna such as kangaroos, emus and bush turkeys.
To find out more about the Archdiocese of Sydney's Aboriginal Catholic Ministry log on to http://www.aboriginal.sydneycatholic.org/