Archbishop to Present "Catechesis of Mercy" at Sydney's WYD2016 Launch
Catholic Communications, Sydney Archdiocese,
17 Apr 2015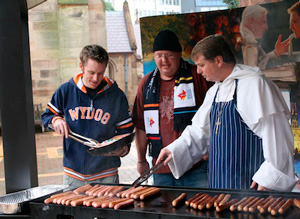 In four days time the Archdiocese of Sydney will officially launch its pilgrimage towards World Youth Day 2016 in Krakow, Poland. The Archbishop of Sydney, the Most Rev Anthony Fisher OP will give the Inaugural Catechesis of Mercy to more than 450 young pilgrims at St Mary's Cathedral College Hall on 21 April as part of the launch.
The evening will begin at 6.30pm with the Archbishop presiding at City Silence, the weekly young adult Holy Hour which is held every Tuesday at St Mary's Cathedral. He will then join members of Catholic Youth Services (CYS), representatives from parishes across Sydney, youth ministries, youth leaders, universities chaplaincies and past, present and future world Youth Day pilgrims in the Cathedral Hall for a night of Catechesis and festivities.
Archbishop Anthony's Catechesis of Mercy will expand on Pope Francis' theme for WYD16, "Blessed are the Merciful, for they will receive Mercy" (Matthew 5:7). The Archbishop, who was the co-ordinator World Youth Day 2008 in Sydney, and was heavily involved in WYD2011 in Madrid and WYD2013 in Rio de Janeiro, will provide an insight into the World Youth Day experience, inspiring pilgrims to take up the challenge and join him in Krakow.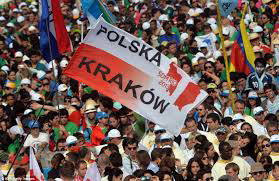 The evening will also feature Polish dancing and music, a selection of Polish food and drink, a performance of the World Youth Day Hymn, and will play the Official Australian Pilgrimage to Krakow promo video, which was created by Catholic Communications, Archdiocese of Sydney, for the Australian Catholic Bishop's Conference.
"Polish food will be served from the various stalls we will set up outside Cathedral Hall including lots of paczki, which is Poland's answer to a doughnut and absolutely delicious," says Monica Bautista, WYD officer for CYS who is helping organise the event and the overall WYD response.
"There will be a whole range of Polish goodies with everyone encouraged to get in the mood and join in the Polish dancing," she says.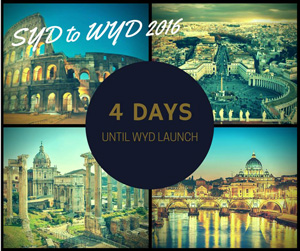 The venue will also include information stalls with details about the city of Krakow and the town of Wadowice, where the father of World Youth Day, St John Paul II was born and grew up, and will provide general information about World Youth Day and pilgrimage ahead.
The Archdiocese of Sydney World Youth Day 2016 launch will be held at the St Mary's Cathedral College hall on Tuesday 21 April from 7.30pm. All are welcome.
Visit https://www.facebook.com/events/418538868327915/ for more details.