Bali 9 Australians Still Await News of Their Execution as They Mark Ten Years Since Their Arrest
Catholic Communications, Sydney Archdiocese,
17 Apr 2015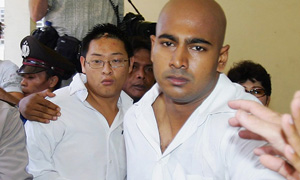 Today the Bali 9 duo, Andrew Chan and Myuran Sukumaran, mark 10 years since they were arrested in Bali for their role in a heroin smuggling ring.
It is also Sukumaran's 34th birthday, but there will be no celebration as the pair remain in their death row cells in Besi prison on Indonesia's Nusakambangan, the island in central Java where they have been told they will be executed by firing squad but not told when.
There has been some information from Indonesia it may be this month.
While the Indonesian Government has fiercely protesting the beheading of two Indonesian maids in Saudi Arabia in recent days they have ignored global protests about its own plan to Executive Chan and Sukumaran along with eight other prisoners.
This has sparked international condemnation of double standards from human rights groups, governments, academics, students and churches, including Australia.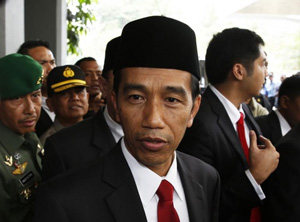 Six convicted drug prisoners have already been executed by firing squad in January. Indonesia plans to kill another 64 this year - including Chan and Sukumaran.
Lawyers for the Australian pair have been battling the Indonesian judicial system for years.
It would appear their last challenge is before the Constitutional Court now along with a Judicial Commission of inquiry.
Melbourne barrister Julian McMahon has been representing the pair since September 2006. He has not long returned from Indonesia and will be going back there shortly.
"There are two legal matters running in Indonesia at the moment which affect Chan and Sukumaran," Julian said.
"There is a principal application in the Constitutional Court involving a number of NGOs or co-applicants concerned with the human rights of their clients and clemency applications.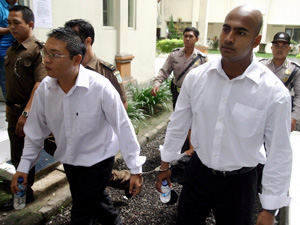 "Although any decision from this is not retrospective under Indonesian law, a positive ruling would be of great practical value to all those facing execution to argue their cases individually on the question of whether each one should be on death row," he said.
Ten prisoners have been identified on death row and several have matters before the courts.
While Constitutional Court does not have the power to alter the sentences of Chan and Sukumaran, their lawyers hope Indonesian resident Joko Widodo will come under enough political pressure to reassess their pleas for mercy if the court rules that the constitution requires the president to properly consider clemency submissions.
It has been argued the president failed to take into account the pair's rehabilitation in jail including study and the extensive work they have done in helping other prisoners.
Here is also the issue of the Judicial Commission inquiry concerning the original trial and sentence but it would be inappropriate to comment on the inquiry at this stage."
Julian McMahon said while they certainly and gratefully acknowledge repeated assurances from the Indonesian authorities that execution would not proceed while prisoner's matters are before the courts and several are, it is still a very anxious time awaiting the legal outcomes.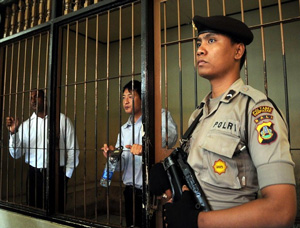 While Indonesia's President, Joko Widodo has reiterated his hardline on drugs prisoners, the government pushes ahead with its efforts to rescue more than 200 of its citizens facing execution abroad.
No other government in the world has had the success Indonesia has had in stopping the executions of its citizens abroad - more than 200 people in less than four years.
It is unlikely anyone will be given permission to visit Sukumaran in his death row prison cell today on his birthday. He is allowed a visitor just two mornings a week, Monday and Wednesday.
Some government representatives have indicated the executions will go ahead after Indonesia hosts the Asia-Africa summit, which ends on Friday, 24 April. Even though there may be unfinished business in the courts.