Archbishop Celebrates Mass for Consecrated Life
Catholic Communications, Sydney Archdiocese,
14 Apr 2015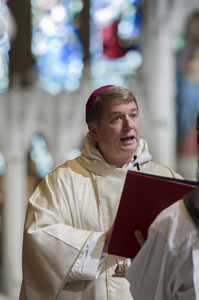 Hundreds of men and women in consecrated life gathered at St Mary's Cathedral on the weekend to celebrate this year's Mass for Consecrated Life.
Making it even more special is that it's the Year for Consecrated Life which Pope Francis has called the Church to celebrate.
Archbishop Anthony Fisher OP welcomed all leaders and members of congregations and religious orders, representatives of Archdiocesan agencies, parishioners and friends.
Concelebrating the Mass was Auxiliary Bishop Terry Brady and also present were Sr Maria Casey rsj, Vicar for Religious Life and Episcopal Vicars Fr Michael McLean, Fr Paul Monkerud and Fr Paul Hilder, Dean of the Cathedral.
The Archbishop also made special mention of the various congregations or leaders celebrating special events or anniversaries this year.
These included the Franciscans and Dominicans, both around eight centuries old this year; the Jesuits celebrating 150 years since the Irish Jesuits arrived in Sydney; the Passionist Sisters celebrating 200 years since their foundation; the North Sydney Mercy Sisters, now 150 years and the Holy Spirit Sisters, 125 years.
"And the declaration of Mary Aikenhead, foundress of the Sisters of Charity, and foundress of the Presentation Sisters, as Venerable and we trust soon to be Blessed and Saints," Archbishop Anthony said.
There are a little more than 900 Sisters, 220 Brothers, 227 Religious Priests and several members of new emerging forms of consecrated life within the territory of the Archdiocese.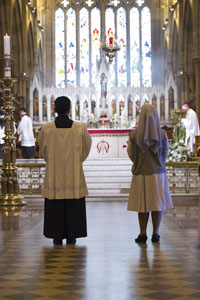 The Archbishop said it is their concrete expression in individuals, communities and works of prayer and charity that enormously enrich the Church and so the world.
"Indeed, it was religious, as Pope Francis observes, who have so often written not with pens but with prayer and action the history of Christianity," he said.
Sr Maria Casey said the Mass not only acknowledged the gift of consecrated life to congregations and Catholic communities but to the Church as a whole.
"When Pope Francis wrote his letter to consecrated men and women worldwide and announced 2015 as the Year of Consecrated Life, one of his key points was for all members of the Church whether clergy or bishops or institutions or lay people to come together in joy and rejoice as one, great united family;" Sr Maria said.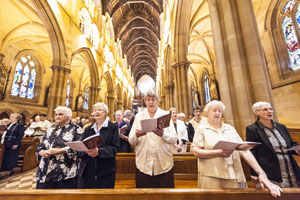 In his letter Pope Francis also urged the world's consecrated men and women to look at the past with gratitude, to live the present with passion and to embrace the future with hope.
And that was the atmosphere in the Cathedral and afterwards when the Archbishop hosted a luncheon and again thanked all those present for their service, dedication and the variety of gifts and charisms they bring to the Church in Sydney.