Abandonment is the Worst Affliction of Society
Catholic Communications, Sydney Archdiocese,
6 Mar 2015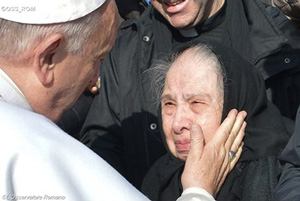 Pope Francis told participants in the 21st Plenary Assembly of the Pontifical Academy of life this week that abandonment is the gravest sickness of the elderly.
Addressing the gathering which included the Archbishop of Sydney, Most Rev Anthony Fisher op in the Clementine Hall of the Apostolic Vatican Palace, Pope Francis said abandonment is also the greatest injustice the elderly can suffer.
"Palliative care expresses the typically human attitude of caring for each other, especially for those who suffer. It is the demonstration that the human person always remains precious, even when elderly or afflicted by illness, Pope Francis said.
Indeed, the person is in any circumstance valuable to himself and to others, and loved by God. Therefore, when life becomes very fragile and the end of earthly life comes close, we feel the responsibility to look after and accompany the person in the best way possible", said the Pope this morning, as he received in audience the members of the Pontifical Academy for Life, on the occasion of their general assembly on the theme "Assisting the elderly and palliative care".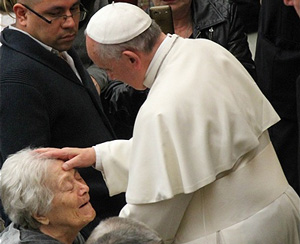 The Pontifical Academy for Life is dedicating to promoting the Church's consistent life ethic and is responsible for the development and promotion of many of the Catholic teachings on medical ethics including procreation, IVF, gene therapy, euthanasia and abortion. The Academy has 70 members named by the Pope, who represent different branches of biomedical sciences and those which are closely linked with problems concerning the promotion and defense of life.
The Holy Father said the Assembly of the Academy for Life has studied new sectors for the application of palliative care which until now have been of valuable assistance to cancer patients. However, it may now be applied to a wide range of illnesses, often linked to old age and characterised by chronic and progressive degeneration. "The elderly need, first and foremost, the care of their families - whose affection cannot be substituted even by the most efficient structures or by the most competent and charitable healthcare workers", he emphasised.
In emphasising the importance of palliative care Pope Francis concluded his address by encouraging healthcare professionals and medical students to specialise in this type of care, "which does not have less value on account of the fact that it is not 'lifesaving'. Palliative care involves something equally important: it accentuates the value of the person. Therefore, I urge all those who, in various ways, work in this sector to carry out their task in the spirit of service and recalling that all medical knowledge is truly science, in its most noble sense, only if it may assist the good of mankind, which can never be achieved by opposing life and dignity".
For a full report of the Pope's comments click here