Intergenerational Report fails to Address Rising Inequality - Vinnies
Catholic Communications, Sydney Archdiocese,
5 Mar 2015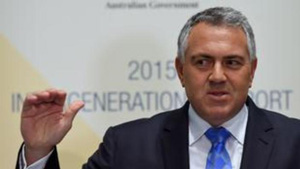 The St Vincent de Paul Society says Intergenerational equity should not mean that the poor today should pay for the rich of tomorrow.
In a scathing statement issued by Dr John Falzon, Chief Executive of the St Vincent de Paul Society's National Council after Treasurer Joe Hockey released the Intergenerational Report this afternoon, he accused the Federal Government of not yet having a clear vision for Australia's future.
"The members of the St Vincent de Paul Society are yet to see in the Government's messaging a real vision for Australia's future, a future-based on a plan for full employment, affordable housing and solid investment in education and training for all, not just the privileged," Dr Falzon said.
"It beggars belief that the Government appeared to unconcerned with rising inequality. Even the OECD points out that you don't build a strong economy by ramping up inequality. Yet, by ripping $1 billion out of social services whilst refusing to remove tax loopholes and unfair concessions that largely benefit wealthy individuals, we are looking down the barrel of deeper inequality and a deeper divide between the haves and have-nots," he said.
Dr Falzon also questioned the Intergenerational Report's focus on work participation and suggestion that "means" be used to encourage people to take up work, including older people and women.
"But exactly where will these jobs come from?" he wanted to know. "With 13 jobseekers for every job it is clear that the starting point should be a jobs plan, including economic development in areas of high unemployment combined with access to high quality education and training."
Dr Falzon was also concerned at what he called "the clear inadequacy of the Newstart allowance which has not been increased in real terms in more than two decades and is now just 40 per cent of the minimum wage and so low that it has become an obstacle to participation.
"It is the role of government to allow society to achieve collectively what we cannot achieve individually. Governments must do what markets cannot," he said and called on the Federal Government to stand by "its original commitment to the vulnerable, and to invest in a future that does not betray young people, especially as they struggle to enter a labour market that offers few opportunities."
In releasing the report Treasurer Hockey said a greater number of people aged 65 and over will still be in the workforce by 2055. Australia's population is projected to reach 39.7 million in the next four decades with an explosion in the number of people living past their nineties.
Mr Hockey said the nation will be burdened with crippling debts and deepening deficits if Federal Parliament could not agree on budget reform.