Cinderella Enchants Children & Fosters a Love of Music
Catholic Communications, Sydney Archdiocese,
3 Mar 2015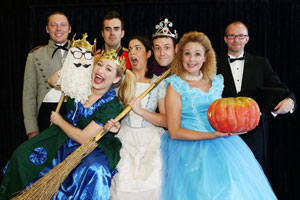 There's high excitement among students at Regina Coeli Primary School, Beverley Hills about tomorrow's performance of Cinderella. The day promises to be unforgettable for the entire school when Opera Australia's touring company arrives to stage a musical production of Cinderella.
But this Cinderella is the real story Opera Australia insists explaining that this version of Cinderella is about a girl who takes control and is far too smart and canny to lose a glass slipper.
The 50 minute adaptation of Rossini's opera, La Cenerentola re-titled Cinderella, comes complete with infectious music, superb singing and plenty of madcap antics and theatrics to have children enchanted and entertained.
In Opera Australia latest production of Cinderella "Cindy" plays with her stepbrother Simon and step sister Simone along with Rolan from next door and together the performers and the youngsters in their audience devise a new story for "Cindy" incorporating elements we all know and love and mixing these with plenty of surprises.
Launched last week by Opera Australia, performances of this updated interactive Cinderella has already delighted students at Our Lady of the Rosary School, Kensington as well as students at Marrickville West Primary School and on 24 March is set to be performed for children at St Francis Xavier Primary at Croydon Park.
From now until September, Cinderella will be staged more than 250 times at 180 Catholic, public and independent schools across NSW as part of Opera Australia's education program.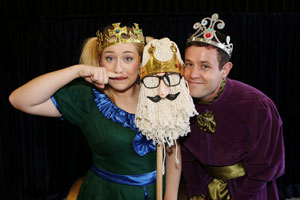 Established in 1998, Opera Australia has developed and presented operas to schools not only here in NSW performing for more than 1 million youngsters in a bid to show them as well as people of all ages that opera comes in all shapes and sizes, and is a theatrical experience like no other.
"These productions provide a wonderful opportunity for children all over NSW to experience the magic of opera and live performances in their own school," says Sandra Willis, Executive Producer in charge of Touring and Outreach for Opera Australia.
In addition to engaging some of the nation's finest emerging singers, Opera Australia sends out special education kits to teachers ahead of each performance to enable children to become involved and to learn a little about the story ahead of time, as well as some of the music.
In a ground-breaking innovation, Opera Australia also presents Auslan Shadow Interpreted performances. One of the first performing arts companies in Australia to develop and master Australian sign language, Opera Australia integrates interpreters for the deaf and those with hearing loss by making them part of the cast and part of the onstage action. This means anyone whether adult or a child who has difficulty with hearing can engage and fully enjoy each performance and delight in the theatrics.
"Everyone knows that Opera Australia loves to perform for a diverse audience and performing to children is definitely a favourite part of this charter," says Opera Australia's Artistic Director, Lyndon Terracini. "We are incredibly proud of our touring education program and each year we play to new students as well as returning again and again to some schools."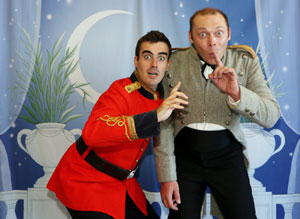 The result is that more and more children have the opportunity to see a new opera-adaptation each year.
Past adaptations for schools by Opera Australia's touring company include favourites such as Mozart's two operas, The Magic Flute and The Marriage of Figaro, and Engelbert Humperdinck's Hansel and Gretel, the latter of which has been chosen as the opera for Victoria's 2015 schools education program.
"Taking opera to primary schools across Victoria and NSW is an important part of Opera Australia's commitment to new audiences and one we particularly enjoy, not only for its importance in education but also for the puree fun of entertaining and engaging with our young audiences," Lyndon Terracini says.
Schools can book performances by contacting PIE Productions, 1800 804 707 or emailing admin@pieproductions.com.au.
To find out more about Opera Australia's Schools Education Programs log on to https://opera.org.au/ontour/schools_tours
Photographs by Prudence Upton