Archbishop Celebrates The Start Of Holy Week
Catholic Communications, Sydney Archdiocese,
30 Mar 2015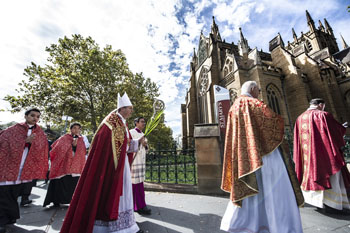 Archbishop Anthony Fisher OP marked the start to Holy Week on Sunday with the traditional blessing of palm fronds outside Cathedral House.
As people gathered around the palms were distributed and blessed. Following the Procession Gospel Reading and Prayer
Archbishop Anthony then led a procession along College Street and up the main stairs of St Mary's Cathedral for the Solemn Palm Sunday Mass.
Wearing red vestments to recall Jesus' death by crucifixion, the Mass marks the commencement of most sacred time in the Church calendar.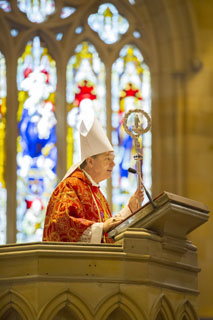 It is the Sunday before Easter Sunday when Jesus' triumphal journey into Jerusalem is remembered. It is also marks the beginning of Jesus' last week of Earthly life.
More than one thousand people gathered in the Cathedral for the Mass. It was the first year the Passion Gospel was chanted on Palm Sunday by the Dean of the Cathedral, Fr Paul Hilder and two cantors.
Throughout this coming week hundreds of people will visit the Cathedral to receive the sacrament of reconciliation and private prayer followed by the Easter services beginning on Thursday with the Chrism Mass at 10.30am and at 7pm the Mass of the Lord's Supper which includes the sacred ritual of the Washing of the Feet.
On Friday there will be the Stations at the Cross at 10am following by the 3pm Commemoration of the Lord's Passion.
Saturday night at 7pm is the Easter Vigil with Archbishop Anthony Fisher and also the Sunday 10.30am Solemn Easter Mass.