Palm Sunday and the Beginning of Holy Week
Catholic Communications, Sydney Archdiocese,
27 Mar 2015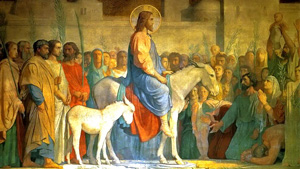 This Sunday is Palm Sunday and marks the beginning of Holy Week. On this Sunday before Easter Sunday we remember Jesus' triumphal entry on a donkey into Jerusalem.
Jesus knew that this journey from Galilee to Jerusalem for Passover was the beginning of his last week of His earthly life.
In honour of his arrival in Jerusalem, the people threw their outer garments on the donkey for Christ to sit on, and also on the road. They also cut branches from the trees and threw them on the road.
In those days people used palm branches to celebrate victories. The pilgrims carried palm branches, probably from Jericho.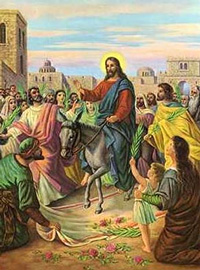 On Sunday priests will bless palms that have been gathered for the occasion before processing into church. In many cases they will be used to make Ash Wednesday ashes for next year.
At St Mary's Cathedral people are invited to gather with Archbishop Anthony Fisher outside Cathedral House at 10.15 Sunday morning for the blessing of the palms and then the procession into the Cathedral for the Solemn Mass.
It is also a time to remember Jesus' suffering before his death and resurrection.
Interestingly palms are also seen in paintings and images being used by the redeemed of the Lord in heaven as they celebrate Christ's great victory over sin and death.
The times and details of the Easter Services at St Mary's Cathedral and reconciliation times are available here
http://sydneycatholic.org/parishes/eastermasstimes.asp
A number of these services and Masses will be streamed live. Details on this website from Monday 30 March.